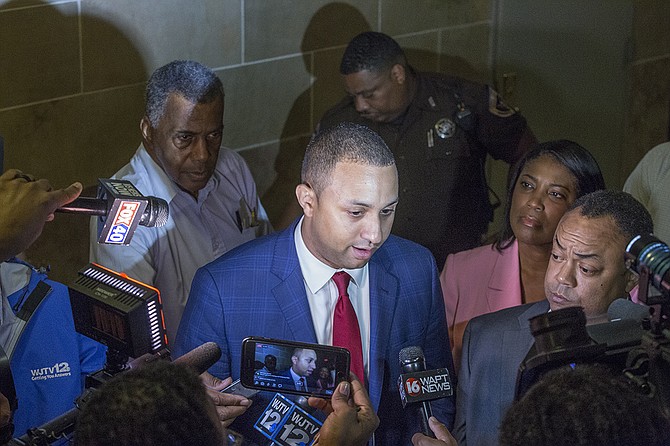 The mostly female and predominately black jury raised their hands Tuesday evening to confirm that they unanimously had decided that Hinds County District Attorney Robert Shuler Smith was not guilty of any of the three counts the State of Mississippi had brought against him. Smith's first trial on the same charges ended in a mistrial in early January.
The State of Mississippi had spent four days trying to convince the jury of Smith's guilt on two counts of conspiring to hinder the prosecution of Christopher Butler and one count of unlawfully consulting, advising and counseling a criminal defendant. Smith's defense spent a day and a half pushing back on the charges, and the jury took about four hours to reject the arguments against the county's top prosecutor.
Just an hour and a half into their deliberation, the jury sent a note to Special Judge Larry Roberts saying they were split 10-2. The judge encouraged them to keep working together for a verdict. Then after four total hours of deliberation, they were able to come to a unanimous decision, acquitting Smith of the charges.
Michael Sterling, Smith's defense lawyer and Atlanta mayoral candidate, embraced Smith after the verdict, with obvious tears in both men's eyes. As the bailiffs invited everyone out of the courtroom to finally lock up just before 8 p.m., screams from Smith's supporters rang out from the rear of the courtroom.
The defense's emotional display had begun earlier during Sterling's closing arguments.
"I am confident that you are going to come back with a verdict of not guilty," Sterling began with his model girlfriend, Eva Pigford, sitting in the front row. For nearly 40 minutes, Sterling pushed back on the facts the prosecution presented, including recently discovered video showing Butler committing the crime he and the DA long said was a frame-up. Sterling told the jury Smith was not conspiring; rather he was second-guessing himself to ensure his office was not wrongfully prosecuting a potentially innocent man.
Sterling showed text messages between Smith and former Assistant District Attorney Ivon Johnson, with whom Smith was charged with conspiring.
"So let the crew know that I'm going to put it together," Smith wrote to Johnson. "I'm not expecting yall to agree with me if legally it's not there, but I'll prove this..just tell me whether it's a go or not just like yall did today."
"You cannot have conspiracy when you are inviting disagreement," Sterling said.
Sterling painted Smith as "the kind of district attorney you want" because he didn't ignore the claims of a criminal defendant who felt he was being targeted and even put himself on the line in the process. Sterling spoke with the volume and cadence of a southern Baptist preacher.
The state, however, brought bells and whistles to the final act. They had a poster card on an easel listing all the witnesses underneath the charges they were called to testify against. After Sterling's argument, Assistant Attorney General Marvin Sanders spoke to the jury putting on a skit-like performance based on the lie detector tests seen on Maury Povich's show.
"I like to watch Maury Povich," Sanders said. "Maury pulls out that little envelope. Well, we got the results right here, ladies and gentlemen, to the lie detector test. Want me to tell you what the results are?"
Sanders pulled white pieces of printer paper out of a red envelope. Facts he felt the defense had represented untruthfully throughout the trial were written on one side, with "that was a lie" written on the other.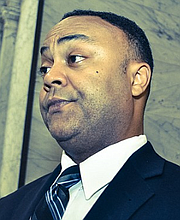 An archive of reporting on controversies surrounding Hinds County district attorneys, present and past.
Smith's accuser then went through evidence that he believed demonstrated several alleged lies Smith told, asking the jury to consider the facts and not Sterling's argument, to bring a guilty verdict.
But the members of this jury, who had not been home in over a week, were not convinced of those lies. Their verdict brought the second trial of Smith to a close, and they were released out into the rain to return to the Eagle Ridge Conference Center in Raymond conference center one last time to gather their things.
It poured for the last few days of the trial, even causing a leak in the courthouse up in the media balcony. But, as Sterling, his model girlfriend, and other members of the media left the courthouse to talk and laugh near the flagpole, sun showers gave way to a full rainbow over downtown Jackson.
Smith was free, at least until the next jury decides his fate in October.
Visiting journalist Ko Bragg covered the district attorney's second trial for the Jackson Free Press. Read full coverage of this story, including the first trial, at jfp.ms/dafiles.