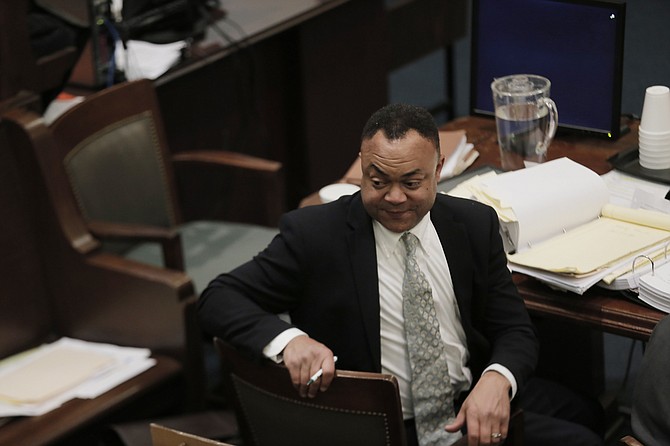 JACKSON — The second trial of Hinds County District Attorney Robert Shuler Smith kicked off at 9:03 a.m. Tuesday, Aug. 1, with a jury of seven women and five men who did not seem all that happy to be there.
Special Judge Larry Roberts ordered the jurors sequestered at the Eagle Ridge Conference Center in Raymond throughout the trial without use of their cell phones or access to the Internet or media coverage of the trial. They will consider the State of Mississippi's case against Smith for allegedly hindering the prosecution of a suspect, Christopher Butler, whom a jury convicted just last week of possession of 4 pounds of marijuana.
The pot turned up in a Mississippi Bureau of Narcotics raid in 2011 that Smith has long argued was an effort to frame Butler, while the State has presented a case that the district attorney may have an ulterior motive for trying to help Butler beat charges in two separate cases.
Smith's last trial ended in a mistrial in early January after the jurors could not reach a verdict and it emerged that one of the jurors arguing for a guilty verdict works for the Jackson Police Department.
Members of the JPD, along with a variety of local officials and even judges, have called out Smith's behavior of the last several years, which resulted in complaints filed with the Mississippi Bar over his alleged attempts to clear Butler on two separate charges. Several judges, black and white, recused from handling cases related to Smith, leading to the special judge presiding over this trial.
The prosecution's case in Smith's last trial went beyond Butler, however, with testimony about potential corruption and bribery leading to select prosecution of people charged with crimes in Hinds County. Since that trial, Butler was convicted in a long-delayed drug trial, and a Rankin Country grand jury indicted Smith for two felony offenses and two misdemeanors for aggravated stalking, domestic violence and stalking of a former girlfriend, Christie Edwards.
Smith is out on bond as he faces this week's re-trial that could cost him his elected position and send him to prison, if convicted.
Special Assistant Attorney General Robert G. "Bob" Anderson kicked off the State's opening statement by acknowledging the odd nature of the case. "This is a little bit of an unusual case in that I'm a prosecutor prosecuting a prosecutor," he told the jury.
Anderson pointed out that the DA's office had brought two charges against Butler that stayed on the docket "for a long time"—since 2014—with Smith filing a nolle prosequi motion indicating his intention not to prosecute him.
Hinds County Circuit Judge Jeff Weill requested information to support the motion, which Smith never provided, Anderson said. He promised to show that "Mr. Smith took an unusual posture—he was more involved in that case than any other."
"There's two ways you can hinder prosecution, by deception of the court or by intimidation," Anderson said, promising to show that the DA tried to bully judges into dropping the case. "Mr. Smith started first with deception, and then he moved onto intimidation."
"He even went to far as to call his defense attorney, (James) Waide, about filing a civil rights case against the attorney general. To get Butler's case dismissed," Anderson argued to the 12 jurors and the three female alternates.
"Smith would stop at nothing to get Butler free."
During its arguments, the defense returned to its previous position—that the attorney general is prosecuting Smith because the DA was investigating the State. A new high-profile face showed up to defend the DA this time: Atlanta mayoral candidate Michael Sterling.
Sterling posited to the jury that Smith got involved in the case because the State "may have indicted a person who should not have been indicted." He also said that the attorney general had threatened Butler to get him to give up information about Smith.
"He was in a search for justice," Sterling argued.
The trial is expected to continue for at least a week. Read the JFP's coverage of the saga to date at jfp.ms/dafiles and follow @jxnfreepress on Twitter for daily updates.
Support our reporting -- Follow the MFP.