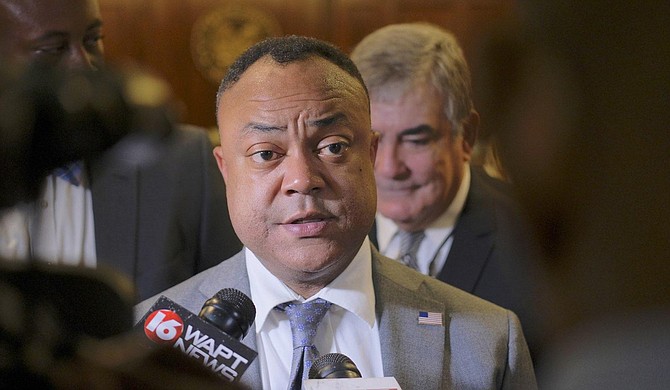 JACKSON — A Rankin County jury deliberated for nearly four hours before announcing its final decision for Hinds County District Attorney Robert Shuler Smith's most recent trial, this one for charges of aggravated stalking and robbery stemming from an incident with an ex-girlfriend at his mobile home in Pearl, Miss., in 2015.
Eight white women and four white men found Smith not guilty of robbery, but they could not make up their minds on the aggravated stalking charge, leaving the door open for Attorney General Jim Hood's office to retry that charge—something the attorneys there have not yet decided.
Before the jury's foreman announced the verdict, lawyers in the courtroom reminded the audience not to react to the results. But soon after Judge William Chapman released the jury and complimented the attorneys for a well-tried case and remaining professional, a teary-eyed Smith embraced his family and hugged his legal team.
Michael Sterling of Atlanta, one of Smith's defense lawyers, ushered the district attorney into the lobby to further elaborate their sentiments about the trial. Both men spoke with tears in their eyes. Smith said he was pleased about the verdict, despite the attorney general's office's third attempt to get charges to stick to Smith in the last two years.
"Other people were constantly trying to build a case against me, behind my back, all the time just over and over again," Smith told reporters. "It's just unbelievable how people abuse power and try to do a modern-day Emmett Till. That's what I call it. I call it a modern-day Emmett Till."
Smith felt the attorney general's office unsuccessfully tried to "use the citizens of Rankin County to do their dirty work."
Racial Bias in Jury Selection?
Attorney Sterling elaborated on Smith's statements. He told reporters that the prosecuting attorneys excused every African American that had been on the jury who had not been disqualified for cause during jury selection on Sept. 10. Sterling said the defense team raised a Batson challenge, which is an objection to what they saw as the state excluding jurors from the pool based on race.
Sterling told the Jackson Free Press this morning that once he raised the Batson challenge, the judge asked the state to offer race-neutral factors for excluding two black women from the jury: one woman was a nurse and the other's husband works at a correctional facility. He said the state "eliminated any possibility that there would be a black juror." He estimated that there were approximately four black people in the pool, but only the two black women had made it to the first set of 12 after they had begun to eliminate people.
"Now you can make of that what you will," Sterling said last night. "I won't come to any conclusions, but someone asked me why there weren't any black folks on the jury—that's why."
The attorney general's office declined to comment about the jury selection proccess.
The Batson challenge takes its name from James Kirkland Batson, a black Kentucky man whom an all-white jury convicted of burglary and receipt of stolen goods after the prosecutor in the case dismissed all of the black jury pool members. In a trial, each team of lawyers receives a limited number of peremptory challenges, essential a carte blanche for dismissing jurors. Sterling explained that when the state used two peremptory challenges to remove the black women, the defense raised a challenge.
Smith and Sterling thanked the all-white jury, anyway.
"The truth of the matter is, it doesn't matter what color you are," Sterling said. "People can see the facts, and people can see the law. Robert Smith, once again, not guilty."
'That Happens in Russia'
Sterling took also took issue with a different kind of race: the 2015 Hinds County district attorney's election. Assistant Attorney General Stanley Alexander, one of the prosecuting attorneys, challenged Smith for that seat and lost.
"In this case, Robert Smith was prosecuted by a former political opponent," Sterling began. "That doesn't happen anywhere in the United States of America. That happens in Russia. That happens in Uganda. It happens in other third-world countries. You are not supposed to be prosecuted by a political opponent. It was wrong for that to happen."
Sterling added that the district attorney in Mississippi's largest county and the attorney general's office should be working together to fight crime and make Mississippi safer.
"I think it's time for us all to move on for the sake of Mississippi," Sterling said.
The attorney general's office released a statement less than 30 minutes after the jury reached a verdict last night.
"Unfortunately, we live in a world where powerful men get away with abusing women and use their position to threaten their victim," the statement reads. "Our office takes on tough cases on behalf of victims, particularly victims of domestic violence. We will discuss a retrial with the victim and decide later."
Jurors hinted that they struggled with the aggravated stalking charge. Around 6:30 p.m., about three hours into deliberation, the jury sent out three questions to Judge William Chapman all related to the aggravated stalking charge. He sent them back a handwritten note telling the jurors they had already received instruction about the parameters of the charges.
The jury did not feel like more time deliberating would have resulted in a different outcome, and both the defense and prosecution decided to accept the jury's choice as it was.
Many in the audience admitted to not quite understanding the aggravated stalking charge. Most people hear stalking and think of peeping toms or a figure trailing someone in the night. But Mississippi state statute says otherwise.
Aggravated stalking involves a person making a credible threat knowing that it would cause a "reasonable person" to fear his or her own safety or that of another, or to fear damage or destruction of his or her property. The offender also would have to use or display a deadly weapon with intent to place a victim under reasonable fear of death or great bodily injury to self or third person. One of the questions from the jury requested clarity about whether or not showing a weapon in its holster, as Smith testified he did, counted as displaying a deadly weapon.
After waiving his Fifth Amendment right to remain silent during trial, Smith will return to work with another acquittal under his belt.
"I've always maintained that I was innocent," Smith said immediately following the verdict.
Email city reporter Ko Bragg at [email protected] and read more at jfp.ms/dafiles.
Support our reporting -- Follow the MFP.