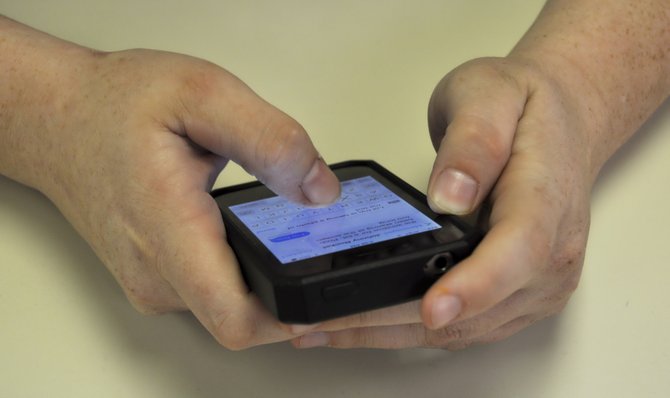 Parents must be aware of how their children are interacting in an era of instant communication, and they must exercise control over spaces where nothing ever disappears—even when it's not true.
That was the message at the Jackson chapter of Parents for Public Schools' recent monthly Lunch Bunch event. While the broad topic was student safety in high schools, the forum dealt specifically with the problems social media can present for young people and potential solutions for parents.
The effect of social media outside school walls came into focus in late November, when some students started promoting fights at Murrah High School in Jackson and the local news media picked up the story and ran with it.
Freddrick Murray, Jackson Public Schools' executive director of high schools, along with JPS principals Laketia Marshall-Thomas of Provine High School and William Trammell III of Callaway High School say they are all-too-familiar with problems that can come from kids using electronic devices.
When Murray, the former principal of Murrah, provided statistics on cell phone and social-media use among young people, dozens of parents and community leaders attending the meeting murmured in disbelief. Teens make up the largest percentage of social-media users, about 75 percent, he said. They average 201 online "friends," many of whom they don't actually know, and they receive and send 144 text messages a day. Sixty-seven percent of teens also know how to hide their online activities.
"These statistics don't stop at the schoolhouse door," Murray said.
Technology magnifies and intensifies bullying, when every incident or lie is instantly broadcast to hundreds, even thousands of youngsters. Such broadcasts can open the targets to a barrage of criticism that can last for days or weeks, often destroying reputations and self-esteem.
"I'm a witness," Murray said. "I know."
"Murray reminded attendees of the November Murrah incident. Perpetrators used social-media tools to spread lies and exaggerations about students engaging in fist fights—and having a "fight schedule." Resulting news reports led JPS Superintendent Cedrick Gray to investigate, and he concluded that while some fights had occurred, they involved the same group of students, as typically happens at most schools."
The use of social media to exaggerate the facts, not to mention media sensationalism of it, encourages a "hate mob" atmosphere, Murray said.
Social media "intensifies every incident times ten, times a thousand," principal Trammell said.
Marshall-Thomas, the Provine principal, provided a brief overview of the many social-media venues teens use. Familiar brands such as Facebook aren't the only site parents should be monitoring, she said. In fact, teens are abandoning Facebook as their platform of choice, a GlobalWebIndex survey revealed recently. Newer sites and popular applications include WeChat, Vine, Instagram and Shazam among many others.
Whenever something even mildly interesting happens, "every kid pulls out their phones," Marshall-Thomas said. Despite best efforts, school administrators and teachers rely on parents to help control their children's social interactions. When nearly every child has a cell phone, the schools can't keep up.
Parents should go beyond monitoring and controlling their children's activities, Marshall-Thomas advised, by being available to listen to them and by learning the lingo. Terms like "thot" and "304" have replaced "slut" or "the name of a garden implement," she said. (A thot is "that hoe out there"; type in 304 in your smart phone and turn the screen upside down.) A good resource for parents is the website urbandictionary.com.
School violence may not be increasing, Marshall-Thomas said, but the impact is different. It can be too late to counsel a child on the potential harm social media can cause after a teen's intimate secrets and sexual activity—true or not—appear online. "By then, the damage is done," she said.
Angela Harper, a crime-prevention specialist with the Jackson Police Department, reiterated the message. "Engage," she said. "Be involved."
Harper said that she's seen the damage when parents want to be their child's friend instead of exerting discipline and control over social-media activity. "We have the key," she said. "We just have to use it."
The panel recommended that parents obtain their child's social-media passwords and monitor their activity, as well as get up to speed on the meaning of often-used acronyms using such tools as urbandictionary.com.
Other suggestions included blocking or deleting harmful messages and the people who send them, teaching children not to share any personal information and to respect their peers' information, and teaching children not to react to or retaliate for things they read online.
Also, children should report abusive behavior to school officials or to police, if necessary, the panelists agreed. Ultimately, parents should take responsibility for their children's social-media use. They are, after all, the grownups who buy the gadgets and put them into their teens' hands.
If the object of giving your child a cell phone is to keep in touch with them, a simple flip-phone can get that job done. So, "why are we buying high-tech phones?" Trammell asked the audience. A burst of self-conscious laughter and shaking heads showed that the question hit home.
More stories by this author
Support our reporting -- Follow the MFP.