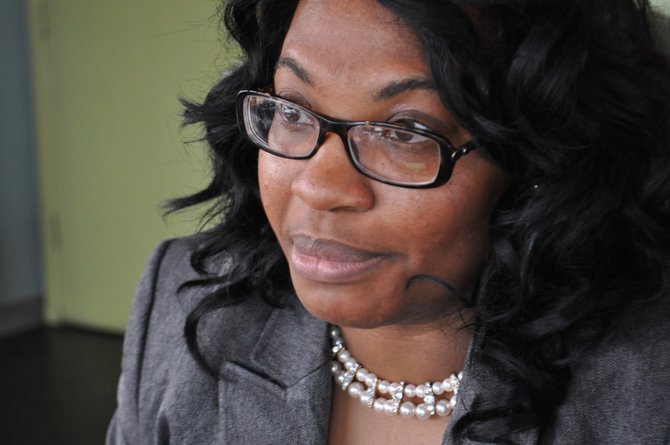 Instead of fighting the fact that the overwhelming majority of Jackson's high-school students have mobile phones, Ward 2 Councilman Tony Yarber is hoping to convince young people—and all Jacksonians—to use their smart phones to help lower the city's crime rate.
"One of the problems in fighting crime in the city is this 'code of silence' people take on. Primarily, people don't talk. They don't snitch," he said. "What we found is that they will (talk), but they want to be safe doing it."
Calling or talking to police directly can create an atmosphere of instability and uncertainty, Yarber said, so he is proposing an alternative.
Yarber brought the concept, an app he calls "Stop the Silence," to the city as an easy way for Jacksonians, especially students, to report criminal activity while retaining their anonymity. Young people want help, he said, but they don't want to their peers and friends to think they're informers.
"I got the idea from kids," Yarber said.
Yarber sees social-media postings about issues on school grounds, such as the bogus "fight schedule" incident last November at Murrah High School, as the kids' reaching out the only way they know how.
Then, in December, 15-year-old Destinee Ford, a Wingfield High School freshman, was shot and killed during an after-school fight. With supposedly more than 100 onlookers, someone could have reported the trouble to the Jackson police with an app as easily as they posted photos and videos on social-networking sites such as Instagram.
"What we want to do with 'Stop the Silence' is to create a whole new culture with our young people," Yarber said, where they can report bullying, gun play, violence, and drug use to help get a handle on crime in schools and in the city.
"If it doesn't allow them to remain anonymous, then it's a deal breaker, and we'll abandon the whole idea," he added.
The councilman is working with members of the Mayor's Youth Initiative and the United Way of the Capital Area to research the most effective way to develop the app, he said. He will also ask students from Wingfield and Forest Hill high schools, and Cardozo and Peeples middle school, in his district, to contribute to the project.
Once the research is complete, Yarber said, "our IT group at the city will basically be moving at the beat of the drum of the young people to design the app." He'll be able to announce a release date once the city's technical experts understand the scope of the project.
One issue Yarber has yet to address fully is the cell-phone ban in Jackson's schools. At a presentation for Parents for Public Schools Lunch Bunch gathering in January, Provine High School Principal Laketia Marshall-Thomas emphasized the difficulty schools have in enforcing the ban. Whenever something even mildly interesting happens, "every kid pulls out their phones," Marshall-Thomas said. The schools can't keep up with every cell phone in students' possession.
"I've had some light conversations with a few (Jackson Public Schools) board members about them considering rethinking the cell-phone use policy," Yarber said. The policy can create unnecessary discipline problems even for good kids who have phones for legitimate purposes, such as keeping in touch with their families.
"It's nothing more than them creating safe places or safe times for cell-phone use," he said, including using calculator apps when appropriate or allowing them to use their phones on lunch breaks.
Jed Oppenheim, the JPS board's newest member, says he can't directly address the app or the cell-phone ban before understanding all the details and implications. Oppenheim is also a youth advocacy coordinator for the ACLU.
"I'm for anything that's good for our kids and doesn't feed the school-to-prison pipeline," he said. Anonymity is a concern for him, especially when it comes to minors.
Pam Greer, director of the Stop the Violence program at the Pam Greer Foundation, a local non-profit, is enthusiastic about "Stop the Silence." She can imagine it being useful in many situations, including reporting domestic-violence incidences, especially if it would allow Jacksonians to reach assistance anonymously and quickly. She echoed the "code of silence" Yarber referenced that keeps people from calling authorities for fear of retaliation.
"I think the app would really work," she said.
Greer suggested classes to train those unfamiliar with apps—perhaps in conjunction with the Jackson Medical Mall—and an Internet tie-in for those without smart phones.
"If it's powered by the city, that's definitely a good idea for Jackson," she said. "... Everyone uses apps now."
More stories by this author
Support our reporting -- Become a JFP VIP.
The news business has changed dramatically in the past year, and we need your help more than ever to keep bringing you important stories about Jackson and the Metro. Become a JFP VIP with an annual membership or you can Sign up as a monthly supporter. Thanks for anything you can do to empower our journalism!