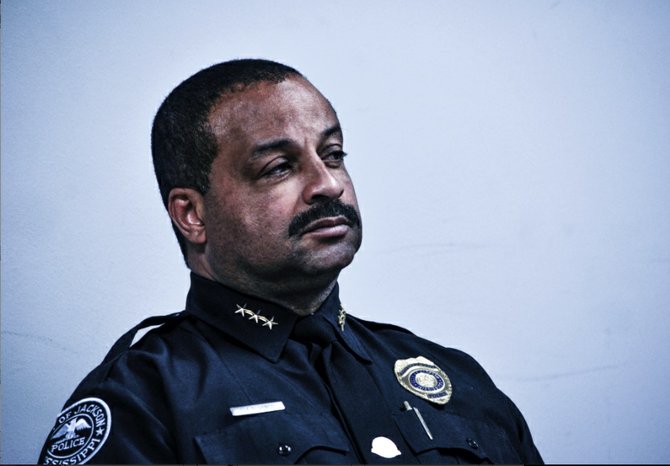 Jacksonians may soon be able to send crime tips via text messages and pictures directly to officers at the Jackson Police Department—but will they?
The Jackson City Council agreed Tuesday, July 1, to purchase a new web-based community alert system that will allow for two-way, direct communication between citizens and the Jackson Police Department.
Citizen Observer, based in St. Paul, Minn., will permit JPD to receive and respond to anonymous text messages, pictures and web tips as well as expand awareness to the public via crime and emergency notifications. The system also has features that include automatic publishing to social networking and websites as well as integrated crime mapping and web tips, which allow citizens to view crime data.
The two-year subscription will cost the city $500 per month.
"It gives community members a safer opportunity to report a crime," Mayor Tony Yarber said. "The other thing is that it gives us a two-way communication model with citizens. I think it is going to be great to have our detectives get a text. ... Our detectives will be able to communicate directly with tipsters live and that tipster is anonymous. It never shows their phone number or who they are."
The city previously used a system, Code Red, which also allowed for anonymous tips. However, the text and picture messaging aspect of Citizen Observer gives the system an edge over the older program.
The police department's public-safety division would monitor the system, says JPD Chief Lindsey Horton, who plans to assign administrators to oversee the system. Horton also said that the program's success would be measured by the "number of solves" that the system leads to.
After the new system was announced at city council, Assistant Chief Lee Vance said that he was unaware that the police department was considering using a new anonymous tip tool.
Yarber also said that he anticipates rolling out a campaign for the new system to make the public aware of the new, anonymous way they can begin connecting with the police. He hopes that the campaign will encourage more people to speak out against crime, violence and bullying, knowing that they will remain safe in doing so.
Back in February, before his election as mayor, Yarber was advocating for a conceptual app he called "Stop the Silence," as a way for Jacksonians, and especially students, to report criminal activity while remaining anonymous. The idea was in response to the so-called "snitches get stitches" mentality that affect many young people.
Yarber has said that he's seen kids reaching out for help before, such as the purported "fight schedule" for Murrah High School that students posted on Instagram last year. After media sensationalized the situation, JPS warned that it was blown out of proportion. Still, Yarber used it as an example of situations Citizen Observer might prevent.
"That was a clear indication where a student was crying out, trying to alert adults that this was about to happen," Yarber said. "... Tips will give us the opportunity to not only solve crimes but also prevent crimes as well.".
In December of last year, Destinee Ford, a freshman at Wingfield High School, was shot and killed during an after-school fight off campus, where there were supposedly more than 100 onlookers.
The Jackson Public Schools district prohibits the use of cellular phones at school; however, Yarber said the school system is currently working to revise its cell-phone policy to give students the opportunity to use phones in schools when deemed necessary.
Although most council members were pleased with the new system, Ward 2 Councilman Melvin Priester Jr. worries that if the city is not careful in using the tool, it could open the city up to civil-liberty abuses.
The National Institute of Justice funded a study back in 2005 that found police departments do not often have procedures in place that ensure tips are acted upon in a timely manner. "Many processes that could be replaced by quicker, more efficient automated systems were not used, despite their commonality and availability in some of the systems," the report stated.
New and innovative technology uses were at the forefront of Priester's campaign for Jackson mayor in recent months. He stressed during last week's city council meeting that the police department must strive for transparency in using the new tool. "I think Citizen Observer could be a great benefit to the people of Jackson," Priester said in an interview. "I think it could be—if we make sure the police are using it properly and not as a substitute for good police work."
"So if we don't do this in a transparent manner, I think it could be something that causes great problems for us as it helps us."
Pam Greer, director of the Stop the Violence program at the Pam Greer Foundation, a local nonprofit, agrees with Priester about the potential problems the new system could present. Greer also said that she questions the idea that the new system will be totally anonymous when most companies uphold record-keeping policies.
"I think now with this new app that they are trying to implement—it may work, but we have to make sure that people don't go to the extent to risk their lives to film or take a picture," Greer said.
Both Priester and Greer said they need more information before it can be taken to the people. Greer also says that in order for this new system to ever be successful, the police department must work to educate the public about the system and reassure them of their protection.
"I think what the city of Jackson may need to do is get to a point where they can rebuild the trust in our neighborhoods," Greer said. "You have to regain trust because every time we look around we have a roadblock here harassing innocent people."
"With this app, people will have to understand how they are protected from being retaliated against, and that's my main concern."