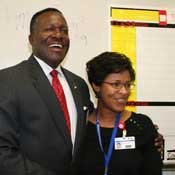 Jackson Public Schools has named Murrah High School English teacher Stacey Donaldson as Jackson's Teacher of the Year for 2008-2009.
JPS Superintendent Dr. Lonnie Edwards Sr. surprised Donaldson in her classroom this morning to deliver the news. During the visit, Edwards presented Donaldson with $500 in gifts donated by the Jackson businesses and non-profits, according to a release. JPS has also submitted Donaldson to the state Department of Education for Mississippi Teacher of the Year consideration.
[The following biographical information is reprinted from the JPS release]
Donaldson earned her undergraduate degree from the University of Southern Mississippi in 1993 with a Bachelor of Arts in Broadcast Journalism and a minor in speech communications. After five years in the media profession and "as a new mom," Donaldson became a teacher through the alternate route educator program. She taught at Bassfield High School in Bassfield, Mississippi, and at Sumner Hill Junior High in Clinton before joining the Murrah High School faculty three years ago. During this time, she also earned a master of teaching degree from William Carey College, became a National Board Certified Teacher, and completed the Advanced Placement Institute at Millsaps College.
Her activities at Murrah and in her community include the following:
* Member of Murrah's Site Council
* Education consultant with the South Mississippi World Class Teacher's Initiative at Jackson State University
* Sponsor of the Not Here Club at Murrah High School which promotes healthy lifestyles choices for teens and community service with non-profit organizations such as Stewpot Ministries
* Service learning coordinator for the Seatbelt Safety Project at Murrah which includes the creation of a television public service announcement about the dangers of riding or driving without a seatbelt
* Member of Greater New Jerusalem's scholarship committee
* Young Women's Ministry volunteer which includes working with the Sims House at Stewpot Ministries
Donaldson says she attempts "to address the needs of the whole student, which is what makes teaching so challenging yet rewarding." She believes the art of teaching is bigger than the subject one teaches. "I am determined to prepare students for life, equip them with social skills, and expose them to technological advances and strategies that empower them to master objectives that will prepare them for post-graduate and professional careers," she said.
She also believes that educators, business leaders, parents, and lawmakers are the four essential blocks of a model education today. "The collaboration among these four can help seal any gaps students encounter," she said.
Dr. Freddrick Murray, principal of Murrah, says Donaldson is "a tremendous teacher who goes beyond the call of duty. Her classroom is full of life, and her students love her as a result of her nurturing personality. She also takes time in the early morning and in the afternoon tutoring and mentoring students who need assistance. I don't think anyone who works with Mrs. Donaldson can say that she has greeted them with anything less than a smile and a helping hand."
More like this story
More stories by this author