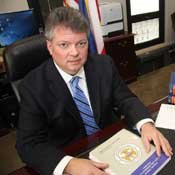 Teens' online social networking can affect real-life safety and friendships, so parents should talk with their children about staying safe on social media websites panelists said at a Facebook roadshow yesterday.
The roadshow at Clinton High School last night offered resources and tips on safe social networking for parents, teachers and students. The state attorney general's office sponsored the event along with the Department of Education.
Brooke Oberwetter, associate manager of policy communications at Facebook, told parents and a handful of students at the event how to change their pages' privacy settings, report when someone is impersonating them on Facebook and block someone who is harassing them. Oberwetter recommended that people review their privacy settings each month and take a moment to adjust which group of friends they want to see content each time they post something.
Attorney General Jim Hood said teens today have to deal with an onslaught of electronic technology.
"This is where our young people are hanging out, instead of the pool or the pier," Hood said.
Oberwetter said one of the best ways parents can start a conversation with their teens about safety on Facebook is by asking them to help set up a Facebook page. As parents ask questions about changing privacy settings and posting status updates, they can talk to their children about what they are sharing online.
Hood and Oberwetter also took questions from the audience on topics such as what parents should do if they find out their child has two pages--one to friend them on and one for everything else--and what the relationship status "it's complicated" means. Oberwetter said having two Facebook pages is a violation of the site's terms of use, and if Facebook finds out, it will delete both pages. As for "it's complicated," the answer is, well, complicated, but that relationship status declined in popularity as the site transitioned from a social networking tool for college and high school students to one that more adults use.
When drama online escalates into threats, Hood said people should call law enforcement. Parents and teachers can watch for signs of "cyber bullying," since problems online often translate into problems in real life.
Rachel Carlton, 16, is a junior at Jackson Preparatory School and a member of the Attorney General's Youth Advisory Council. Hood said he formed the council, which will review an upcoming Facebook safety guide, to help his office reach youth. The attorney general's Facebook safety guide should be available within the next couple of weeks.
Rachel's mother, Virginia Carlton, said she thinks parents learned more from the event than teens who are already on Facebook.
"Rachel's very tech-savvy on the social media and the computer," she said. "I'm the one that's learning from her."
Virginia Carlton said she trusts her children, but wants to get on Facebook so she can be more aware of what they are doing.
"I have to get up to speed," she said. "Since I'm not on Facebook, I cannot tell you what they're doing online. I have to rely a lot on what they tell me."
To see video of the event, visit the Mississippi Attorney General's Office Facebook page and click on Ustream Live.
For more Facebook safety tips, visit facebook.com/safety.
More stories by this author
Support our reporting -- Follow the MFP.