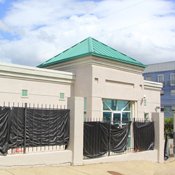 Betty Thompson doesn't know what will happen to her employer, the Jackson Women's Health Organization, on July 1.
A new law that lawmakers intended to close the facility--the state's only abortion clinic--goes into effect in roughly two weeks. It requires doctors at abortion facilities to get staff and admitting privileges at a local hospital, but Thompson, spokeswoman for the clinic, said its doctors are still waiting to find out whether local hospitals will give their doctors the required privileges.
"We have not heard back from the hospitals," she told the Jackson Free Press yesterday. "We are still working on that--just knee deep in that."
Thompson said she is not sure what the clinic will do if the doctors cannot get admitting privileges before July 1.
When the law passed, Diane Derzis, who owns the Jackson clinic, said she was willing to go to court to keep the clinic open. Michelle Movahed, staff attorney at the Center for Reproductive Rights, said it's too early to speculate on what would happen if the doctors are not able to get admitting privileges.
"It's hard to get there right now," she said. "... The clinic has been working diligently to get privileges for the doctors, even though they're not legally obligated to do that, yet (because the law has not gone into effect). It's possible that that's going to come through."
The center has partnered with the Jackson clinic on legal matters for several years, Movahed said. The center also represents advocates for abortion rights in other cases around the country. Movahed said Mississippi lawmakers' tactics are nothing new, but their forthright approach is.
"It's a really common strategy for anti-choice legislators to try and regulate the (provision) of abortion out of existence," she said. "I think what's unique about Mississippi is that prominent elected officials have been openly and unabashedly saying their intent is to close the clinic."
More stories by this author
Support our reporting -- Follow the MFP.