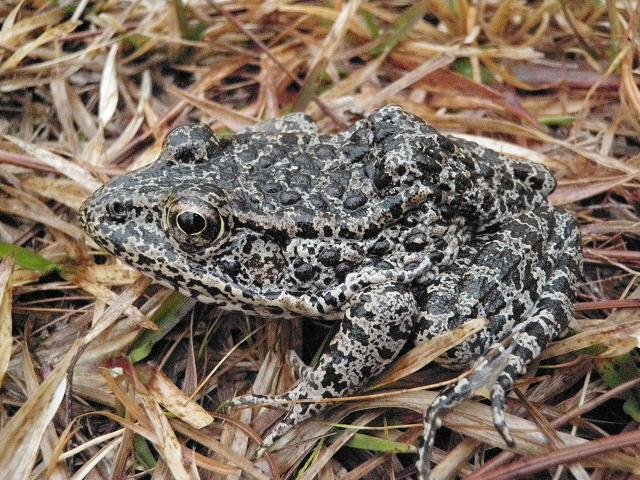 The Mississippi gopher frog is an eccentric little creature. The nocturnal amphibian is secretive and quite particular about where it lives: It only breeds in one pond in the world.
Gopher frogs get their name from their habit of living in sandy burrows made by gopher tortoises and rodents. They spend most of their time in longleaf-pine uplands, according to the Center for Biological Diversity, but migrate to ponds to breed.
When they call, male gopher frogs sound like someone snoring, and when frightened, they hold their hands up in front of their faces, "like a child shielding its eyes from bright light," the center says.
Conservationists estimate that Mississippi gopher frogs once lived in parts of Louisiana, Mississippi and Alabama, but they haven't been seen in Louisiana since 1967 or in Alabama since 1922. In 2003, only 100 known frogs lived in Mississippi, breeding in a single pond in the DeSoto National Forest in Harrison County.
In 2002, the U.S. Fish and Wildlife Service placed it on the Endangered Species List. Two years later, conservationists discovered one male gopher frog in another pond and collected 50 tadpoles from a third pond.
The Mississippi gopher frogs' habitat was threatened, however, by developers who wanted to build a planned town called Tradition about 200 feet from the pond in Harrison County--the only remaining pond in the world where the frogs reproduce. The Center for Biological Diversity advocated for protecting the habitat, saying it intended to sue the state and the Army Corps of Engineers if the development went through.
In March of this year, the center and the town's developers said they would work toward facilitating a land exchange with the U.S. Forest Service to protect the gopher frogs' habitat. The developers agreed not to build on the land adjacent to the frogs' pond and said they hoped to acquire another parcel of land to the north, but the plans have not been finalized.
Earlier this week, the Mississippi gopher frogs got another boost from the Fish and Wildlife Service, which designated almost 6,500 acres of land in Mississippi and Louisiana as protected critical habitat for the frogs.
"(This) designation of critical habitat will not just help the Mississippi gopher frog survive, it will give this vanishing creature a toehold in areas where it hasn't been seen for decades--including Louisiana," Noah Greenwald, endangered species director at the center, said in a statement.
Today, the center estimates that 250 or fewer mature gopher frogs live in Mississippi.
Correction: An earlier version of this story said developers and the U.S. Forest Service had already agreed to a land exchange, but that is incorrect. We apologize for the error.
More stories by this author
Support our reporting -- Follow the MFP.