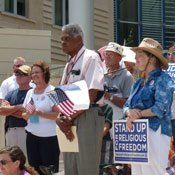 American and Christian flags stood on equal footing in front of the U.S. Courthouse in Jackson Friday as about 60 people gathered to protest a rule that requires health-insurance plans to cover contraceptives.
Many people held umbrellas to shade them from the hot June sun or carried signs with slogans such as "abortion inducing drugs are not health care" and "stand up for religious freedom."
The Jackson rally was part of a nationwide effort organized by a group called Stand Up for Religious Freedom, which says 164 cities hosted rallies Friday, with almost 60,000 people participating.
Dr. Beverly McMillan, one of the Jackson rally's organizers, is also the vice president of Pro-Life Mississippi. One of her objections to the contraceptive rule is that it requires insurance plans to cover hormonal birth control, which she believes to a form of abortion. Many abortion opponents consider anything that prevents a fertilized egg from implanting in the uterine wall to be an early abortion, and there is at least a small chance that most if not all forms of hormonal birth control occasionally prevent eggs from implanting.
Some religious groups, including the Roman Catholic church, oppose contraception in all forms.
"Forcing health-care institutions to provide that when it's against their religion is clearly an infringement of the First Amendment rights," McMillan said.
The rule requires insurance providers, rather than employers, to pay for contraceptives, but some religious groups have objected on the grounds that religious employers still pay the insurance companies for the plans, and then the insurers will use that money to 
cover contraceptives.
"The problem is it's like a slush fund--somebody's paying for it; it's not free," McMillan said. "... Payments ultimately come from the premiums paid by the employers, so the accommodation is no more than a shell game." The employees also pay for their insurance.
McMillan also organized a similar rally in March. She said she believes the contraceptive mandate violates people's freedom of religion, but she also doesn't like the idea of people being required to have insurance in general, whether or not it covers contraceptives.
"I think that's a little overstep, too, by the government," she said. "Can government really require you ... to buy something?"
Bear Atwood, legal director for the American Civil Liberties Union of Mississippi, said the Constitution and employment discrimination laws have some exceptions for religious institutions. For example, churches can choose to only hire pastors of their religion, but they cannot discriminate on providing basic health-care services, including contraception.
She said employers who want to keep their employees from getting coverage for birth control are using religion to discriminate against them.
"We have an establishment clause that says the state should not prefer or establish one religion, but ... they're saying based on their personal beliefs some people should not have access to basic health care," Atwood said Tuesday.
Recently, several Roman Catholic organizations in Jackson joined a nationwide lawsuit contesting the contraceptive rule, arguing that institutions affiliated with religious organizations, such as hospitals, schools and charities, should not be required to include contraceptives in their employee insurance plans if they violate the organization's religious beliefs.
The Supreme Court is currently considering the Affordable Care Act, although its focus is on the law's individual mandate, which requires most people to purchase health insurance. That part of the law will go into effect in 2014 if the court does not reverse it.
More stories by this author
Support our reporting -- Follow the MFP.