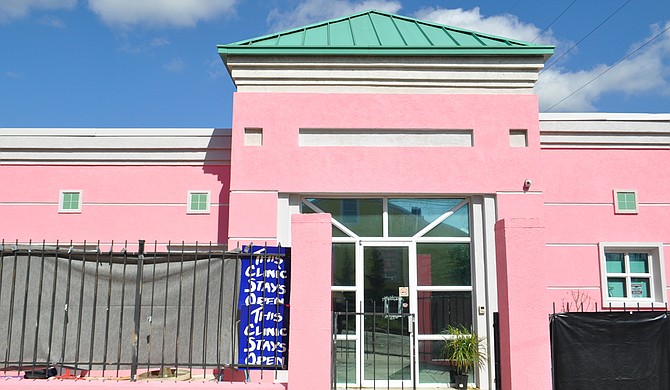 Mississippi's only abortion clinic will become an official health provider for insurance companies within weeks. The Jackson Women's Health Organization should be registered with Medicaid by the end of November and will begin offering covered contraception options as soon as they have trained staff members to do so. The clinic is also working to add more insurance providers soon, Dr. Sacheen Carr-Ellis, a JWHO doctor, said last week.
Carr-Ellis says the clinic's goal is to make comprehensive reproductive health care easier for women to access.
"I don't believe in (a) single kind of care—we know that comprehensive care is better," Carr-Ellis said.
"Why should women have to jump through so many hoops just to keep themselves healthy? It doesn't seem fair."
JWHO plans to offer contraception from combination methods (hormonal pills, patches and rings), intrauterine devices (IUDs) and implants.
Pulling together the paperwork to accept insurance for women seeking non-abortion services at the clinic will not happen overnight. The clinic received a private grant that is paying for an employee to set up the insurance billing system and to ensure the clinic meets other requirements necessary to be a provider for insurance companies.
Mississippians on Medicaid are eligible for family-planning services including all forms of contraception JWHO plans to offer. Carr-Ellis said women are highly motivated to look at their options for contraception, and are comfortable talking about it, particularly after an unintended pregnancy. The three doctors who work at JWHO are certified OB-GYNs and well-versed in more than just abortion. Carr-Ellis said she did a fellowship that focused on contraception education. In Boston, where she used to live and work at a similar clinic, she said women would never leave without at least talking to a doctor about their reproductive healthcare.
"There was not a thought in my mind that a woman was going to leave without contraception or have to pay for it," Carr-Ellis said.
She said the focus was on what the woman needed, what was best for her and what necessary precautions or safety issues needed to be addressed for women post-abortion. Pregnancy and sexually transmitted infections (STIs) testing were also givens at her old clinic.
Currently, JWHO doctors have to send women out of the clinic to get contraception or related testing after they've received abortions. Carr-Ellis said she sends patients under age 21 to the University of Mississippi Medical Center's adolescent health center because they offer several contraceptive options. If the patient is older, however, she refers them to the public-health department, but she knows that wait time can be long and availability of certain types of contraception not always reliable.
If JWHO is able to take that extra step out of the process, the clinic doctor said, it could make the women's lives easier as well as help the clinic break even financially.
"I think it's important—and who better than us?" Carr-Ellis said.
Most women's reproductive health clinics in the area offer contraception options to women, including East Lakeland OB-GYN Associates, where Dr. Freda Bush works as an OB-GYN.
Bush, who is vocally on record against abortion rights, said women's health clinics should only be able to offer services for which they can handle the consequences. She said contraceptives come with health risks that doctors should inform women about before they take them. For instance, Bush cited a 2014 Centers for Disease Control study that said using IUDs could lead to pelvic inflammatory disease. At her clinic, she informs her patients of the potential health consequences of contraceptives.
At JWHO, the counseling about contraception occurs in the patient intake process Carr-Ellis said. Before women are even cleared for an abortion, the doctors perform health screenings and assess eligibility for contraceptive services with patients.
Carr-Ellis said JWHO doctors load their patients with information about the different types of contraceptives, including the risks, and doctors rely on the CDC's guidelines on contraception that spell out which patients are eligible for which types—including patients' post-abortal care.
"There's a lot of good data on starting contraception on the same day of abortion," Carr-Ellis said. "Every woman we talk to about contraception, we try to come up with a plan about how they can get it."
Currently, however, JWHO doctors can only send women away with recommendations, and they have to schedule additional appointments or go elsewhere to get screened all over again to get contraception.
"It's very frustrating to come up with a great plan for a woman and not offer it to her," Carr-Ellis said.
Bush said ultimately the decision to use contraceptives is up to the woman.
"It's not our decision—it's up to the patient," she said. "You present the method, the risk and the benefits, and the patient chooses."
Different methods of birth control are better for different women depending on sexual and medical history, risk for infections and age. Bush said women need to read information provided to them at clinics and do their own research to see what contraceptive is the right choice for them. Additionally, OB-GYNs have to get a good medical history and examination of a patient before prescribing contraceptives, Bush said. She also said the best way to prevent STIs is by limiting partners.
"Fifty percent of new STIs are in women ages 15 to 24," she said.
Nationally, half of pregnancies are unintended (either mistimed or unwanted), a Guttmacher Institute study found. Carr-Ellis said contraception could be seen as a solution for people who are against abortion, because contraception prevents pregnancy in the first place.
"If you truly are against abortion—there's one way to do that," she said.
Contraceptives will soon take the national stage again. In March, the U.S. Supreme Court will hear several cases of religious nonprofit organizations that object to offering employees insurance that covers contraceptives under the Affordable Care Act. The religious groups object to the ACA mandate because, they said, contraception is against their personal religious beliefs.
Correction: An earlier version of this story named a PID as "phallic inflammatory disease." A PID is a "pelvic inflammatory disease." We apologize for any confusion.
Comment at jfp.ms. Email Arielle Dreher at [email protected]
More stories by this author
Support our reporting -- Follow the MFP.