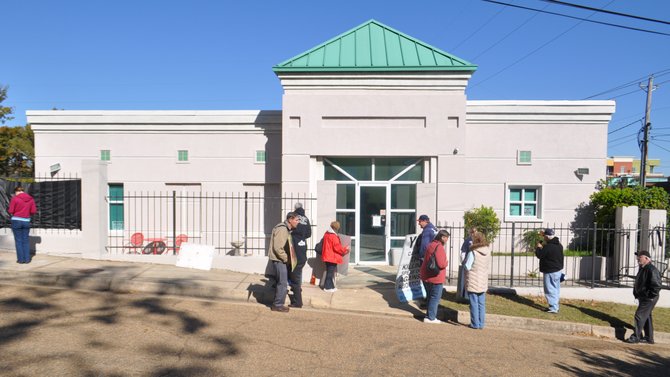 The last clinic where Mississippi women can get an abortion is once again in peril.
A state law passed this year requires abortion clinics to meet a new set of regulations, including that doctors have board certification and local hospital admitting privileges.
The clinic sued to block the law from going into effect, arguing that it was an unnecessary obstacle to a woman's constitutional right to have an abortion. After a hearing in July, federal judge Daniel Jordan instructed JWHO to keep applying for admitting privileges to comply with the law but allowed the clinic to remain open.
But according to a declaration from JWHO administrator Shannon Brewer, filed in federal court Nov. 28, the clinic has applied for admitting privileges to seven central-Mississippi hospitals and all seven have rejected them.
Michelle Movahed, an attorney with the Center for Reproductive Rights, which represents JWHO, said the clinic has exhausted its options.
"It's quite clear the doctors don't have admitting privileges and can't get them," she told the Jackson Free Press this afternoon.
Brewer's declaration contains documents from each of the facilities to which the clinic applied for admitting privileges explaining the rationale for denial.
Dr. James Shwayder, the new obstetrics and gynecology chair at University Medical Center in Jackson sent the clinic a letter signed "warm regards" that states: "The medical staff of University Hospital is only accepting from physicians who are employed faculty of University of Mississippi Medical Center."
At Baptist Medical Center, executive assistant for medical staff services Teresa Ayala told JWHO administrators that hospital would not send an admitting privileges application. Brewer's declaration also indicates that Ayala was less than helpful in providing the clinic information it needed to contact Baptist's physicians.
The other five hospitals that rejected JWHO's applications--River Oaks Hospital in Flowood, Crossgates River Oaks Hospital in Brandon, Madison River Oaks in Canton, Woman's Hospital in Jackson and Central Mississippi Medical Center in Jackson--are owned by Naples, Fla.-based Health Management Associates Inc. Each of these hospitals responded to JWHO with similarly worded letters citing the hospitals' abortion policies and concerns about "internal and external disruption of the hospital's function and business within this community."
Mississippi law allows health-care facilities to refuse any medical service on religious grounds, which extends to granting admitting privileges.
More stories by this author
Support our reporting -- Follow the MFP.