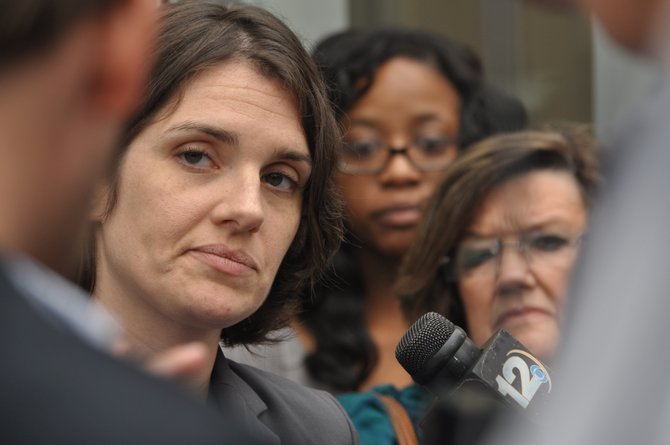 JACKSON — After a two-hour hearing this afternoon, a federal judge agreed to extend a temporary restraining order that allows the Jackson Women Health's Organization, Mississippi's only abortion clinic, to remain open.

U.S. District Court Judge Dan Jordan said he wanted time to read Mississippi Board of Health rules governing the clinic issued this morning before issuing an order.
The hearing comes 10 days after Jordan issued an temporary restraining order (TRO) against the clinic closing on July 1, as a state law championed by Gov. Phil Bryant and Lt. Gov. Tate Reeves would have caused. The law requires all doctors working at the Jackson Women's Health Organization, the state's only remaining abortion clinic, to have admitting privileges at a local hospital—which are hard to come by for doctors performing abortions. Both Bryant and Reeves, as well as other lawmakers and Pro-Life Mississippi lobbyists, have openly stated for months that their purpose is to eliminate abortion in the state of Mississippi.
Diane Derzis, who owns the clinic, said only one of their doctors has hospital admitting privileges, but the doctor is a backup physician who does not perform abortions. She also said the clinic has applied to seven hospitals within a 25-30 mile radius from Jackson.
The state attorneys defending the new law said the Mississippi governor and lieutenant governor's statements desiring to eliminate abortion in the state shouldn't matter because they did not author or vote on the controversial legislation, HB 1390.
Jordan seemed to think the statements were relevant "considering they came from the governor who signed the bill and the presiding officer over the Senate." The judge also made it clear that Bryant and Reeves' pronouncements made this case unique.
In his July 1 order, Jordan questioned the motive of the bill's backers—pointing out that they seem more focused on eliminating access to abortion, a constitutional right, than in protecting the health of women.
At the hearing today, which started at 1 p.m., state attorneys urged Jordan to look only at the bill's language for its intent, and not at public officials' language about its motive. Jordan said that public officials' statements on ending abortion is unlike anything he's seen before.
Michelle Movahed, lead counsel for the Center for Reproductive Rights, which is representing the clinic, said that the clinic has one doctor with admitting privileges but that the doctor cannot perform all abortions. Two-thirds of Mississippi women, therefore, would not have access to the constitutionally protected practice. They also said that, since Jordan's TRO, no backers of the law had disavowed that is was about ending abortion in Mississippi, just downplayed it.
One key argument is over the question of admitting privileges and whether or not doctors can actually get them going forward.
Judge Jordan emphasized that the case is unique because nobody knows for sure whether doctors for the clinic will be able to get admitting privileges.
Jackson attorney Rob McDuff, part of the team fighting to keep the clinic open, argued that the law would result in "irreparable harm" on m any levels, including the cost of defending it. He pointed that neither Attorney General Jim Hood or District Attorney Robert Shuler Smith have offered assurances that clinic doctors and nurses wouldn't be prosecuted for continuing abortions even in an interim period while the law is being sorted out enough to start enforcing the law.
McDuff read from Hinds County District Attorney Robert Shuler Smith in which the DA indicated that he would not prosecute during the state licensing process, but stopped short of saying what he would do after the administrative procedures conclude.
McDuff told the court that a preliminary injunction is appropriate until they can determine what happens with admitting privileges. He said that in a matter of weeks, it will be apparent if admitting privileges have been granted, denied or if hospitals are dragging their feet over them.
Opponents of abortion hope that local hospitals will not give abortion doctors admitting privileges, including those willing to come to Mississippi from out of state to perform the procedure.
The state argued that "irreparable harm" is speculative at this point—which seems to play into plaintiffs' argument that they do not have enough information about access to admitting privileges to know whether hospitals will help eliminate abortion by not granting admitting privileges.
McDuff said that access to abortion in the clinic is not a public-health emergency and that nobody can say what a reasonable amount of time could be for the clinic to come into compliance with the new law. If doctors can obtain admitting privileges within the enforcement window, there is no burden on the access to abortion, McDuff added.
An attorney for the state responded that there has never been a threat of prosecution of any of the abortion providers.
Movahed said the abortion clinic has applied for admitting privileges at every local hospital and that the timetable for a response is out of the clinic's control. The law limits the pool of abortion providers who can come to the state, the attorney added, and would make it difficult to recruit more if needed.
Movahed said the whole point is that the law has an unconstitutional purpose to interfere with access to abortion in Mississippi. Amelia McGowan, a staff attorney with the American Civil Liberties Union of Mississippi, said Jordan's extending the TRO until he can review the rules was a good decision.
"Abortion is a right, one that should not be abridged by political posturing," McGowan told the Jackson Free Press.
Rep. Sam Mims, R-McComb, who authored HB 1390, took issue with the plaintiffs' characterization that political gamesmanship was at the heart of the abortion and noted that the bill passed with bipartisan support.
Meanwhile, clinic owner Diane Derzis remains cautiously optimistic about the clinic's prospects of staying open. Last fall, when the clinic came under threat of closure from the failed Personhood Initiative, Derzis vowed to hire limousines and private jets to ensure Mississippi's women had access to abortion.
Derzis said after the hearing that her position remains the same.
"We have a commitment here. We're not going to leave the women in a lurch," she said.
R.L. Nave provided courthouse reporting. Vergie Redmond also contributed reporting. We also used information from additional tweets by Daniel Cherry of MPB and Jeff Amy and Emily Pettus of the Associated Press.
Correction: Several instances of the word "injunction" were removed from previous versions of this story. Judge Jordan today extended the temporary restraining order he issued in July to consider the clinic's request for a preliminary injunction, not an injunction.
Support our reporting -- Follow the MFP.