Rep. Sam Mims spoke with JFP reporter R.L. Nave in front of the courthouse. July 11, 2012.
Stories this video appears in: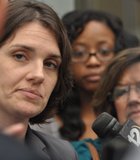 Personhood
State attorneys for the abortion-clinic law say the governor and lieutenant governor's statements about its intent shouldn't matter because they did not author the controversial bill. The judge may not ...