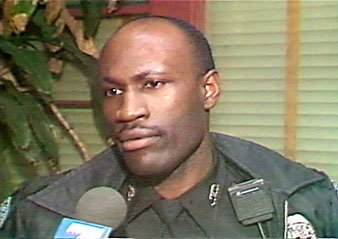 The capital murder trial of Sharrod Moore, indicted in January for the 12-year-old murder of Jackson police officer Robert J. Washington, was supposed to happen this week. But Judge Swan Yerger has pushed the case back due to the inability of both sides—the prosecution and the defense—to get the information they say they need to best try the case.
Washington, then 37, was killed the evening of Nov. 14, 1995, while on patrol in Precinct 2. Police found his patrol car parked in front of an abandoned house at 2631 Clinton Ave. Early the next morning, an officer found his body 3.7 miles away in the lot of the old Showtime Drive-In Theater off Highway 80 and Whiting Road. He was lying with his head in a pool of blood; he had been shot in the head several times. The officer was found with his pants around his ankles, his underwear pulled down to his knees and a used condom, along with four Lifestyles condom packages, scattered around the body.
Both Moore's appointed attorney, Chuck Mullins, and District Attorney Robert S. Smith say they can't get the all the documents they are entitled to—Mullins from Smith, and Smith from the Jackson Police Department.
Mullins said Tuesday that he has been begging for all the evidence that the D.A. plans to use against his client—and the judge is going to hold off going to trial until all the evidence is where it should be. "We don't know what's going on," said Mullins, who believes the delay in discovery means the D.A. lacks a good case against his client, and perhaps went to the grand jury too hastily.
In an interview the same day, Smith responded that discovery issues are plaguing his side, too—mainly because law enforcement has not provided the full files on the controversial case. "First of all, I think there are a lot of people who have an interest in not seeing this case solved," Smith started out.
The DA then added: "We have enough evidence to convict. Sharrod Moore was the shooter of R.J. Washington. Over 12 years, things have been destroyed or hidden, and we're just not finding it," he said, adding, "We didn't indict Sharrod Moore just because we had a hunch that he did it."
Smith points to previously missing police reports that, in part, indicate that the Washington's murder went beyond a street-level spat: "Files have been destroyed, files missing, witnesses killed or intimidated. You have witnesses coming forward now for the first time, some for the second or third time. They know my office is serious about bringing resolution to this case and the Washington family."
Smith said he and Assistant District Attorney Winston Thompson have put "extra energy" into getting JPD files on the case. The pair went to the police department themselves and combed through boxes for missing records, he said—and found some relevant reports that were initially left out.
Mullins said missing files indicate "incompetence" and should not affect his client's ability to see the evidence against him.
Smith says it's about more than incompetence, though. The district attorney is making no secret of his belief that powerful forces have conspired for years to keep the full truth about Washington's murder from coming out. Some witnesses have even indicated police involvement—and it has long been rumored that the officer died because he had information that some people did not want him to share.
Smith said he did not start out looking for a conspiracy, but that the evidence points that direction. "There is no doubt in my mind that there has been a cover-up in the police department," Smith told the Jackson Free Press. "I will say, 12 years ago, the cover-up started then and continued for some time."
As a result, Smith said, officers have been intimidated. "There have been career detectives on the cold-case unit years ago who got close to resolving the case, and were transferred to other departments." He added that Washington was known to keep a diary, but he has not been able to locate it.
In April, Smith released to the court file an explosive deposition he and Thompson conducted with Stephan Hickman, a man accused in a separate murder, who says he saw what happened to Washington. Hickman not only named Moore as the shooter, but seemed to implicate now-Mayor Frank Melton as being involved, as well as being a player in the local drug trade. Hickman also indicated that Washington might have had inappropriate dealings with young street dealers.
When asked if he is also investigating Melton, Smith replied: "When witnesses give us their statements, I'm going to examine the statement and corroborate it. ... I can't change that person's testimony no matter whose name is involved. It's not like I went out to find something on anybody."
Melton, who said last week that he no longer speaks to the Jackson Free Press, told other media that he does not know Moore and wants the FBI to investigate who is trying to implicate him in the murder.
The Jackson Free Press reported two weeks ago that Melton and Washington had been on opposite sides in the past. On Oct. 4, 1989, Melton wrote a letter (PDF, 242 KB) to Washington on WLBT letterhead warning the officer to cease making false allegations against him; the letter specifically mentioned narcotics use and distribution. Then, in September 1993, after Police Chief Jimmy Wilson launched an investigation of the Hinds County Juvenile Detention Center, and re-opened old probes of Melton as part of it, Washington wrote a memo to Wilson and another to a different superior officer (PDF, 611 KB) relating a conversation he had with Melton about those investigations. He also expressed concern that young people close to Melton, whom he had put in jail, were back on street corners dealing drugs.
Mullins, who works for the Coxwell & Associates law firm in Jackson, said that Hickman's statement is absurd on its face. "He's a liar; he's in trouble," Mullins said. "He wants to get out of jail. You don't have to look real hard at his statement to know he's lying."
For instance, Shawn Burton—whom Hickman put at the scene of the murder—was in the Central Mississippi Correctional Facility at the time, Mullins said. Another alleged conspirator—Larry Nelson—was in the Juvenile Detention Center at the time, he said. Nelson was killed last year in an unsolved murder.
Another potential witness in the Washington case, Marcus Walker, was killed with three other men in an Aberdeen Street apartment five weeks after Moore was released on a $75,000 bond (PDF, 187 KB) granted Dec. 15, 1997, in a different capital murder case in which Moore was accused of killing Mary Donaldson and Samuel King at the Morocco Club alongside Walker, who was shot in the leg. Moore dropped Walker off at University Medical Center where Walker gave a hospital-bed statement to then-DA Ed Peters and then-Assistant District Attorney Bobby DeLaughter implicating Moore for the Morocco murders and as the killer of R.J. Washington.
Moore was initially denied bond in the Morocco case, but was then allowed to go free for $75,000 by then-Circuit Judge Robert Gibbs in a move agreed to by then-Assistant District Attorney Tommy Mayfield, who also worked under Peters, and who had taken over the case.
Mullins said Tuesday that not even Peters had believed Walker's statement when he took it in the hospital, saying that Peters had cross-examined Walker like he was on the witness stand, even accusing Walker of lying to him.
Smith responded that Walker, in fact, later ended up dead just weeks after Moore was released on bond. Moore later pled to manslaughter in the Morocco case.
Peters' successor, DA Faye Peterson, later indicted Moore for the Aberdeen shootings, including Walker's murder, but had to release him late last year due to evidence missing from the police department.
Smith said Tuesday that bond in a capital case with witnesses waiting to testify was inexcusable: "I think it is highly unusual for a suspect with (Moore's) criminal history, (accused of) several murders, and to have an eyewitness who was going to testify not only in the double homicide, but was going to give key information in the R.J. Washington case to be released on bond. ... I can't think of one articulatible reason to allow him to get bond."
Such a bond for capital murder was not unusual 12 years ago, Mullins responded, adding that, first, Mayfield had dropped the death penalty in the case and then approached him in response to his motion for bond (PDF, 64 KB). They agreed on $75,000, which Mullins said he did not believe Moore could pay. "There was nothing inappropriate," he said.
Mullins said Smith's belief in a conspiracy in the Washington murder is hurting Moore, and perhaps influencing the jury pool. "He needs to leave the Oliver Stone stuff out and focus on this case," he said.
Smith had his own message for Mullins: "Maybe in the community where he lives, these things don't happen. In this particular world, this is not a fairy tale."
Click here for an archive of Donna Ladd's current series on the R.J. Washington case, and The Mysteries of Frank Melton, as well as older, related stories.
Previous Comments
ID

130233

Comment

Donna, Could it be that someone is dragging their feet in a cladestine manner? How to get to the bottom of this?

Author

JMK

Date

2008-05-28T06:09:51-06:00
ID

130234

Comment

The D.A. moved to hastily in this case. Everything he is doing now should have been done prior to the Grand Jury presentation and Press Conference. Hopefully, he could pull this one out.

Author

newsouth

Date

2008-05-28T07:45:55-06:00
ID

130245

Comment

BTW, I see that Folo has figured out that Robert Smith appointed special prosecutors James Tucker and Amanda Barbour to assist with the R.J. Washington murder case. We got those documents from the case file Friday, and was planning to announce it when we get all the documents PDF'd. Kudos to Folo for noticing. I thought it was kind of odd that the Ledger hadn't caught on to that detail, yet. Tucker is a former U.S. attorney and Barbour was an assistant district attorney in Houston and deputy DA in Birmingham, as Folo explains.

Author

DonnaLadd

Date

2008-05-28T11:49:13-06:00
ID

130247

Comment

BTW, we've added two more document PDFs to this story this morning, bringing the current total in there to six documents. (With the new site, the links aren't so prominent, so watch closely for the primary sources.) I have at least one more to add to this story, so keep an eye out. Also, we will be posting case files this week in this case. I will also be doing a timeline for this case, and the other murders Sharrod Moore was accused of (some people have mentioned how confusing all this is; damn right). Meantime, as far as the bond in the Morocco case, notice that the PDF posted today shows that it was requested in November; then attorney Mullins said ADA Mayfield called him to set the bond; Judge Gibbs approved it in December, and then in January, the Aberdeen murders (of Marcus Walker and three others) occurred, which I understand was right before the Morocco trial was set, but would need to confirm that with another source before I would state it as fact. Walker had given a statement, as I say above, implicating Moore in both the Washington and the Morocco Club murders. But Moore got out on a $75,000 bond when he was in jail for two capital murders, not just a drug crime. So if people want to discuss how well our criminal-justice system works, there's one to chew on for a while.

Author

DonnaLadd

Date

2008-05-28T11:59:57-06:00
ID

130272

Comment

We live in an odd world where anonymous blogging is confused with journalism -- Folo does some of the best blogging in these parts, of course, with useful links to primary sources and documents, but anonymous blogging is never going to be much more than anonymous blogging, some better than the rest. That's why I post on the Web, and do journalism, under my real name. I stand with and by my work, and urge others to do the ">oday, Folo links to this story, and seems to have two questions. One is about the spelling of Sharrod Moore's name, which I've spent some time digging on because it's spelled both Sherrod and Sharrod in documents and records dating back a ways. However, his attorneys are spelling it "Sharrod" in their current filings, so that seems to be the best way to go. They haven't given me an opportunity to ask him directly just yet. ;-) As for the conflicting castration stories, I've already dealt with that under the story that it originally came up in. That was the only fact in that story, I believe, that was not based on documents because as of then, I hadn't seen any crime-scene documents for the R.J. case. I used information from good sources who had never done me wrong (which is what most reporting is based on; I lean more heavily toward documents typically, though, although good journalism can't be done without talking to people). Sadly, a good source will be wrong occasionally regardless of diligence, and I clarified as soon as I saw documents that conflicted with what sources told me, which is the only thing to do. (I also now better understand where the confusion came from, but can't go into that as of now.) I have not seen an autopsy report of yet, but where it stands now, the documentation is more compelling that he was not castrated. Hindsight is 20-20, but I do wish I hadn't put that in the first story on this, because it's given some people an excuse to focus more on a salacious detail than on the bigger stories and all the documents I'm discussing that have never been exposed to the public. Another thing I will say on this case: It seems clear that the investigative files have been scattered hinder and yonder over the years, whether purposefully or not. It is truly shameful to learn the conditions (or the missing nature) of many of this city's most important historical case files and evidence. BTW, as some of this series falls off the front page, the new Melton blog/archive is the best way to keep up. Also, here's a link to a dedicated page for this series so folks know where to find these stories and PDFs as more are added. Feel free to bookmark it. ;-) Thanks to Folo for raising questions; I'd been meaning to address the spelling of Sharrod ever since Chimneyville raised it under another story. And I had addressed the castration point here and in print, but apparently some people haven't seen it. I did notice that Folo calls my stories "posts," which I think is funny. There is a difference between a blog post and an investigative journalism piece -- one of the most obvious being that the journalism piece is going to be done under a real name so that agendas can't be easily hidden and the journalist can be held accountable for what they do, or don't do.

Author

DonnaLadd

Date

2008-05-29T08:25:12-06:00
ID

130273

Comment

Oh, and Folo et al, I am working on a Moore timeline. I had to take a few minutes off from this series yesterday to have oral surgery, but I'll get right on back up in the saddle. ;-) Stay tuned.

Author

DonnaLadd

Date

2008-05-29T08:33:13-06:00
ID

130276

Comment

Oh and one other thing: I think Folo is twisting her knickers in the wrong direction on the judge-appointed-special-prosecutors-because-he-was-worried-about-DA angle. I believe the DA asked for those special prosecutors in this case. But let me confirm that and get back after I employ that old-fashioned technique of making a phone call and asking a real person a real question. [sweet smile accompanied by eyelashes fluttering]

Author

DonnaLadd

Date

2008-05-29T08:43:56-06:00
ID

130277

Comment

I need a rocket scientist to figure all this stuff out for me. Get well soon. The thought of oral surgery is putting a pain in my mouth, but that's neither here nor there at this point. And now, back to the show.

Author

golden eagle

Date

2008-05-29T09:13:58-06:00
ID

130278

Comment

I'm OK. It just slowed me down a little. ;-)

Author

DonnaLadd

Date

2008-05-29T09:19:50-06:00
ID

130281

Comment

Donna, why is Smith appointing two civil defense lawyers to help him prosecute a capital murder case? I'm sure that both of the lawyers are well versed in civil defense law but their firm does not practice criminal defense law. It appears to me that Smith is setting up a scapegoat for this charade of an investigation. Why not consult with the AG's office if he needed help? At least Hood has seasoned prosecutors with death penalty experience. I smell a rat.

Author

newsouth

Date

2008-05-29T10:23:11-06:00
ID

130282

Comment

Both of them are former prosecutors, newsouth. I can only guess that has something to do with it, no? I'm in reporting mode on these stories, so am not going to state many opinions or such on why anybody is doing or has done anything on it. I will say that, hypothetically, a DA who believes there has been a high-powered conspiracy in the police department or beyond in the murder of a police officer might think it's wise to appoint former prosecutors to back him up on it. From what Smith has said so far, he believes he has the evidence to convict Moore and did when he took it to the grand jury. It sounds like, since the indictment, he has started finding things to convince him there's been a "cover-up" and perhaps a wider conspiracy. That was my take from our interview on Tuesday. Take all of that as you may, but try to consider a wide range of possibilities. This thing is complex.

Author

DonnaLadd

Date

2008-05-29T10:25:40-06:00
ID

130308

Comment

OK, I talked to the district attorney - -it took a simple phone call; imagine -- about the special-prosecutor issue. He confirmed my impression that he asked for the attorneys to be appointed, and that Judge Yerger approved it. Contrary to some of the unsubstantiated blogger theories floating around, it wasn't Yerger's idea. "There are a number of former prosecutors and U.S. attorneys who have offered services pro bono to the DA's office," Smith said. He said they tend to do it in order to stay involved in complex criminal litigation, as well as to give younger attorneys a way to get more of that kind of experience. "It had nothing to do with any conflict," Smith added.

Author

DonnaLadd

Date

2008-05-30T10:36:21-06:00
More like this story