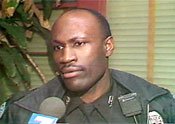 This is an updated version of a story originally published July 4, 2008.
District Attorney Robert S. Smith told the Jackson Free Press Friday that, after re-investigating a cold cop-killing case himself, he presented new evidence to a Hinds County grand jury in late June, leading to a second round of indictments of Sharrod Moore for capital murder and the new charge of armed robbery in the 12-year-old murder of Officer Robert J. Washington.
Moore's attorney, Chuck Mullins, said Tuesday that he suspected the DA had re-indicted Moore because police had "cobbled" together conflicting witness testimony—that Smith then used as a basis for his first indictment of Moore in February. Cold-case officers, led by Lt. Gerald Jones, "did a Frankenstein and took parts of all the statements and cobbled them together," he said.
The JFP reported last week that Mullins filed a motion June 2 accusing Smith of "prosecutorial misconduct" because he had indicted based on that patchy evidence.
Smith has not responded to that motion, but said Friday that he re-investigated the case without JPD and put it before a second grand jury "to put everything into its proper order." He added: "My presentation was presented in a different fashion, both evidentially and chronologically" from the case he was originally handed from police early in the year.
Moore is in jail in Madison County awaiting a Sept. 15 trial date.
"There was so much newly discovered evidence that needed to be considered," Smith said, without detailing that evidence.
Moore's attorney, Chuck Mullins, said Tuesday that Moore had not yet been served with the new indictments, which adds armed robbery to capital murder, but that he had gotten a fax last week without a cover sheet informing him of the indictments and then spoke to a Clarion-Ledger reporter briefly about them Thursday. Smith told the JFP Friday that he was unsure whether Moore had been officially served, but confirmed the indictments because defense counsel was clearly already aware of them, he said.
Smith said his office has conducted an extensive re-investigation, independent of the JPD, since the first grand jury indicted Moore in February. The initial investigation was called for by Mayor Frank Melton, and led by Jones, a JPD cold-case investigator—who in the 1990s had investigated Melton himself, as possibly had Officer Washington, according to police documents obtained by the Jackson Free Press. Those investigations yielded no evidence of Melton's guilt on accusations of drug involvement and sexual misconduct.
After Moore left prison last fall, Melton announced that Jones would lead an investigation of him for the Washington murder. The evidence that Jones collected from potential witnesses then formed the basis of the first indictment of Moore earlier this year—even as Mullins says that most of the men in the "witness" statements had actually been incarcerated at the time of Washington's murder.
The latest indictment seems to indicate that Smith is distancing himself from Melton's efforts to target Moore in the murder and taking a more independent approach to the case—and perhaps making up for police investigations that might not stand up in trial.
Weeks ago, Smith told the JFP that he had discovered relevant evidence that the JPD had not turned over to his office since that first indictment—and said he believed a cover-up by police and others had occurred after Washington was murdered, keeping much of the evidence from coming to light. He said today that "reluctant witnesses" are part of the new evidence he just presented to the grand jury—evidence his office collected independently of Jones and the other officers.
"I believe my decision to go forward full throttle with my own investigation had to be with trying to uncover certain evidence I believe would not have been found 10 to 12 years ago," he said. "I'm not accusing any current police detective of any cover-up, but there certainly has been an attempt 10 to 12 years ago to preclude a complete resolution of the murder case."
Mullins said that if Smith had found that police had presented him bad evidence, he should start over. "An honest prosecutor would dismiss the (first) indictment," he said. He said he had written Smith, whom he calls a friend, a personal letter pointing out the problems with the evidence before filing his motion alleging prosecutorial misconduct. Mullins believes Smith went to the grand jury late in June based on his June 2 motion; however, Smith indicated that his "re-investigation" had been going on for weeks before that motion.
In May, Smith said he had to go over to the police department and look for evidence himself, turning up relevant documents in cardboard boxes tucked in unlikely places. He also had to find and interview "reluctant witnesses" who had been afraid to come forward, he said. "It took just tireless efforts on our part to continue to dig into any and all files, and archives, and not being afraid to ask anyone whether they are a potential witness (and) to ask them for their knowledge of the case, re-assuring those that did know something not to be afraid," Smith said. He added that he did not know about all those "reluctant" witnesses when the first indictment went down.
Smith said Friday he was pleased to see "a second body able to reach the same conclusion." He said he was not nervous about the original evidence, though. "I had more. This is not your ordinary case: the more, the merrier. I'm never going to stop looking for anything that helps in the case," he said.
Mullins said he looks forward to learning the identity of the "reluctant witnesses," as well as details of the "police cover-up" that Smith alleged to the Jackson Free Press in May.
"I get more information in the newspaper about what is going on than in the discovery process," Mullins said.
Mullins is a legal associate of Merrida Coxwell, who successfully defended Melton last year for leading a group to destroy a Ridgeway Street duplex with sledgehammers. Then a private defense attorney, Smith was the attorney for one of Melton's bodyguards in the case, and later ran as district attorney with Melton's blessing, defeating D.A. Faye Peterson, who had charged Melton in the Ridgeway Street case.
Click here for an archive of JFP stories and documents related to R.J. Washington.
Previous Comments
ID

131898

Comment

All I can say is WHEW!!!! I hope other things come to light, as well.

Author

JMK

Date

2008-07-07T15:10:58-06:00
Support our reporting -- Follow the MFP.