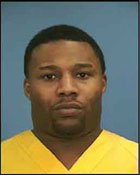 In response to several desperate motions filed by Sharrod Moore's defense attorney requesting that the DA provide "any and all evidence in his possession regarding a police cover-up," Hinds County Circuit Judge Swan Yerger is delaying the capital murder trial of the 30-year-old, who has now been indicted twice for allegedly killing Jackson police officer Robert J. Washington in 1995. The original trial date was Sept. 15; Yerger has not yet set a new date.
Moore's defense attorney, Chuck Mullins, is demanding evidence to back up Smith's claims made in May to the Jackson Free Press about a police "cover-up."
"I have written letters and tried to call both of you," Mullins wrote to Smith and Assistant District Attorney Winston Thompson on July 24. "This is really becoming a tiring and unnecessary pro-cess. Please have the items ready for me by July 25, 2008."
But Mullins did not get the items he wished by that date and filed an Aug. 1 motion to hold an "omnibus hearing" to dismiss the indictment for failure to comply with discovery requests. Alternatively, he wanted a trial delay, which the judge agreed to do.
Attached to Mullins' motion was a series of letters to the DA practically begging for a long list of evidence items that Smith has referred to in court documents and hearings. On June 20, 2008, Mullins asked Smith for a number of files and items including a map to the location of the murder weapon drawn by alleged witness Shawn Burton (the gun was not found); Burton's first letter to JPD officers; copies of Washington's pager records; another witness's youth court records; and evidence to back up Smith's allegations to the JFP and to the court that there was a police "cover-up" in the case.
Two Jackson Free Press articles were also attached. In the first, Smith had stated: "There is no doubt in my mind that there has been a cover-up in the police department. I will say, 12 years ago, the cover-up started then and continued for some time." Smith has told the JFP that evidence was possibly hidden or destroyed in the case around the time Washington was killed: "I think there are a lot of people who have an interest in not seeing this case solved." (See the second JFP story attached to the motion here.)
In his motion, Mullins complained that Smith indicted Moore a second time in July, "reportedly" with the testimony of six grand-jury witnesses, but that he has not received copies of that testimony.
Mullins also attached copies of a hearing transcript in which Smith told Yerger: "Throughout this 12-year period, Your Honor, there have been about—at least ten or more murders connected with this case ... (that) not only dealt with civilians but also another police officer. And so, Your Honor, we believe that it is in the best interest of the public to be informed of how dangerous this matter is."
Previous Comments
ID

132862

Comment

I knew that August 18 was going to be too soon for the defense. This story gets more and more interesting every day. Last week I went to the Jackson Police Museum on Farish Street and saw R. J. Washington's picture among the fallen officers. It's eerie to me to know that they are still haggling over this case.

Author

Sophie

Date

2008-08-05T18:03:42-06:00
ID

132863

Comment

Sorry, September 15. I'm getting my Melton, Sharrod cases mixed!

Author

Sophie

Date

2008-08-05T18:05:23-06:00
ID

132900

Comment

Two JFP articles involved here, and someone called the JFP a "real newspaper wannabe"? Pshaw.

Author

LatashaWillis

Date

2008-08-07T05:39:32-06:00
Support our reporting -- Follow the MFP.