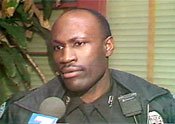 The man in jail for killing Officer R.J. Washington in 1995 has been indicted for murder ... again.
Stories this photo appears in:
Frank Melton
Following are links to Donna Ladd's 2008 investigative series on the murder of R.J. Washington, as well as stories about the "mysteries of Frank Melton." A list of PDFs to ...
Frank Melton
This is an updated version of a story originally published July 4, 2008.