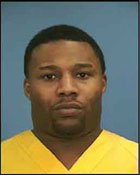 Dressed in a bright-orange jumpsuit with heavy chains around his hands, waist and sandaled feet, accused cop murderer Sharrod Moore won a victory this morning in Hinds County Court even as he was arraigned a second time for capital murder, with the added charge of armed robbery, for the November 1995 death of Jackson Police Officer Robert J. Washington.
After Moore pled not guilty to both counts, his attorney Chuck Mullins argued that the state erred in revoking Moore's earned-release probation, which had allowed him to go free last fall after serving time for the 1997 deaths of Morocco Club owners Mary Donaldson and Samuel King, when he was indicted for Washington's death in February.
"It is clearly illegal to revoke a person based on something he committed before the parole," Mullins argued to Judge Swan Yerger, saying that the parole revocation violated Moore's due-process rights. District Attorney Robert S. Smith argued back that the Mississippi Department of Corrections made the decision, and that Yerger's court wasn't the proper place to appeal it.
Yerger agreed with Mullins that the law did not allow the state to revoke the "good behavior" probation because Moore was arrested for a murder that had taken place before the deaths for which he was serving time for manslaughter. He also agreed with defense counsel that the district attorney's office had essentially forfeited their right to argue that the law did not apply in this case by not responding by June 20, which was the deadline for answering the motion.
The immediate practical effect of reinstating Moore's probation in the Morocco case is essentially none, although it could be a big deal in a few short months, pending the outcome of the Washington trial. Moore is awaiting trial in the Madison County Jail for Washington's murder, under a double indictment; because he is charged with capital murder, he is not eligible for bond, as Yerger pointed out in court today, saying that "rules of the court, and certainly rules of this court" preclude him from allowing Moore out on bond.
This time, that is.
When Moore was originally arrested for the Morocco Club murders in 1997, he was charged with capital murder. After awaiting trial without bond for several months, then-Judge Robert Gibbs suddenly signed a bond order on Dec. 15, 1997, allowing him to go free for $75,000 bail in a double capital-murder case. Weeks later, a primary witness in the case, Marcus "Sweet Pea" Walker—who was present at the Morocco murders and who had told then-District Attorney Ed Peters that he could give them Moore as the Washington murderer—was killed, along with three other men in an Aberdeen Street apartment massacre. A later district attorney, Faye Peterson, charged Moore with the Aberdeen murders, but had to later drop the charges, saying that evidence had gone missing from JPD.
Moore ended up pleading to two counts of manslaughter for the Morocco murders and, in 2005, was sentenced to 15 years for each of the deaths, but credited with time served. Then, in October 2007, he was released on "earned release" probation for good behavior, although he is scheduled to serve time until late 2009 on those charges. Reinstating the probation has the practical effect of allowing Moore to immediately go free should he be acquitted in the Washington murder trial this fall.
At the hearing today, Smith asked the judge to move Moore's trial to the Second Judicial District, rather than continue in the First, saying it would make the trial more efficient and help with "safety issues." Such a move would also mean that jurors would be pulled from surrounding areas rather than Jackson.
Yerger asked for a formal motion on the request, and a response from defense, before he rules.
Previous Comments
ID

132062

Comment

You know, I don't have a lot of comments on this case now because I'm in the middle of reporting it, but I will say that it's remarkable to observe the difference good lawyering can make. On separate stories, we are seeing the effects of bad lawyering (like Cedric Willis and other recent exonerees, or even death-penalty cases where the accused got shoddy defenses or their mental capacity wasn't discussed soon enough.) And then there is the fine lawyering that Moore is fortunate to get appointed with every case. It definitely shows the unevenness of the criminal-justice system.

Author

DonnaLadd

Date

2008-07-14T18:38:14-06:00
Support our reporting -- Follow the MFP.