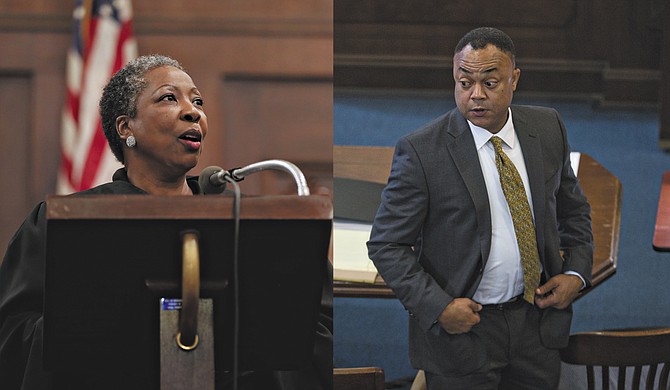 JACKSON — Crystal Marshall has been at Henley-Young Juvenile Detention Center up on a hill in a warehouse-lined area of Jackson on capital murder charges since right around Valentine's Day—less than two weeks after she turned 14 years old.
Around 6 p.m. on Feb. 11, officers found 38-year-old Joseph Baker suffering from multiple gunshot wounds inside a vehicle on Robinson Street in Jackson. Baker succumbed to his injuries in a matter of days. The Jackson Police Department arrested its first suspect, Chrishun Jones, 17, on Feb. 12, then within 48 hours, JPD also brought Orlando Carey, 20, and Marshall into custody. None got bond initially, so with respect to their ages, they went to jails in Hinds County.
The Jackson Free Press does not typically identify teenage suspects, but in this case, Marshall's and Jones' names and mugshots have been widely circulated, as they represent the last time JPD sent out mugshots of underage suspects before Mayor Chokwe Antar Lumumba halted the practice in February in response to this newspaper's reporting and editorials.
On March 26, Hinds County Court Judge William Skinner II ruled that Marshall could go home on GPS monitoring while she awaited a grand-jury decision, with the condition that she only leave home for school and medical appointments. But, her freedom hinged on $250,000 bail. With a court-appointed attorney and a family unable to meet such high costs, Marshall stayed at Henley-Young, where she has been ever since.
In that regard, Marshall's case is not special. Since about a year ago, Henley-Young has housed children charged as adults in the county, many of whom face long pre-trial detention stays. Unlike the others, however, Marshall became the center of a spat between DA Smith and Hinds County Senior Court Judge Tomie Green at the dawn of the county's election campaign season. The contention unfolded without much mention of her age or how girls like her fare in the justice system.
A 'Blind Spot'
As far as attorney Derek Martin can tell, his teenage client and her family are in good spirits.
"They're still positive, they're very positive," he said. "Crystal is upbeat and positive. Hopefully, we can get a good outcome." The Marshall family could not be reached for comment for this story.
While Marshall may be upbeat, the fate of girls like her in the criminal-justice system is not. Girls of color are three to four times more likely to be incarcerated than white girls.
Jyoti Nanda, law professor and founder of the Youth and Justice Clinic at the UCLA School of Law, authored a report in 2012 called "Blind Discretion: Girls of Color and Delinquency in the Juvenile Justice System." She told the Jackson Free Press that societal perceptions of girls, and particularly those of color, can impact their plight in the system.
Her report outlines the stereotypes that can follow black girls like Marshall. Black girls are often seen as independent, aggressive, rude, violent and crime prone, the report reads. Hispanic girls also suffer from negative stereotypes: dependent, submissive and highly sexual.
Nanda said it's hard to find a real-life example of harsh punishments for girls who are poor and/or not of color.
"That's the irony of this whole thing is that you can't even find a comparison point because there isn't one," she said. There isn't a 14-year-old girl from a wealthy family who was charged, ever, with anything. So there isn't anything to look up because of the discretion."
Police discretion, Nanda argues, must be checked as the "initial decision makers." Nanda said it's also important to examine discretion at the prosecutorial level also, especially in the wake of a wave of progressive district attorneys nationwide and their sway in changing policy. "You can imagine elected DA's from major cities putting pressure on DA's in other cities," she said.
Philadelphia's new progressive DA, Larry Krasner, recently appointed Robert L. Listenbee, former administrator of the Office of Juvenile Justice and Delinquency Prevention in the Obama administration, and former chief of the Juvenile Unit at the Defender Association of Philadelphia, as his first assistant district attorney. 
New York, California, North Carolina and Vermont are among the newest states to raise the age of culpability to keep some teenagers out of the adult system. Not all district attorneys are happy about it, but it marks a level of reform.
Mississippi, however, and more specifically, Hinds County, has ignited a much slower burn when it comes to such measures. Smith's office has filed three cases in State Supreme Court against Green, taking issue with the judge granting bail or handing down lighter sentences to arrestees that languished in jail awaiting indictment.
Green chairs the bi-monthly Hinds County Criminal Justice Council that is supposed to grapple with case processing, prisoner re-entry and juvenile justice among other things. But, things are still moving slowly for juveniles charged as adults.
Henley-Young's executive director Johnnie McDaniels, now out on leave to campaign to be a Hinds County judge over youth court, alerted the Jackson Free Press in February about the growing number of children charged as adults sitting in the facility for a year or more, sometimes solely on charges, because of the Hinds County backlog.
Still, Nanda feels hopeful that things are going to shift, even if people in the criminal justice system are not yet as sophisticated around gender as they should be.
"There is still a little bit of a, I don't want to say blind spot, but it seems there is a lack of understanding, appreciation of how significant this problem is," Nanda said. "And even if it's one girl like Crystal Marshall, it's still one person, and it's emblematic of so many other things."
'Unfortunate' Circumstances
Everyone with a stake, and "discretion" in Marshall's case, save for her attorney and the DA himself, is running for office on the Nov. 6 ballot. Judge Jeff Weill, a former circuit court judge in Hinds County, is running to fill a seat on the Mississippi Court of Appeals. He has been over Marshall's case since July. The prosecuting attorney, Assistant District Attorney Pat McNamara, is running for Weill's vacated circuit-court seat. Another ADA under Smith, Kimalon Campbell, is running against Green as the judge's first challenger in two decades.
"I never thought about it from that angle," Martin said when asked if he thought the public scrutiny of his client had anything to do with the upcoming election. "But looking at the timing, it could be."
"I just think this is an unfortunate set of circumstances—it's unfortunate that she's in this position," he added.
About five months into Marshall's stay, she was indicted for capital murder and conspiracy to commit armed robbery. Meantime, campaign yard signs began to pop up around the county, and not long after, graced the Twitter timeline with a rare appearance.
"Judge Continues to Arbitrarily Release Murder Suspects without Notice to Prosecutors and/or Victims' Families," headlined each of his Aug. 2 tweets. DA Smith was talking about Judge Green vis a vis Marshall's case.
Smith singled out Marshall in his Twitter press release, labeling her as a violent offender released back into the community. Smith joined Twitter in October 2017 and only has 19 tweets on his feed—four of which were about Marshall before he deleted one that contained hardly redacted Social Security numbers of the teenager. 
 None of Smith's remarks directly mentioned that Marshall was a young teenager. The media latched on.
"That's something that kind of struck me too in the original story that I read—they never mentioned how old she was, that she was 14 years old and that she's not some hardened criminal, she's not a habitual offender on the streets in the City of Jackson," said Martin, Marshall's attorney. "They just kind of excluded the fact that there are co-defendants involved," Martin added.
On July 31, after Marshall had been in custody for 166 days, Green filed an order to reduce Marshall's bond to $25,000 and place her on house arrest with a 9 p.m. curfew. Green's order said that she reviewed the "unreasonable delay in indictment," among other safety considerations and ruled that the teen should be released, pending grand-jury action. Rule 8.5c of the Mississippi Rules of Criminal Procedure gives the senior circuit judge permission to review the conditions of release for those who have been in custody for more than 90 days.
Smith didn't like this.
"On July, 31, 2018, without any notice to the prosecution or to the victim's family, Judge Green issued an order reducing the capital murder suspect's bond to a mere $25,000, citing non-indictment as the sole reason," Smith's press release reads.
On Aug. 10, Green penned an open letter to the citizens of Hinds County in direct response to Smith's claims, with the disclaimer that judges have certain restrictions about discussing pending cases, especially when minors are involved.
"But let me say, unequivocally, that District Attorney Robert Smith has misrepresented the policies, practices and procedures under our new Mississippi Rules of Criminal Procedure," Green wrote. She closed her letter with a tangential jab at the district attorney.
"The Senior Judge's decision is not always popular, especially when it includes the release of a Defendant," Green wrote. "It is illogical for a prosecutor to encourage fear, anger and unrest in our community, without regard to the fact that he has been afforded the same constitutional rights and privileges of which he complains."
Smith maintained in his Aug. 2 statement that Judge Green should have first notified his office before adjusting Marshall's bond, citing Rule 8.5b Mississippi Rules of Criminal Procedure: that says the court may modify conditions of release after giving parties adequate opportunity to respond.
Weill signed an order on Aug. 2 to override Green's July 31 orders. Then, at an arraignment on Aug. 15, Weill reset Marshall's bond at $250,000 and her trial date for December. She has until Nov. 19 to reach a plea deal.
As a former Hinds County public defender, Martin said he wasn't surprised by his client's six month pre-trial detainment, especially because Marshall has been accused of such a serious offense. When asked on Aug. 10 about the delay in an indictment in Marshall's case, ADA McNamara said he could only speak for himself.
"I don't know how long it had been in our office, if it had been there for a long time or a short time, but whenever it got in my hands is the time I made up the indictment on it," he said.
McNamara declined a follow-up interview in October.
While the road to Nov. 6 is quickly approaching, Marshall's path might take a bit longer to smooth out.
"It's going to be a long road ahead," he said. "It's still very early on in the process."
Email [email protected].
CORRECTION: This story has been updated to correct the date Judge Green sent her open letter: Aug. 10.
Support our reporting -- Become a JFP VIP.
The news business has changed dramatically in the past year, and we need your help more than ever to keep bringing you important stories about Jackson and the Metro. Become a JFP VIP with an annual membership or you can Sign up as a monthly supporter. Thanks for anything you can do to empower our journalism!