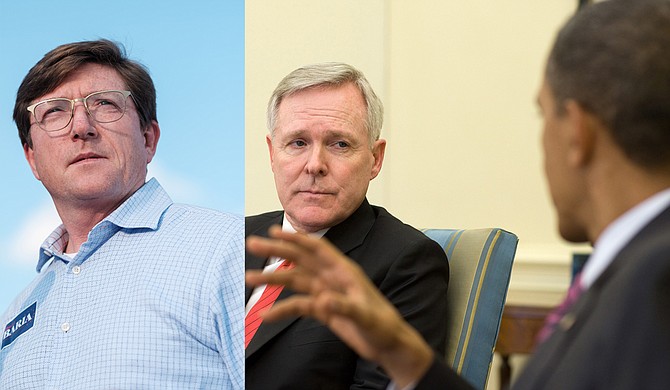 JACKSON — Calling next week's election "one of the most important elections of my life," former Mississippi Gov. Ray Mabus endorsed fellow Democrat David Baria's bid for U.S. Senate.
"David will fight every single day for Mississippians," Mabus, who served as governor from 1988 to 1992, said in a press release the Baria campaign released Monday. "He will bring the same tenacity to Washington that he has carried with him here in Jackson when representing his constituents in District 122."
Baria, who lives in Bay St. Louis, currently serves as the House Minority Leader in the Mississippi Legislature.
"With everything going on, we need someone who will always fight for his constituents and who will bring civility and honor back to politics," said Mabus, who served as U.S. Secretary of the Department of the Navy under President Barack Obama from 2009 to 2017. "I could not be more proud of the campaign he has run, and I know he will do incredible things as our senator."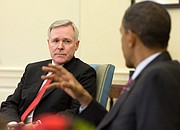 Baria's platform includes support for Medicaid expansion, a single-payer healthcare system, abortion rights and civil-rights protections for LGBT people—an unusually progressive platform, even for a Democratic candidate in Mississippi.
After winning the Democratic nomination to challenge incumbent Republican U.S. Sen. Roger Wicker, Baria announced a series of 10 town-hall events across the state. Since, he has traveled across the state pitching voters on a progressive platform.
"One of the reasons we held 10 town halls was to listen to people to gain an understanding of what they feel is important in their communities," Baria tweeted Tuesday. "Community input is necessary to craft policies that reflect the values and needs of everyday Mississippians, including the poor."
Wicker has repeatedly declined to participate in a debate with Baria. October marked 10 years since Mississippi had the chance to watch U.S. Senate candidates debate. The last one was in 2008, when Wicker debated Democrat Ronnie Musgrove. In Mississippi's other Senate race—a special election for the seat former Sen. Thad Cochran retired from in March due to health reasons—Sen. Cindy Hyde-Smith has also declined to debate her opponents. Hyde-Smith is an appointee of Gov. Phil Bryant, a far-right Republican. "In the Mississippi I know, if a man is not willing to stand toe-to-toe and defend his beliefs, he does not deserve your vote," Baria told a crowd at the Neshoba County Fair in Philadelphia, Miss., in August, earning applause from McDaniel supporters in the crowd. "'Roger the Dodger' has a nice ring to it, duddin'it?"
Mississippi has not elected a Democrat to the U.S. Senate since 1982, when voters re-elected John C. Stennis. He defeated young Republican Haley Barbour in the early years of Mississippi conservatives' embrace of the Republican Party after national Democrats supported civil-rights legislation in the 1960s. Barbour, an architect of the southern strategy to draw conservative Democrats to the reconfigured Republican Party, ran against the long-time senator, based partially on the fact that Stennis was 81. At the 1982 Neshoba County Fair, Barbour operatives tried to roll out a large birthday cake with 81 lit candles before Stennis' speech under the pavilion, but it never made it to the stage.
Barbour's campaign also mailed a fund-raising letter signed by Ronald Reagan, also a southern strategist, to Stennis' aging wife in a nursing home to help make his age a campaign issue, but it did not work.
On Nov. 6, the same day as the national midterms, Wicker and Baria go head-to-head for a seat in the U.S. Senate. Voters will also choose between Democrat Mike Espy, incumbent Republican Hyde-Smith and Republican Chris McDaniel in the U.S. Senate special election. House seats in each of the state's four congressional districts are also on the ballot.
Voters must bring a valid form of photo identification such as a driver's license or student ID. Polls are open from 7 a.m. to 7 p.m.
Ashton Pittman covers politics and elections for the Jackson Free Press. Follow him on Twitter @ashtonpittman. Email him at [email protected]. Read more 2018 campaign coverage at jfp.ms/2018elections. Donna Ladd contributed to this report.
Support our reporting -- Become a JFP VIP.
The news business has changed dramatically in the past year, and we need your help more than ever to keep bringing you important stories about Jackson and the Metro. Become a JFP VIP with an annual membership or you can Sign up as a monthly supporter. Thanks for anything you can do to empower our journalism!