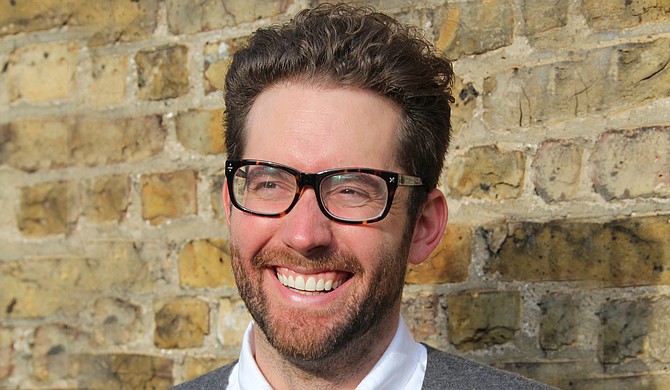 JACKSON, Miss. — On a blistering Mississippi Tuesday, a camera crew followed Kyle Taylor, dressed in a tailored blue suit, from his attorney's downtown Jackson office to the Hinds County Chancery Courthouse. Taylor had flown to Mississippi to challenge the latest data project of two British companies, with ties to the U.K.'s "Brexit" campaign to leave the European Union.
The project was slated to be located at the University of Mississippi's Insight Park with the help of state dollars.
Taylor believes Eldon Insurance and Big Data Dolphins Ltd. might be using U.K. citizens' data in their new artificial-intelligence project they have planned to start in Oxford, Miss. Attorneys and principals at those companies deny transferring any data from the U.K. to Mississippi as a part of the project, however.
Arron Banks, a "Brexit" leader who co-founded the Leave.EU campaign with Andy Wigmore, owns Eldon Insurance, which started the Big Data Dolphins project.
In the third-floor courtroom, a local Baker Donelson attorney, Sterling Kidd, represented the two British companies. He sat with a British attorney, John Banks (who the Associated Press reported is kin to Arron Banks), and Victoria Sena, an Eldon employee tasked with managing the Mississippi project. Chancery Court Judge Denise Owens had a child-support case ahead of Taylor's, so both parties waited on opposite sides of the courtroom. Taylor sat with his attorney Dorsey Carson, who also does legal work for the Jackson Free Press, as well as Emma Briant, a British lecturer whose interviews with "Brexit" leaders became a part of Parliament's inquiry into "fake news." She would later testify in the hearing.
When it was Taylor's turn, videographers filming for a documentary project started their cameras.
Kidd made his clients' position clear early. Eldon and Big Data Dolphins believe that the Mississippi lawsuit is improper because it deals with U.K. companies and a U.K. citizen. Taylor is a dual-citizen of Canada and the U.S. who has been living in the U.K.
"No personal data of any British citizens has been transferred to Mississippi," Kidd told Judge Owens, emphasizing that besides the signed lease for Insight Park space, Big Data Dolphins has no operations at Ole Miss.
Investigations Across Waters
The Information Commissioner's Office, a public British agency that reports to Parliament, is investigating not only Eldon Insurance Ltd. but also Big Data Dolphins Ltd. The investigation is about how these companies might have used strategies including scraping and misusing U.K. citizen data. A letter saying so was not entered into evidence, but Carson gave the document to the Jackson Free Press.
"The (ICO) investigation concerns the use of data and analytics methodology including the obtaining of personal information of U.K. citizens ... for the purpose of deploying targeted political advertisements in relation to the 2016 'Brexit' referendum, the alleged 'scraping' and misuse of data from millions of Facebook accounts in certain political campaign efforts, and whether any such conduct may have violated the British Data Protection Act of 1998, among other laws," the letter says.
The investigation springs from an inquiry into Cambridge Analytica, a data analysis group, that influenced the 2016 U.S. presidential election, using scraped Facebook user data. Last week, Alexander Nix, former head of the group, admitted that the group did receive the Facebook data. Nix denied Cambridge Analytica's role in the "Brexit" election, however, Reuters reported.
Cambridge Analytica harvested more than 87 million American Facebook user profiles and their data during the 2016 presidential election. To scrape a user's data, it used third-party applications on the social-media network. How CA got access to so many users was tricky.
In 2015, some Facebook users clicked on a third-party application titled "This is Your Digital Life." When you use a third-party application, a pop-up box appears, asking you to give permission or access to some of your personal data. Users have two options—accept and allow the application to use all the data it lists, or decline and return back to Facebook without taking the quiz. Lots of Facebook users had their public profile, page likes, birthday and current city accessed if they clicked on the link. The catch was that even if you did not click on the link, if one of your Facebook friends did, your data was compromised, too.
The Parliamentary "Fake News Inquiry" is looking into whether or not U.K. citizens' data was similarly scraped and used to influence the "Brexit" election. In April, Brittany Kaiser, a former CA employee, testified before a parliamentary committee about her work at the data firm. She testified that Cambridge Analytica engaged with Banks and Wigmore to design parallel proposals for Leave.EU as well as Eldon Insurance. She took the lead on negotiations between CA and Leave.EU and Eldon Insurance, she said.
"Over a period of five months, we undertook both meetings and work at the Bristol headquarters of Eldon Insurance. ... Our work for UKIP/Leave.EU was never reported to the Electoral Commission by the party, the campaign or our company," she told the committee.
Banks denies Kaiser's testimony, and in front of a Parliamentary committee this week called her a "fantasist." Banks also said the committee had been "used by the Fair Vote campaign to push for a second referendum," the Guardian reported on June 12.
From 'Fake News' to Data Scraping?
Documents revealed in court, including emails between Eldon employees, show substantial plans for an artificial-intelligence data project at Ole Miss, including plans to "scrape social media data."
A parliamentary committee is currently investigating how "fake news" can influence elections, and Banks and Wigmore were scheduled for an oral evidence session in the U.K. on June 12. On June 8, Banks wrote a letter (tweeted out by Leave.EU) to the committee declining to testify and claiming that the committee is colluding with the Fair Vote project. "It is perfectly clear that the committee, which comprises only of Remain supporting MPs is conducting a co-ordinated 'Witch Hunt' of Leave groups, involving the Electoral Commission & the ICO. You have called no witnesses from the Remain campaign or associated groups," Banks writes.
At the bottom of the letter, he listed "Facts" including that he met the Mississippi delegation at the Republican National Convention after the referendum, and they invited him to the state to meet Bryant.
"The project is still at the planning stage and has not commenced. No data was transferred to Mississippi from the UK," Banks writes. Banks and Wigmore changed their minds about not testifying to Parliament over the weekend after The Guardian published a story detailing documents that suggest that Banks met with Russian officials before the referendum. The two Leave.EU leaders have visited Mississippi before.
Gov. Phil Bryant invited Banks and Wigmore, Nigel Farage and Lord Ashcroft to an Ole Miss football game last fall, a photo on Banks' Twitter account shows. Bryant said in an April statement that he initially suggested that the Big Data Dolphins project come to Mississippi. Plans for the project started as early as last fall.
Eldon officials and the University of Mississippi Research Foundation signed the lease for a new office to be built specifically for the project in February 2018. The lease said the foundation would pay for $100,000 of the construction, and the rest would be paid with a $100,000 grant from the Mississippi Development Authority.
MDA told the Jackson Free Press last week that it has not awarded that grant.
Victoria Sena testified in a quiet British accent before Judge Owens last week. She had written in her affidavit that Eldon representatives visited Oxford, Miss., twice in October 2017 to begin lease negotiations. Beyond that, she testified that nothing else has happened with data of any U.K. citizens.
"Neither Big Data nor Eldon have had or now have any equipment in Mississippi that would allow them to store the private data of British citizens there. Neither Big Data nor Eldon has, at any point in time, sent any personal data relating to citizens of the United Kingdom to the University of Mississippi, or to anyone else in Mississippi," she wrote in her affidavit.
Emails between Eldon employees show that the project would have included data scientists, marketing execs and a psychologist "working on projects to disrupt the market... Retailing through peer to peer groups and social media are areas where Arron sees opportunity," an email from Eldon employee Dave Taylor to Sena says.
The Mississippi Project
Big Data Dolphins staff were planning to work with Ken Cyree, the dean of the Ole Miss business school, and William Nicholas at Insight Park, the Big Data Dolphins' white paper, also released in court documents, shows.
"Within the first year of establishing a presence expectations are that the concept of establishing a presence at the Insight Park will be proven by the delivery of four to five AI projects across at least two of the above business areas," the white paper says.
Emails between Eldon employees show that Banks wanted to establish a "marketing focused AI office." The list of specific projects was sealed in the court record, but the rest of the emails are public record in court evidence. In an email from Dave Taylor, an Eldon employee, writes about the projects briefly.
"Arron would also like the team to acquire more sources of data and has mentioned that our plans to use software we have purchased (Kapow) to scrape social media data (Facebook profiles of our customers for starters) would fit in well with what is expected from Mississippi," the email says.
"We are already building up a sizeable data set but need to supplement with data from social media and analyse (hence the psychologist) to build up psychometric profiles we can adapt or build marketing campaigns to/for," Dave Taylor wrote in an Oct. 15, 2017, email to Sena.
The emails do not seem to prove that Big Data Dolphins or Eldon have transferred data to Ole Miss, but they do outline the plans for the project, which included building up data sets.
The companies were planning to recruit for the data-scientist positions through Mississippi Works, a website that lists jobs available in Mississippi. However, as Josh Gladden, the interim vice chancellor for research Ole Miss, testified in court last week, construction has not begun on the Big Data Dolphins office, despite the lease being signed in February.
MDA has not awarded its grant, either, implying that the project is currently stalled. Judge Owens asked attorneys to submit briefs by June 12. She will have to decide whether to extend the temporary injunction on the two companies or lift it.
Read more at jfp.ms/brexit.
More stories by this author
Support our reporting -- Follow the MFP.