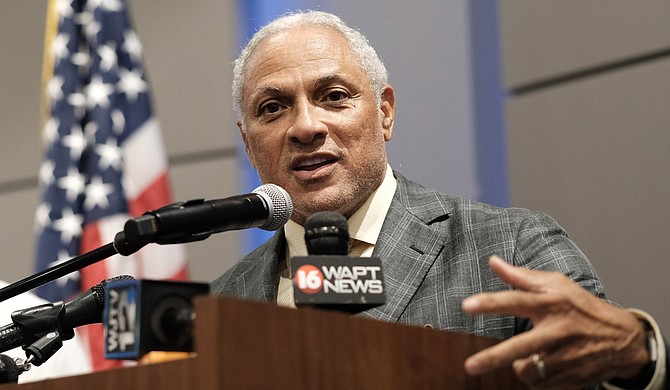 JACKSON — President Donald Trump's tariffs on China are hurting Mississippi farmers, Democratic U.S. Senate candidate Mike Espy said in a press conference at the Mississippi Agriculture and Forestry Museum on Friday.
"I've talked to farmers in the Mississippi Delta who grow soybeans, and they are hurting," said Espy, who was the U.S. secretary of agriculture under President Clinton.
In March, Trump announced he would impose the taxes on steel and aluminum made in China, tweeting that "trade wars are good and easy to win." The next month, China announced retaliatory tariffs on U.S. soybeans.
China's tariffs on soybeans could be particularly harmful to Mississippi because soybeans are the third largest commodity in the state—a state where one in three jobs are tied to agriculture. The United States is the lead producer of soybeans, which account for $1 billion in Mississippi across 3,274 farms, Espy said.
"If we continue down this dangerous road, we're going to cede that market to Brazil," Espy said, noting that Brazil is the United States' "prime competitor" in soybean production and that the United States is the lead producer of soybeans worldwide.
Already, soybean prices in Mississippi are hitting lows not seen in years in the wake of Chinese retaliation, Espy said.
The Trump administration's initial tariffs on steel and aluminum were imposed "mainly to benefit two states—Ohio and Pennsylvania," Espy said, speaking of two battleground states that were key to Trump's 2016 victory. "That's alright if you're the senator from Ohio or Pennsylvania, but I'm not running for those states. I'm running for the job of senator from Mississippi. And we have been unfairly targeted by retaliatory tariffs from China."
"They Want to Trade. They Do Not Want Aid'
Last Tuesday, Trump announced that his administration would seek to remedy the pain of tariffs on farmers by using a Great Depression-era government assistance program—the Commodity Credit Corporation—to provide $12 billion in relief to farmers hurt by the tariffs. Espy sharply criticized the decision, saying the farmers he has talked to do not want a relief package.
"They want to trade. They do not want aid," Espy said.
The Democratic candidate to fill the seat that Sen. Thad Cochran vacated last year said the relief policy was fiscally irresponsible and "not conservative" because it will have to be paid for through deficit spending, requiring the U.S. to borrow more money from foreign lenders.
"Guess who is loaning us the money? China," Espy said. "So we're paying interest on a treasury note and giving China the benefit of our taxpayer interest payments to fix a trade war that they're benefitting from that harms our farmers and consumers. It is not right. It is almost silly."
If elected, Espy said he will be willing to travel to China to work to improve trade relations, and that he would "work with any president, as long as the benefit will be for Mississippians and for Mississippi farmers." 
Espy pointed to his experience negotiating trade deals that he says are good for Mississippians, including the North American Free Trade Agreement.
"NAFTA was good for Mississippi farmers," Espy said.
Republican Opponents Deferring to Trump
Espy's Republican opponents have shied away from criticisms of Trump's trade policies, including Sen. Cindy Hyde-Smith, whom Gov. Phil Bryant appointed to the position in April after Cochran's resignation. She has expressed "concern" about the falling prices of soybeans, but deferred to Trump's judgment.
"We're just looking for his leadership and guidance on this issue," Hyde-Smith said in an interview with the Meridian Star earlier this month.
Hyde-Smith was one of only a handful of senators who voted against a rebuke of Trump's tariff policies on July 12, when the U.S. Senate voted 88-11 to pass a resolution calling on Trump to seek congressional approval before imposing further tariffs under a "national security" justification.
Mississippi State Sen. Chris McDaniel is a hard-right Republican candidate who is on his second run for the seat after narrowly losing to Cochran in the 2014 GOP primary, then running on a tea-party platform. He has given no indication of his position on Trump's tariffs since they were announced. He lists no trade positions on his official campaign website, and has remained silent about Trump's tariffs and government assistance for farmers on his Facebook and Twitter accounts.
At publication time, McDaniel had not responded to the Jackson Free Press' request for comment on his positions on Trump's tariffs and the the administration's $12-billion assistance package.
But in a Facebook comment in February 2016, when he was supporting Texas Sen. Ted Cruz's bid for the Republican nomination for president, McDaniel criticized Trump's proposal to implement tariffs.
"He has opposed free trade," McDaniel wrote, saying Trump had "taken protectionist positions, such as advocating a 20% tax on all imported goods" as well as tariffs that would add a 35 percent tax on all Mexican imports. "LIBERAL," McDaniel added in all caps.
In the same comment thread, McDaniel criticized Trump's position on federal relief programs.
"He is for bailouts," McDaniel wrote. "UNCONSTITUTIONAL."
Since Trump's election victory, however, McDaniel has consistently praised Trump, including in a Facebook post on Friday, in which he credited Trump's "strong leadership" for "inspiring consumer confidence."
McDaniel will face off against Espy and Hyde-Smith in a special election to be held on the same day as the national midterm elections on Nov. 6, 2018. Polls are open from 7 a.m. to 7 p.m. in Mississippi.
Freelance journalist Ashton Pittman covers politics and elections for the Jackson Free Press. Email him at [email protected]. Read more 2018 campaign coverage at jfp.ms/2018elections.
Support our reporting -- Become a JFP VIP.
The news business has changed dramatically in the past year, and we need your help more than ever to keep bringing you important stories about Jackson and the Metro. Become a JFP VIP with an annual membership or you can Sign up as a monthly supporter. Thanks for anything you can do to empower our journalism!