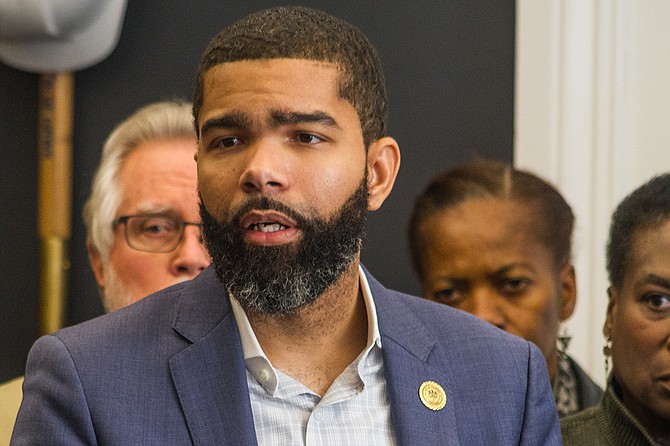 JACKSON — The City of Jackson's anti-profiling ordinance will stay on the books, as far as Chokwe A. Lumumba is concerned. The Mississippi Legislature targeted the 2010 ordinance as a "sanctuary city" policy in 2017, and now U.S. Attorney General Jeff Sessions' Justice Department has added the capital city to his list of 23 jurisdictions he believes could be violating federal laws that prohibit local or state governments from restricting communication between immigration services and government entities.
Now, Jackson police officers cannot ask about a person's immigration status unless it is in the course of a criminal investigation or necessary to assist federal law enforcement. The Justice Department has taken issue with this part of city code, however, and sent a second letter to the City last week threatening to subpoena documents as well as retract federal funds to the city.
Lumumba says the ordinance complies with federal law, however, and that it actually helps community-policing efforts across the city.
"Racial profiling is patently illegal," Lumumba told reporters Monday. "... Furthermore, racial profiling is ineffective. It alienates communities from law enforcement, disrupts community policing efforts, and causes law enforcement to forfeit credibility and trust among the people they are sworn to protect and serve."
Lumumba said if an undocumented immigrant is worried that police will ask about his or her immigration status, they are less likely to come forward if and when they are the victim of a crime or a key witness to one.
"Just as someone who is undocumented can be the perpetrator of a crime, we know that someone who is undocumented can be the victim of a crime—and often are victims of crimes, not only in our community but across the country," Lumumba said.
"We know that this is the case because we know that undocumented individuals often don't have identification. Therefore, they do not open bank accounts. Therefore, they often have great amounts of cash on them, and people know this and target them and look to abuse them in these circumstances, and that is not an environment or culture we want to promote."
In a Jan. 24, 2018, letter, the DOJ asked Jackson officials for all documents "reflecting any orders, directives, instructions, or guidance to your law enforcement employees."
Lumumba says those documents do not exist.
"Our response to the Department of Justice was that, first and foremost, we're in compliance with the law. The law that DOJ references is one about providing information obtained by law enforcement ... if we don't inquire about it, then we don't have information to provide. Therefore, we are in accordance with the law," Lumumba said.
If DOJ determines that Jackson is out of compliance with federal immigration laws, the City might have to return federal grant funds and possibly be deemed ineligible for police-department grants going forward. Lumumba said he has talked to organizations working with other cities around the country on the issue, which showed him that Jackson's ordinance is "really on the lighter end of things."
Uniting for DACA?
Immigrants and activists called on Mississippi lawmakers to support legislation that enables immigrants in the state to be eligible for in-state college tuition last week at a press conference.
Rep. Kathy Sykes, D-Jackson, said it is important to unite behind students with Deferred Action for Childhood Arrivals, or DACA, status and encourage Congress to support its reauthorization.
"On the state level, we have young people who have been here who have exceeded in their education; they've done very, very well. However, when they attempt to enroll in college, they have to pay out-of-state tuition, and that is patently unfair," Sykes said at the Capitol last week. "I have introduced a bill to change that, and hopefully we can gather enough support so these young people can continue on this productive and positive path they are on."
Sykes filed House Bill 33 to allow undocumented students or students with temporary visas to pay in-state tuition as long as they have a high-school diploma and have lived in Mississippi for five years or more in a row.
That bill died on Tuesday after the committee deadline. On the federal level, the negotiations on the DACA program and immigration reform continues, with President Donald Trump offering to extend DACA protections for millions of young people who came to the U.S. as kids in exchange for a multi-billion-dollar wall on the southern border. Immigrants' rights groups nationally have decried the president's proposal.
Ending Temporary Status
The U.S. Department of Homeland Security announced that temporary protected status, or TPS, for Haitians will end by July 22, 2019. Additionally, the department is phasing out TPS for Nicaragua, Honduras and El Salvador. TPS is a program that enables people who have a natural or political disaster in their country to come to the U.S. and get work authorization. Patricia Ice, legal director of the Mississippi Immigrants Rights Alliance, says that ending TPS will affect people who came here from Honduras, Nicaragua and El Salvador back in 1999 and 2000. She said many of them have children and have started lives here, considering themselves Americans.
"The government is trying to deport these people. They have terminated several TPS programs for people from Central America, from Haiti and other countries, and we have to stop that," Ice said at the Capitol last week.
MIRA held the press conference to oppose House Bill 1506, which also died in committee on Tuesday.
The proposed bill would require law enforcement officers to inquire about a person's immigration status when they arrest them as well as penalize businesses who contract with undocumented workers.
Email state reporter Arielle Dreher at [email protected] Read more about immigration in the state at jacksonfreepress.com/immigration.
More stories by this author
Support our reporting -- Become a JFP VIP.
The news business has changed dramatically in the past year, and we need your help more than ever to keep bringing you important stories about Jackson and the Metro. Become a JFP VIP with an annual membership or you can Sign up as a monthly supporter. Thanks for anything you can do to empower our journalism!