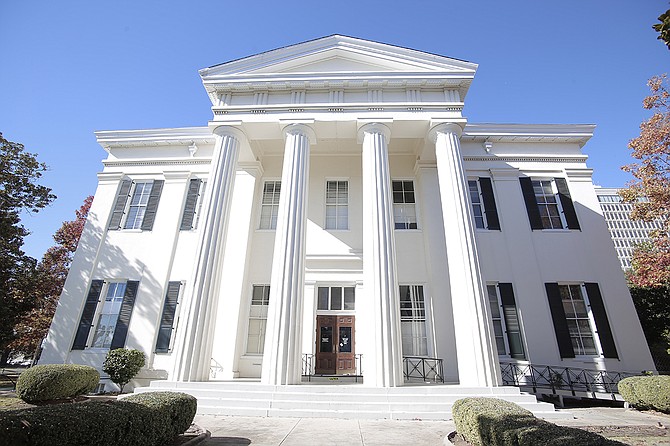 JACKSON — UPDATE: This story has been updated to include a statement from Mayor Lumumba on the DOJ letter, released this afternoon.
The U.S. Department of Justice does not know the City of Jackson has a new mayor. In a letter addressed to Mayor Tony Yarber but dated Nov. 15, 2017, Acting Assistant Attorney General Alan Hanson asked the City of Jackson to review its "sanctuary city" ordinance in order to receive federal funds from the Office of Justice Programs going forward.
Jackson has an anti-profiling ordinance that prohibits police officers in the city from asking about a person's immigration status unless it is "relevant to the investigation or prosecution of a criminal offense, or when processing an arrested person."
The ordinance, often referred to as a "sanctuary policy," has been on the books since 2010. This year, the Mississippi Legislature passed a law to make sanctuary cities illegal in the state, and following President Donald Trump's lead, Gov. Phil Bryant signed the bill into law.
Mayor Chokwe A. Lumumba so far has been a staunch supporter of immigrants living in the city—he signed a letter in September encouraging Trump to preserve the Deferred Action for Childhood Arrivals, or DACA, program. Lumumba's father, the late Mayor Chokwe Lumumba, introduced the anti-profiling ordinance in 2010 when he was a Jackson City Council member.
Mayor Lumumba believes that the city's anti-profiling ordinance does not violate federal law.
"The City of Jackson is firmly committed to promoting and securing safe communities. We unflinchingly uphold the canon of human rights for human beings. Racial profiling is patently illegal, violating the U.S. Constitution's principle assurance of equal protection under the law to all and freedom from unreasonable searches and seizures. Furthermore, racial profiling is ineffective," Mayor Lumumba said in a press release.
"It alienates communities from law enforcement, disrupts community policing efforts, and causes law enforcement to forfeit credibility and trust among the people they are sworn to protect and serve. It is my belief that the action taken by the City of Jackson to enact an anti-racial profiling ordinance is not in violation of the law, but to the contrary is an effort to undergird the long-standing ideals that are firmly cemented within our justice system."
The U.S. Department of Justice sent the letter to 28 other jurisdictions, including states, cities and counties around the country that "may have" sanctuary policies that violate a federal statute that promotes information-sharing related to immigration enforcement.
"Jurisdictions that adopt so-called 'sanctuary policies' also adopt the view that the protection of criminal aliens is more important than the protection of law-abiding citizens and of the rule of law," Attorney General Jeff Sessions said in the press release. "I urge all jurisdictions found to be potentially out of compliance in this preliminary review to reconsider their policies that undermine the safety of their residents. We urge jurisdictions to not only comply with Section 1373, but also to establish sensible and effective partnerships to properly process criminal aliens."
The City has until Dec. 8, 2017, to submit a response that "addresses whether Jackson has laws, policies, or practices that violate section 1373."
Section 1373 of the U.S. Constitution says, "Notwithstanding any other provision of Federal, State, or local law, a Federal, State, or local government entity or official may not prohibit, or in any way restrict, any government entity or official from sending to, or receiving from, the Immigration and Naturalization Service information regarding the citizenship or immigration status, lawful or unlawful, of any individual."
The letter also mentions federal funding that goes to the City through the Byrne Justice Assistance Grant Program.
"Please address whether you would comply with section 1373 throughout the award period, should you receive an FY 2017 Byrne JAG grant award. To the extent Jackson laws or policies contain so called 'savings clauses,' please explain in your submission the way these savings clauses are interpreted and applied, and whether these interpretations are communicated to Jackson officers or employees," Hanson writes.
The city of Jackson is slated to receive $252,439 this year in JAG allocations, a list from the office of Justice Programs shows . The City can spend JAG grants on several program areas from law enforcement, prosecution and crime prevention, to corrections, mental health and behavioral programs.
The letter says that the department has not made a final determination yet regarding Jackson's compliance with Section 1373.
"This letter does not constitute final agency action and nothing in this letter creates any right or benefit enforceable at law against the United States," Hanson writes.
Email reporter Arielle Dreher at [email protected] and follow her on Twitter @arielle_amara.
More stories by this author
Support our reporting -- Follow the MFP.