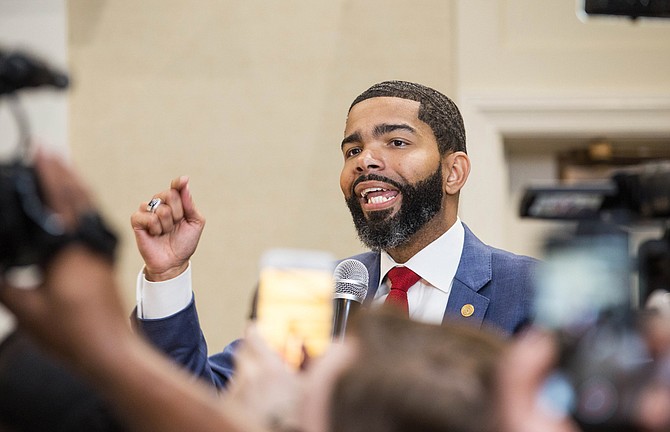 JACKSON — Mayor Chokwe Antar Lumumba is calling on President Donald Trump to preserve the Deferred Action for Childhood Arrivals Program, known as DACA. Lumumba signed the "We Are With Dreamers" letter today, which includes governors, state and municipal leaders, and faith leaders throughout the country.
"I stand with Dreamers. We must protect DACA and pass the bipartisan Dream Act," Lumumba said in a press release. "Doing so will not only provide important protections and opportunities for nearly 1,500 Dreamers in Mississippi, but will strengthen our economy and society across Mississippi and America."
The "We Are With Dreamers" statement also calls on Congress to pass a standalone version of the Dream Act, which would adjust the legal status and create a path to residency for more than 800,000 men and women currently in the DACA program, who are at least 15 years old currently and were under 31 years old in June 2012.
"We also encourage President Trump and Republicans and Democrats in Congress to enact legislation that replaces fear and uncertainty with permanent protection for Dreamers," the letter says. "The recently introduced stand-alone Dream Act of 2017 would do that, and we support it."
Most DACA recipients are in school or have already graduated and are working. In order to receive DACA, recipients must have no felony or significant misdemeanor convictions.
More than 800,000 men and women in the U.S. are affected by Trump's decision to roll back the DACA program earlier this week. Congress will have to act if they want to keep the program from expiring in six months.
The U.S. Department of Homeland Security has renewed protections for Mississippi's DACA recipients more than 1,300 times, data from the agency show. DHS accepted more than 3,000 DACA applications from Mississippians to date.
Lumumba's father, the late Mayor Chokwe Lumumba, favored policies to protect immigrants, and he introduced an anti-profiling ordinance back in 2010, which the city still has in place. The Mississippi Legislature passed an anti-"sanctuary cities" law this past session to stop cities from granting a person "the right to lawful presence or status" in violation of state or federal law.
Read more about immigration in Mississippi at jfp.ms/immigration. Email reporter Arielle Dreher at [email protected].
More stories by this author
Support our reporting -- Follow the MFP.