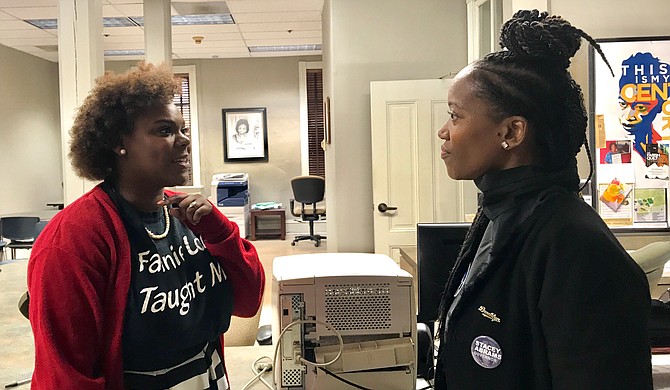 JACKSON — The eve of the U.S. Senate run-off election in Mississippi fell on Arekia Bennett's 26th birthday, but she hardly paused to celebrate. Decked out in a "Fannie Lou Taught Me" T-shirt, she flitted from one end of Jackson to the other, speaking on panels and holding last-hour voter engagement events at her alma mater, Jackson State University.
"It's not just the shirt because I'm cute, and I'm woke or whatever, but it means something to me," Bennett, the executive director of Mississippi Votes, said in an interview.
She showed up on campus with dozens of pizza boxes, as the organization she chartered on campus, GIRL: Gathering Information Related to Ladies, prepared to host actress Erika Alexander, best known for her role as Maxine Shaw in the 1990s sitcom "Living Single."
Bennett was nervous but excited then. But, just 24 hours later, she traded anxiety for disappointment and conflicted feelings.
Sen. Cindy-Hyde Smith was elected to serve in Washington, D.C., for the next two years, as she finishes the term of Sen.Thad Cochran, who retired last spring. She thanked God, her family, the governor and the president, in that order, when she spoke after the win. Then she started thanking the people who elected her, promising to hold true to Republican values while also unifying the rest of the state.
"You know, this win tonight, this victory is about our conservative values," Hyde-Smith said in an overly chilled, carpeted hotel ballroom at The Westin in downtown Jackson. "It's about the things that mean the most to all of us Mississippians: our faith, our family. It's those things that I will take to Washington, D.C. I want to represent all of Mississippians with these values, and I will fight for it, I assure you, every single day."
Hyde-Smith said she won because Mississippians know what is in her heart, and for many, that is precisely their issue with the senator-elect, particularly after Hyde-Smith's "public hanging" quip and comments about suppressing the vote of "liberal folks" at some Mississippi colleges and universities quickly polarized the campaigns and by extension, the state.
While Hyde-Smith made history as the first woman elected to represent Mississippi in Congress, it is hard for some black women to celebrate strictly on the basis of gender.
"I don't think you can do that—unite everybody by using offensive language," Bennett said. "You felt comfortable that this is the Mississippi that is still holding this idea of white-supremacist thought, and that is problematic for me. I would love to have a conversation with her, but I am reluctant around her words in that because I don't know if that's true. It would be hard for me as a black person to trust that (she will unite Mississippi)."
Hyde-Smith inherits a more divided state than other Mississippi Republicans in recent memory because Hyde-Smith, and by extension, the Republican Party, did not defeat Mike Espy overwhelmingly. Hyde-Smith won the seat with 54 percent of the vote, compared to Espy's 46.
Although turnout is lower during midterms, and often more so during a run-off, the votes show there is a significant portion of the voting population Hyde-Smith alienated and energized with her viral comments.
'Still a Black Woman'
Arekia Bennett highlights a conundrum unfolding in the wake of this high-tide run-off. As she takes deep breaths and long pauses during the interview on Nov. 29, it is clear that she is still trying to process an election season during which she hit the streets hard with college students, resulting in nearly 2,000 newly registered voters on college campuses.
Mississippi Votes is a nonpartisan organization, and Bennett emphasized that the sheer fact that Hyde-Smith won as a Republican is not what bothers her. Instead, she feels torn as both a black person hurt by the "public hanging" comment and conflicted as a woman seeing another rise.
"It is difficult, or it can be difficult, to feel a way about somebody making a statement about public hangings when you're the executive director of a nonprofit, but you're still a black woman," Bennett said.
But it wasn't just the public-hanging comment that forced many to recall Mississippi's ugly history with lynchings—the most in the nation from 1887 to 1950, the Equal Justice Initiative shows. Bennett didn't like Hyde-Smith's comments about suppressing college students' vote either.
"Because I work with young people all the time, to say you're suppressing people's votes on college campuses, I took offense to that personally and took offense for people making excuses for her because you just don't say things like that knowing you're in the public eye and folks are always carrying cameras around," she said.
Under Bennett's direction at Mississippi Votes, the organization brought together veterans of Freedom Summer in 1964 alongside student ambassadors to spark registration and engagement. Bennett's organization also made sure those in pre-trial detention could vote absentee. The Appeal reported that since Florida passed Amendment 4 restoring voting rights to many convicted felons, Mississippi is now the worst in the nation when it comes to felony disenfranchisement.
Two historically black colleges in Hinds County saw a surge in numbers at the campus polling stations between this midterm election and 2014.
In the 2014 midterms, fewer than 600 people voted at the campus polling station at Tougaloo College. This year almost 900 did. Jackson State University had fewer than 100 voters show up to the polls during the 2014 midterms, and this year almost 400 turned out. Mississippi Votes used targeted advertisements across all of Mississippi's colleges and reached more than 500,000 of them online.
Bennett said she is heartbroken that Hyde-Smith is the one giving the world an impression of Mississippi. She is having a hard time reconciling what it means to be both a black Mississippian and a woman in this moment.
"Because on this one end, here's this woman going to Congress for the first time from Mississippi, but she also said some things that were hurtful, and that is very much contradictory to the work that we've been able to do with this intergenerational exchange with people who have fought for access to the ballot box," Bennett said. "I just, I don't know."
This One's For the Girls
When it finally neared time for the senator to give her acceptance speech around 10 p.m. on election night, someone finally turned the music up. Country singer Martina McBride's "This One's For the Girls" blared over the speaker just before Lucien Smith, chairman of the Mississippi Republican Party, stepped up to the mic and welcomed everyone to the victory party.
Hyde-Smith herself has not spoken much, at least not publicly, about the impact of being the first woman in her position. She did offer some vague comments that night.
"I loved the Martina McBride music when I walked out, and said 'This One's for the Girls,'" Hyde-Smith told reporters the night of the run-off. "I look at all these young girls, and I look at women everywhere to let them know, 'You've got an opportunity.' I've had so many calls from my colleagues already from the U.S. Senate congratulating me, and they said, 'We need that girl back up here.' And we do need more women in Congress, I can ensure you that."
Maisie Brown, a 17-year-old junior at Murrah High School, is one of those girls who talks on social media about running for higher office one day. She did not feel inspired on Nov. 27, however. In an interview with the Jackson Free Press on election night, Brown said she dreaded going to school the next day.
"'I'm kind of mentally and emotionally drained tonight," she said. "I feel like sometimes your body is OK, but your mind isn't. It's hard to stay hopeful sometimes; it's hard to always stay positive."
Brown said she had the same exact feeling when Trump won in 2016, because she had been so excited to potentially see a woman in the White House. Seeing a woman win in her home state, however, did not satisfy her, but she is glad to see her classmates more engaged in politics, most of whom will be able to vote in 2019, as will she.
"The only thing i am excited about (is) I see a new wave of interest in politics with my classmates because of this race. I used to be the oddball," Brown said. "I don't think hope is completely lost with my parents' and grandparents' generations, but I think this generation of kids is going to bring something we haven't seen since the Civil Rights Movement. I think our generation is going to be one of the most ambitious, aggressive, and I don't think we're afraid to call our leaders on their BS."
Brown complained that since the run-off election results, she has seen people on social media lambasting Mississippi. She sees both locals and people who have never stepped a toe in the state expressing disappointment or comparing present-day to the 1950s.
Pundits, bloggers and think-piece writers across the world have criticized Mississippians for electing Hyde-Smith to office after her public-hanging comments. Many point out how we rank virtually last in everything from education to maternal mortality rates to obesity to poverty. Some Mississippians, like novelist Angie Thomas, who penned "The Hate U Give," took to Twitter to say they would be leaving the state following this election. She later deleted that tweet, but followed it up with a series of thoughts about how people of color cannot be expected to stay in and fix Mississippi.
"The message tonight is clear—people like me don't matter in this state," Thomas tweeted on Nov. 27. "Since that's the case, my dollars don't matter either, and that's where true power lies."
Mississippi has long suffered from "brain drain."
Brown, though, thinks Mississippi should give itself a round of applause.
"They're focusing on the negative, but there's so much we've learned about progress we made by this election," Brown said. "They're acting like (Espy) got blown out of the water entirely. This state was almost split in half."
'Cooking with Grease'
LaTosha Brown, cofounder of Black Voters Matter, was unabashedly upset with the outcome of this vote. Her organization had been all over the South during this election season engaging voters with the iconic Black Voters Matter bus that rolled through Georgia and Florida ahead of the gubernatorial races there. Brown's grassroots efforts in Alabama contributed heavily to Doug Jones' win over Roy Moore. Her efforts led to 96 percent of black voters supporting Doug Jones, with 98 percent of black women and 93 percent of black men backing him.
The team came back to Mississippi during the run-off.
On election night, Brown was angry and unimpressed with Hyde-Smith's promises to push a conservative agenda in Washington, D.C., while also representing the entire state
"That's like an oxymoron," Brown told the Jackson Free Press from Selma, Ala. "You're going to be the representative for everybody, but you're going to support policies that intentionally exclude the majority of Mississippi citizens which are poor and black folks? You can't reconcile two opposites. ... So just like her president, they can make these sound bites, and the truth ain't in it—the policies don't reflect that."
LaTosha Brown does not have much faith and hope in those who align themselves with racism, or that "support someone who said they would be standing front row at a hanging."
"What the world now sees (is) that white folks in Mississippi have not changed," she said. "Ultimately, the majority of white people in that state will choose racism, will choose race over everything, and they are the reason why the state is being held back. Their lack of courage, their inability to face, deal and correct the issue of racism, the continued support of racism and those who espouse a racist agenda.
"White Mississippians are holding the state back."
Latosha Brown pointed to multiracial initiatives like the Poor People's Campaign as proof that there are some white people working to cut across party lines to unite poor people of all creeds. She also said she is 150 percent proud of black people in Mississippi.
"Black voters came out—You know how difficult it is to get people to come back out?" she said of the run-off. "We're cooking with grease. We're going to build, and all that power and that energy is going to be directed in the upcoming elections, and there will be consequences all from the top of the ticket on down."
'Fannie Lou Taught Me'
While attending JSU and as she was trying to find herself, Arekia Bennett delved into more texts from black women leaders in Mississippi, like Fannie Lou Hamer, when she realized all she knew was her iconic quote from the 1964 Democratic National Convention in Atlantic City: "I'm sick and tired of being sick and tired."
Bennett later learned that her campus is adjacent to some of the most iconic structures in African American history, one being the Masonic Lodge on Lynch Street.
The M.W. Stringer Grand Lodge in west Jackson was where Hamer and other Mississippi Freedom Democrats assembled in August 1964. The goal was to challenge the status quo that barred black Mississippians from the state's Democratic Party and take the place of those all-white seats.
Student Nonviolent Coordinating Committee leaders Ella Baker and Stokely Carmichael were among those in the room who ultimately chose Fannie Lou Hamer and other delegates to go to Atlantic City. In her iconic remarks, Hamer spoke of the brutal and violent racism black Mississippians faced.
But at the Democratic National Convention in Atlantic City, N.J., later that month, President Lyndon B. Johnson offered Hamer and others a compromise: allow the MFDP members to attend the convention as guests, with two seated as at-large delegates, and a promise promised that the Mississippi Democratic Party would be fully integrated within four years. The MFDP didn't take the compromise, but they did continue to apply pressure locally.
Still, Hamer's legacy is not as widely understood as many of the men who get much of the accolades for the Civil Rights Movement and, really, movements throughout history.
Rukia Lumumba, an attorney and founder of the People's Advocacy Institute, an organization that leads grassroots voter awareness and registration drives, feels strongly about upholding Hamer's impact on the world.
"We look back at Fannie Lou Hamer, if it wasn't for the good folks of Mississippi, we wouldn't have voting rights today," Lumumba said. "Yes, we have been responsible for some of the most horrific crimes in history, but we have also helped lead some of the most progressive and humane policies in the world."
Bennett sees herself in Baker's and Hamer's stories. As a black woman, she sometimes feels overlooked and wants that to change for members of the younger generation who work for Mississippi Votes. So she tries to connect young black people with black women leaders doing liberation work in Mississippi.
"I'm constantly putting them in rooms with young women so the young women see themselves, (and) they don't get forgotten or their work isn't missed in history," Bennett said.
Moving Past the 'Republican Playbook'
Nsombi Lambright, executive director of One Voice, a civic-engagement nonprofit focused on education and voting rights, is one such example. The One Voice headquarters is in the historic M.W. Stringer Masonic Lodge, where Lambright led phone banking efforts in Jackson and the Mississippi Delta for volunteers who wanted to increase turnout and protect the vote, but without being tied to a campaign.
On Election Day, they manned the phones as calls rolled into their voter-protection hotline. She estimates 70 calls came in on Nov. 27, the day of the run-off, with complaints about polling-station machines not working and people not being on the books who had been on Nov. 6's election. While these voting issues concerned Lambright, she is still proud of the historic turnout in these midterms, even if people voted out of anger.
She also touched on feeling slighted despite her hard work, an emotion plaguing a lot of grassroots organizers, particularly black women, in the wake of this election season. "Sometimes I feel efforts are passed over, especially when it comes to people from other states kind of getting credit for work that we do in Mississippi," Lambright said.
"But, I'm a trained organizer, so our training always indicates that we're in the background making things happen. ... I do believe as women, especially as women of color, we put in a lot of work, and then men get credit for that hard work we put in. But as an organizer, I'm kind of used to feeling that way anyway. "
Lambright is already looking forward to 2019 state elections and the 2020 Senate race when Hyde-Smith must run again for a full six-year term, possibly in a rematch with Mike Espy who announced Friday that he is running again. She, like Lumumba, will hold Hyde-Smith accountable in the meantime.
"I think if the senator is really interested in bringing us all together, she'll have some conversations in the African American community about policies that divide us and sit us on different sides of the room," Lambright said. "Instead of just going by the Republican playbook, if we can start having conversations about what really works for Mississippi, I think we can start seeing some middle ground."
Bennett is pumped up about the potential 2019 presents, including legislative, statewide offices including gubernatorial and district attorneys on the ballot. She is accepting a personal challenge for 26: to continue asserting herself and refuse to be overlooked or talked over in rooms filled with men.
When it gets hard, Bennett thinks of her idol, Hamer, and how she made a way for generations of women behind her, despite how uncomfortable it clearly was then. Bennett also uses the younger generation as fuel to get through another day. And she will not go quietly.
"I think this legislative session and the next couple elections, black women are going to continue to be loud, and journalists are not going to have a choice (but) to quote us because we're not just leading organizations, we're leading a movement," she said.
2019 and Beyond
Maisie Brown is focused on the future, one she may spend in Mississippi. She is not completely closed off to staying in the state for school, even though she used to dream of leaving. If she goes elsewhere, it will be to gain expertise and new perspectives to bring back home, she says. In the meantime, as she prepares to apply to college, she and her peers are also gearing up for 2019, the first time she will be of voting age.
"I think we should be super excited for the possibility of us being able to change a seat like that in the future," the 17-year-old said. "2019 is going to be an interesting year because we'll definitely see governor campaigns going full force. ... If we're very proactive about 2019, and capitalize on energy and momentum, then we can have an even larger turnout in 2019."
She is not alone in her optimism. Especially with Espy filing to run for this Senate seat again in 2020, many are compelled to make the state more progressive, while also focusing on wins that sometimes lurk in the shadows of the larger news stories.
One example is Hinds County. The same day as the run-off, Mississippi's largest county flipped several judicial benches toward progress. For the first time ever, Hinds County's entire circuit-court bench is entirely African American in a county that is about 75 percent black. Women are also leading the circuit-court bench and the chancery court. Debra McDonald became the second black woman on the Court of Appeals, and David McCarty, a white progressive, defeated Jeff Weill, a longtime judge in Hinds County and former Jackson City Council member who lost badly despite an endorsement from Gov. Bryant.
"Those wins actually have a more immediate impact on the quality-of-life of residents and their districts," Lumumba said of the judicial run-offs. "How we handle and how we deal with each other in our legal system has immediate results on our ability to survive and thrive."
Lumumba also points to the rise of her brother, Chokwe Antar Lumumba, mayor of Mississippi's capital city, as an example of local progress in Mississippi. She co-directed her brother's mayoral campaign. Since he took office in July 2017, he has been trying to make Jackson the most radical city in the world, and he has faced the difficulties of reconciling radical thought with city-government bureaucracy. Under his sister's leadership, one staple of the Lumumba mayorship has been People's Assemblies, a gathering of community members to discuss policies and how to change them based on what the citizens want, rather than what politicians choose.
"He represents a shining light," Rukia Lumumba said of her brother. "He represents a way that we can really move Mississippi forward, and I'm not saying that just because he's my brother. But I'm saying that because he really does have a vision and belief that government should be rooted in the people that it serves."
She said that someone had texted her in the days following the run-off to say how much they appreciated Lumumba walking through the crowd of Espy supporters at his watch-night party at the Mississippi Civil Rights Museum. The mayor consoled people in tears, his sister said, adding that she appreciates the humanity her brother shows, and hopes that is the template for future leaders.
"You can't tell me we're the worst state in the nation," Rukia Lumumba said.
Read more election coverage at jacksonfreepress.com/2018elections. Email city reporter Ko Bragg at [email protected].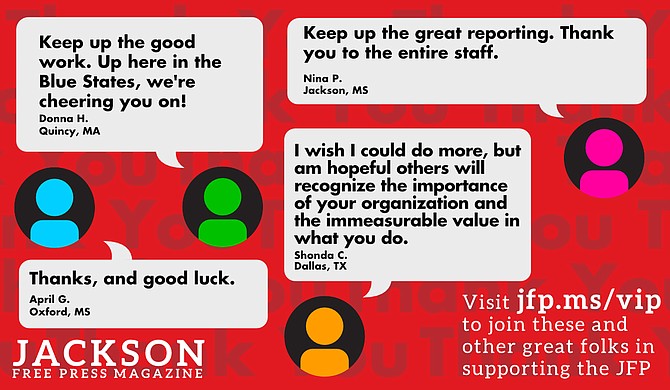 Thanks to all our new JFP VIPs!
COVID-19 has closed down the main sources of the JFP's revenue -- concerts, festivals, fundraisers, restaurants and bars. If everyone reading this article gives $5 or more, we should be able to continue publishing through the crisis. Please pay what you can to keep us reporting and publishing.