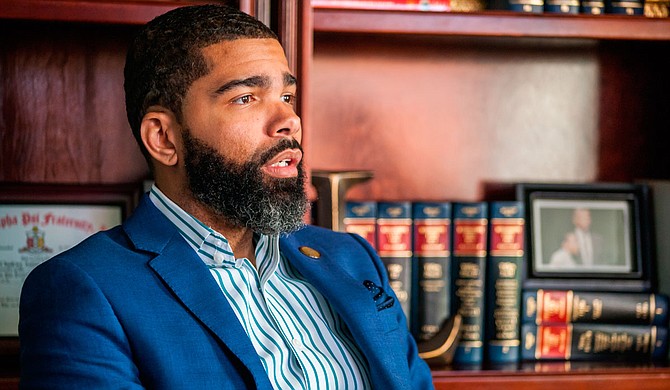 JACKSON — Many locals joke that when Mayor Chokwe Antar Lumumba took office six months ago, so did they, echoing his slogan:
"When I become mayor, you become mayor." That phrase comes alive through the people's assembly, a process that flips government structure on its axis by funneling policies from the bottom to the top, using the people's demands as a way to influence laws, ordinances and policies, and not the other way around. For a man national leftist media like to call the most radical mayor in the country, and a community ready for more bottom-up governance, this is a welcome shake-up.
Still, the road to independent thought can still be challenging, especially when the City convenes and directs the people who are supposed to tell it how to govern.
'Participatory Democracy'
The Democratic Visioning Committee of Mayor Lumumba's transition team held its first people's assembly at the Smith Robertson Museum and Cultural Center on Tuesday, Nov. 28—a busy night for Jackson. Some participants came straight from work, others straight from the first official JPS board meeting since the City rebooted the board after reaching an agreement with Gov. Phil Bryant to try to avoid State takeover of the district. There was only standing room in the hot auditorium named for Alferdteen Harrison where people fanned themselves with the handouts.
The first part of the meeting, which Lumumba did not attend because he was out of town, emphasized the mayor's agenda. The mayor's chief of staff, Safiya Omari, introduced the mayor's "A-team" and other city workers before she detailed the five-point mayoral vision for the City of Jackson in scheduled three-minute remarks that went at least five times as long.
"You know we memorize these things when we're growing up: a government of the people by the people and for the people, right?" Omari rhetorically asked of the audience. "Well, we want to make those words real. We really want to make it mean something: Participatory democracy."
Standing at a podium, Omari outlined future City plans to make the mayoral vision come to life. The second point promises to create safe and affordable communities, and Omari said the administration is working to develop crime prevention and recidivism programs, but she stopped short of giving the audience a tangible timeline for those things to come to fruition.
The fourth prong of the mayoral vision promises to grow Jackson's tax base with occupational opportunities.
Omari promised funding by January for an access center with the goal of creating jobs in Jackson over the next three years by providing the services that people, such as the previously incarcerated, need to become employable.
The chief of staff ended her speech talking about collective genius in Jackson, and how she hopes the mayor's compromise with Gov. Bryant that saved Jackson Public Schools from a state takeover will model the type of collaboration that will affect change in Jackson in the near future.
"We have enough collective genius in this room I know to change the world," Omari said. How do I know that, because we've done it before, right? Haven't we?"
"Think about it," she continued. "This is Jackson, Mississippi, that was an example of oppression for the rest of the south, right? Look at it now, look at the diversity in this room, look at us working together."
Not Married to Lumumba
Akil Bakari, the co-chair of the mayor's transition team, maintains that despite Omari's detailed speech peeling through every element of the mayor's plan, there has to be a clear understanding and distinction that the people's assembly is not married to Lumumba in particular, and would continue even if he was not in office.
"(The people's assembly) is totally independent and autonomous of the City of Jackson," Bakari told the Jackson Free Press a couple days after the assembly. "It's going to exist in function regardless of who's in the mayor's office.
"Obviously, we like to have a good relationship with whoever is there, and we just happen to have a relationship with the one that's there now, but the whole intent and purposes of it is to create and build people power independent of any political party or whoever is in the mayor's office."
Bakari is also part of the Malcolm X Grassroots Movement, a "radical" self-determination movement that the mayor's father, former Mayor Chokwe Lumumba, started. Its hallmark principles include a demand for reparations for slavery in the U.S. and the creation of an independent black nation in the Deep South.
The MXGM believes in people's assemblies as a democratic tool.
"The Assemblies are organized as expressions of participatory or direct democracy," the MXGM website reads, "wherein there is guided facilitation and agenda setting provided by the committees that compose the People's Task Force, but no preordained hierarchy."
Bakari said this first assembly was more introductory for people who are unfamiliar with this process. "What we really want to do is educate people around what participatory governance looks like, democracy, budgeting," Bakari said. "Upcoming assemblies will be around those concepts and ideas." 
He also clarified that the mayor was invited, although he did not attend because he was at what Lumumba describes as a "mayor's school" conference at Harvard University.
In his office, Mayor Lumumba spoke to the Jackson Free Press about the assembly, which started under his father's city-council tenure with an intent he says is centered around an idea that he and his sister, Rukia Lumumba, repeat often: "Three minutes on a microphone does not make community participation." In city council meetings, citizens who wish to voice their concerns on an agenda item during the public-hearing session are limited to three minutes' speaking time.
In the mayor's absence, his sister Rukia tried to play a welcoming video of the mayor addressing the assembly, but its sound would not play through the museum's speaker system. As the official program drew to a close near 9 p.m., she thanked the participants and promised that the next assembly would start on time.
Alan Grove, 25, a white group leader who lives in west Jackson, said the assembly was a good time, but also hectic because it was the first one. Nevertheless, he was excited to have heard so many voices, especially considering that, growing up, he learned to think of Malcolm X as radical.
"Honestly, I think it's pretty crazy because I grew up with an education that Malcolm X was this like terrorist and Martin Luther King Jr. being a savior, right?" he told the Jackson Free Press right after the first people's assembly. "But, then to understand that the people's movement allows an individual person to have a voice—what could possibly be scary about that?"
In the future, the mayor looks forward to participating in the assemblies, lending his presence and support both as the mayor, but also as a citizen concerned about what is at stake in his city. Lumumba said he loves critique, and welcomes the views of anyone—even people who do not like him or did not vote for him.
"Moving our city forward isn't about who your candidate was," he said in his office later in the week. "I really don't get caught up in personality battles, in candidate battles. I think the election of our leadership must be about what are the best ideas to move our city forward."
Email city reporter Ko Bragg at [email protected]. Read more about Mayor Lumumba at jfp.ms/lumumba.
Support our reporting -- Follow the MFP.