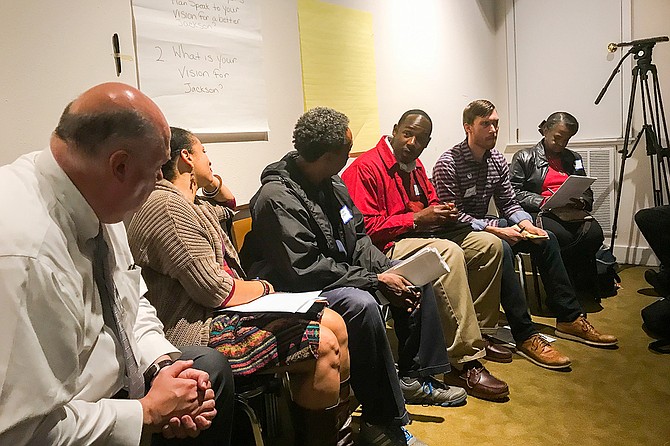 JACKSON — Jackson's mayoral visioning committee hosted its first people's assembly at the Smith Robertson Museum on Tuesday. People of various races and ages poured into what was Jackson's first public school built for African Americans. There was only standing room in the hot auditorium named for Alferdteen Harrison where people fanned themselves with the agenda packets.
Mayor Chokwe A. Lumumba did not attend, though his wife, Ebony, was there with their daughter who bounced around in the hallway outside the auditorium.
The assembly got off to a late start, for which the mayor's sister, Rukia Lumumba, promised to correct in their next meeting in the new year. The gathering lasted until nearly 9 p.m., with many items on the agenda lasting significantly longer than their allotted time. The mayor's chief of staff, Safiya Omari, introduced the mayor's "A-team" and then went through the five-point mayoral vision that promises to develop "an administrative framework that":
Values the health of our citizens
Creates safe and affordable communities
Invests in a thriving educational system that provides outstanding educational opportunities
Grows our tax base with occupational opportunities, and
Creates a municipal culture through which Jackson will be known as an open and welcoming to all citizens and visitors (sic).
"Everybody around the world is excited about Jackson," Omari said to the crowd. "We need to be excited about Jackson."
Omari talked about how Jackson was once the example for oppression in the rest of the South, juxtaposing that with the assembly's diverse crowd, as well as the mayor working with Gov. Phil Bryant to come up with a third solution to avoid a takeover of Jackson Public Schools.
"Look at us working together," Omari continued. "Look at our mayor actually reaching out and working with a conservative governor. Come on, we can change the world, right?" The room erupted with applause and cheers.
"We did it before—the Civil Rights Movement changed the landscape in the South. And now we're getting ready to do it again right here in Jackson together, with you."
Everyone in the room had been assigned a number at random on the agenda packets each person got at the door. With Rukia Lumumba's guidance, the room split off into seven groups led by volunteers. Giant post-it notes hung on the walls, and the groups had to respond to two questions: "Does the mayor's plan speak to your vision for a better Jackson?" And, "What is your vision for Jackson?"
A lot of energy and collaboration were evident in the "visioning sessions." In Group 3, people asked for long-term solutions to crime, complained about trash throughout the city, and expressed how good it felt to have a mayor who sees Jackson for what its worth and possibility to be the best, rather than for the bad parts often highlighted on the nightly news.
"The five points that (Omari) discussed earlier this evening are the same things that we wake up, and we dream about our city looking like," Karen Porter, 50, said to the group. "For somebody to be our mayor now and his support team to feel as though we're more beautiful than other people say we are, and now we just have to show others how beautiful we are ... I'm happy, I'm excited."
To give a sense of demographics, Group 3 consisted of approximately 13 women and eight men, with 14 black and seven white, by sight. Bob Miller, director of public works, sat in on that group and listened intently as people complained about infrastructure, sewage problems and Jackson's water issues.
Rukia Lumumba said that this openness, dialogue and access to public officials is exactly what these assemblies are designed to accomplish.
"This is for for us all to be in the room and share openly what we want to see," she said to the room late in the evening. "To be able to critique with love and understanding what we want to see on both ends.
"I think this is the most important part of what we're building here in Jackson is this here in this room. Without it, it doesn't matter what happens at City Hall," she added.
But, the room also contained skeptics who want the best for Jackson, but almost seemed tired of holding out hope for Jackson, even though they support the mayor.
"Is it going to happen—that's my concern," a black woman in the group said. "I think we hear it, see it, I'm just ready to see some change. Because I advocate for this city, but I almost feel like I'm getting tired. I believe in his vision, I believe in him as a mayor, and do I think he can do it? Yes. But, I'm ready to see something happen. I think that's my concern."
Email city reporter Ko Bragg at [email protected]. Read more and comment at jfp.ms/Lumumba.
More like this story
Like independent media outlets around the world, the Jackson Free Press works hard to produce important content on a limited budget. We'd love your help! Become a JFP VIP member today and/or donate to our journalism fund. Thanks for considering a JFP VIP membership or one-time support.