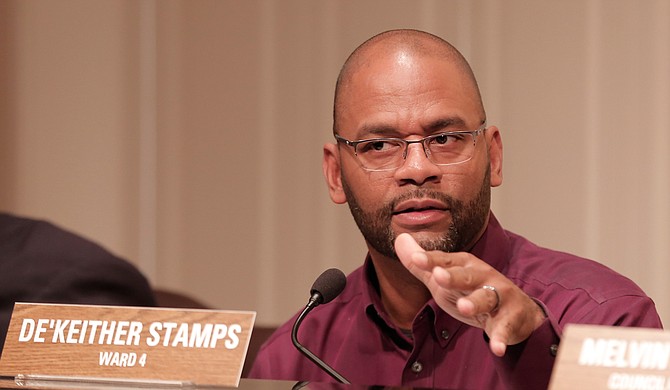 JACKSON — The Jackson Public Schools Board of Trustees is now just one member shy from full for the first time in months, but some council members are concerned that the nominations came too late for adequate consideration.
Mayor Chokwe Antar Lumumba nominated Andrea Jones-Davis and Robert Luckett, who both work at local colleges, to the board earlier this week, Council members had to confirm Jones and Luckett during their regularly scheduled meeting instead of in a separate hearing two days before Thanksgiving.
Council members had a lot of questions for Jones, who is a graduate and former educator in JPS who transitioned to higher education. Jones revamped the Jackson State University online program and now works at Tougaloo College as the interim dean for enrollment management. Robert Blaine, Lumumba's chief administrative officer, introduced her in Lumumba's absence at the Tuesday-evening meeting.
Jones has a background in marketing and business as well as education, and she told the council she could bring both her experience in K-12 education and in colleges to the table.
"There's a need for consistency in our program and making sure we train our students—to make sure the programs we bring in our district fit the needs of our students," she said. "... I know those needs that are needed in higher education."
One of the first tasks the new school board will tackle is conducting a search for a new superintendent. Council members asked Jones about what she is looking for in a new district leader.
"My ideal superintendent, when I look at an effective superintendent, engages all stakeholders as well as develops a sustainable program. I like ... a superintendent to be consistent across the board," Jones said.
Council members questioned Jones for almost an hour before confirming her with a 6-0 vote with Ward 4 Councilman De'Keither Stamps openly expressing concerns that the nomination came to the council too late for adequate consideration. Ward 1 Councilman Ashby Foote was absent.
Luckett, who teaches at JSU and runs the Margaret Walker Alexander Center there, told the council he wants to serve on the school board for the children in the city, his children who are in the district and the homeless children that JPS serves. Luckett is a civil-rights historian and said that informs his dedication in public education.
"I firmly believe that the number-one civil rights issue in our country today is education," he said Nov. 21.
Luckett told the council that he and other school-board members will be responsible for oversight of all of JPS but primarily must understand the budget, contracts, and the board's relationship with the superintendent, as well as provide support for the superintendent to do their job. Council members did not ask Luckett too many questions, as he was more familiar to them, and he was unanimously confirmed 5-0 after less than half an hour of questions. Luckett previously appeared on the agenda for confirmation, but the city spokeswoman, Kai Williams, said later that his inclusion then was an error.
The next JPS School Board of Trustees meeting is Tuesday, Nov. 28. The board now has six members on it, and the most pressing order of business is to complete its current corrective action plan and to submit plans for a new one come January.
Read more about the current state of Jackson Public Schools at jacksonfreepress.com/jpstakeover. Email state reporter Arielle Dreher at [email protected].
More stories by this author