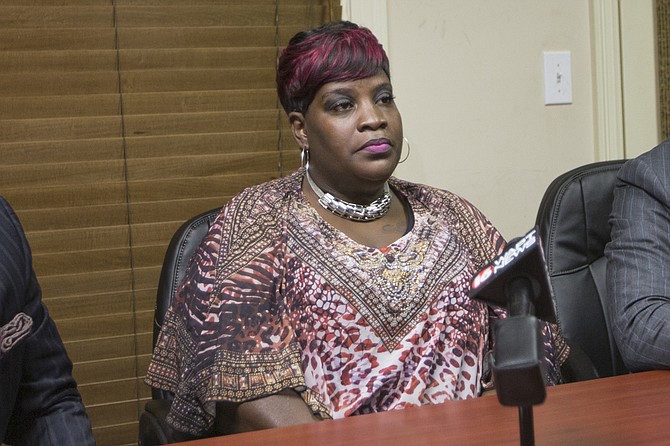 JACKSON — Wayne Parish, the man a Hinds County grand jury indicted for the killing of 17-year-old Charles McDonald Jr. last winter, is denying that he shot the teenager. He made the claim in a response to a wrongful-death lawsuit that McDonald's mother, Yvette Mason-Sherman, filed earlier this year.
Last summer, Mason-Sherman was taking her son to the Henley-Young Juvenile Justice Center when he jumped out of the car and ran down the hill, and into the parking lot of Performance Oil Equipment, she told the Jackson Free Press. The courts must decide what exacted happened next, but Mason-Sherman's son died as a result of an altercation with Parish.
In his response, Parish only admits that McDonald Jr. was trespassing on the premises of Performance Oil Equipment, which he co-owned, in Jackson last June. He denies Mason-Sherman's claim that he "exited the store with a gun and aggressively approached (McDonald Jr.)." Parish also denies that he shot McDonald Jr. and that the teen "suffered multiple gunshot wounds to the upper torso."
Parish pleads several defenses including self-defense and a portion of the "Castle Doctrine," defined in Mississippi state law. Parish's response cites state law that defines homicide in certain situations as justifiable.
"A person who uses defensive force shall be presumed to have reasonably feared imminent death or great bodily harm, or the commission of a felony upon him ... or against his business or place of employment or the immediate premises of such business or place of employment," state law referenced in Parish's response says. "If the person against whom the defensive force was used, was in the process of unlawfully and forcibly entering, or had unlawfully and forcibly entered, a dwelling, occupied vehicle, business, place of employment or the immediate premises thereof ... or had reason to believe that the forcible entry or unlawful and forcible act was occurring or had occurred."
In total, Parish gives 31 defenses in his response. Parish, represented by Robert Gibbs, claims that "the Decedent was a trespasser and he (Parish) did nothing willfully or wantonly to injure the Decedent," his response filed May 10 says. Parish also asserts that the sole cause of McDonald Jr.'s injuries and damages was his "criminal conduct."
Mason-Sherman's complaint also names Performance Oil and Jimmy Ratcliff, the president of the company, as defendants. Ratcliff admits that McDonald Jr. was trespassing on his company's property and also admits that the Henley-Young Juvenile Justice Center is next door to Performance Oil. Beyond that, however, Ratcliff denies that his company or himself as its owner owe Mason-Sherman any damages.
"Ratcliff did not actively participate in the wrong alleged, nor the harm suffered, by any party," one of several defenses in his response says.
The Hinds County District Attorney's office has charged Parish with first-degree murder, after his indictment last winter. Judge Winston Kidd granted Parish a $50,000 bond in January, and a trial on the merits of the case is set for May 30. Parish has pled not guilty to the state's charges against him as well.
Email state reporter Arielle Dreher at [email protected] and follow her on Twitter at @arielle_amara. Read more about McDonald Jr.'s story at jfp.ms/preventing-violence.
More stories by this author
Support our reporting -- Follow the MFP.