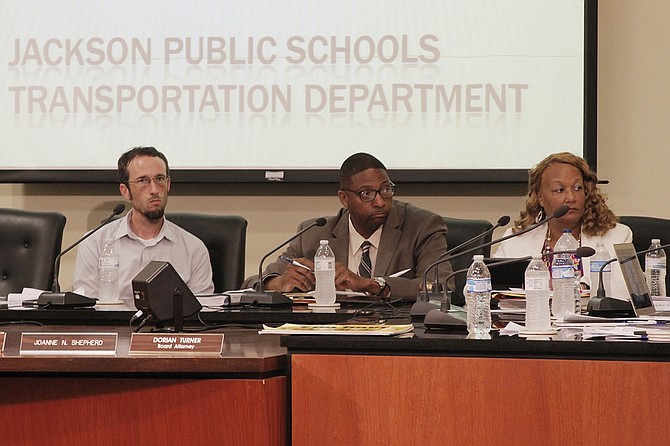 JACKSON — Update: This story has been updated with a response from former school board president, Dr. Richard Lind.
The Jackson Public Schools Board of Trustees needs new members, and quickly. Richard Lind, the newly elected president of the school board, resigned yesterday, meaning only three members remain. The board's July 20 meeting stopped early in the evening because the board is unable to approve any of the consent agenda items without a quorum, which is four members.
Jackson Mayor Chokwe Antar Lumumba now must find four new school-board members. The next meeting is scheduled for Aug. 1. The Jackson City Council must approve Lumumba's appointees to the school board. It is next scheduled to meet Aug. 1 as well.
Interim Superintendent Freddrick Murray said the board's lack of a quorum would not hinder or delay back-to-school preparations.
"We know all of the things that have to be done to run the school district; we still are able to do that," Murray told reporters after the meeting. "We still can pay employees, and things still move forward."
Lind told the Jackson Free Press this afternoon that a city councilman emailed him recently informing him of a Jackson city statute that does not allow school board members to represent districts they don't live in. Lind technically represented Ward 6 but lived in Ward 4, he said. Lind was not aware of or told about the statute that would have only permitted him to serve Ward 4 when former-mayor Tony Yarber appointed him in 2014.
"They (are) within their right to have someone who lives in that ward represent them, so I perfectly understand why that happened," Lind told the Jackson Free Press this afternoon. "...[A] mistake was made on the front end...so I just decided that I am not going to be a distraction from this school district to move forward, regardless of any mistakes that were made."
Lind said that's why he resigned from his post immediately, so the Lumumba administration could appoint a replacement for him as soon as possible.
The superintendent said JPS has reached out to Lumumba's office and was unable to schedule a meeting last week. Following Lind's resignation, Murray said he planned to contact the Lumumba administration again this morning.
Robert Blaine, who is the chief administrative officer for Lumumba, told the JFP in a separate interview on July 17 that the new administration is now vetting appointees for the board to ensure they have certain skill sets.
"We're being very deliberate in those appointments to make sure that we're giving the public-school system every opportunity to be successful that we possibly can," Blaine said. "And, we're reaching out to the public-school system to try and create some really intentional partnerships where we can (be successful). ... [W]e realize that you can't have a great city without a great public-school system."
Murray emphasized the importance of having at least one more board member sooner rather than later.
"We don't anticipate not having a quorum stopping any of the work that we have before school starts, but of course, we need that fourth person; it's critical," he said.
Camille Sims, who is the vice president and now acting president of the board, said she hopes the new board members will have a heart for the students, teachers and the city.
"We are an (advocate) for our children, for our teachers, for our staff and for our city because we are the bedrock of Jackson," Sims said Thursday evening.
JPS has made changes to its bus schedule as well as its Code of Conduct, in accordance with the Mississippi Department of Education's corrective action plan the district is continuing to work on. JPS acquired enough buses and drivers to complete new routes and get students to school on time, Murray told the board last night. However, now older students must walk to the nearest bus stop.
"In an effort to make sure that we get to students to school on time, we will be unable to pick up (middle- and high-school) students door-to-door," Murray said. "This will be a change; elementary pickup we will continue to pick up door-to-door, but middle- and high-school students will have to walk to a bus stop. ... [W]e need the community to support us in that if we are going to work together to get our students to school on time."
The district is still seeking additional stand-by bus drivers.
One of the board's attorneys also explained several changes the Bailey Education Group recommended for the district, including tweaking the district's mission, vision and goals, as well as several updates to the 2017-2018 student Code of Conduct and handbook. The board did not have to approve the changes, as it had voted on them earlier this year.
Additional reporting from William Kelly III. Email state reporter Arielle Dreher at [email protected].
More stories by this author
Support our reporting -- Follow the MFP.