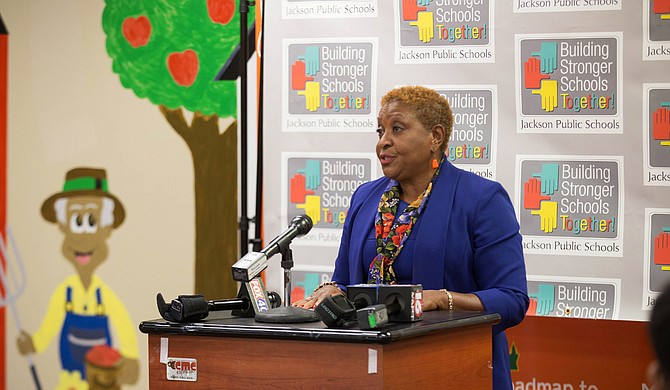 The Jackson Public Schools Board of Trustees halted plans to find a firm to conduct a national search for a new superintendent on Tuesday night. Instead, the board voted to delay the search to would begin in the 2018-2019 school year, involve the community in the process and keep Dr. Freddrick Murray as the interim superintendent for the upcoming school year.
The board was initially going to amend the request for proposal it had planned to send out for a search firms, but board President Beneta Burt did not have the votes to carry the RFP plans forward. Two board members, Kimberly Campbell and Dr. Richard Lind, did not attend the meeting. Three members voted to kill the amended RFP.
Instead, the board voted 3-1 to scrap the search for a firm for now and focus on community involvement in the process. Board Vice President Rickey Jones abstained from voting, and Jed Oppenheim, who pushed for the community to develop the search process rather than a national firm, voted against the motion, expressing concerns for waiting until 2018.
"What would prevent us from starting the process at any time? I don't know why we would say if we have a candidate by December that we couldn't transition them in," Oppenheim said.
Camille Simms, who put the motion forward to scrap the search and keep Murray as interim superintendent for the 2017-2018 school year, said the district was only in the initial stage of implementing necessary changes to fix the district's myriad problems.
"My thought on that is we have a large ship here. ... We're really in the beginning stages of starting to implement some of the things are not going to be done overnight," Simms told the board on Tuesday.
JPS received an "F" rating in the previous school year, a grade that led to former Superintendent Cedrick Gray's resignation. Now the district is under a full investigative audit by the Mississippi Department of Education, which JPS cannot clear until every area of the corrective action plan is complete.
Board members praised Interim Superintendent Murray's progress so far at their meeting Tuesday evening. Burt, who pushed the idea of hiring a search firm at the meeting, told reporters afterward that the option to use a search firm to find a superintendent is not out of the picture—but likely will not be brought up again for a while.
"The board decided that it wanted to be more contemplative in searching for a search firm, so the board decided to delay that process for the next school year. But in the interim there would be due diligence in looking at issues important to the community," Burt told reporters Tuesday.
Email reporter Arielle Dreher at [email protected] and follow her on Twitter at @arielle_amara for breaking news.
Read more stories on Jackson Public Schools at jfp.ms/jps.
More stories by this author
Support our reporting -- Follow the MFP.