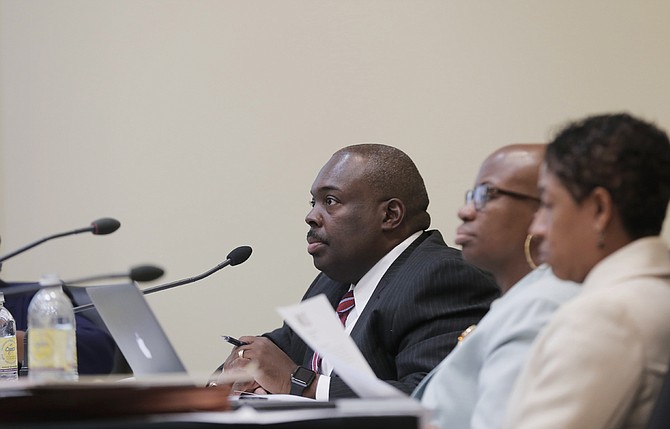 Jackson Public Schools has 25,135 students registered or in process of registering, but the district has 27,707 students eligible to register for the 2017-2018 school year, interim Superintendent Freddrick Murray told the JPS Board of Trustees last night.
"We are moving forward very aggressively to make sure all of our students are registered," Murray told the board at its meeting Thursday night. "We've already sent home correspondence outlining what will happen if students are not registered by statute."
State law requires JPS students to register by Aug. 31, Murray said, to ensure their immunizations are up to date. JPS uses registration to track attendance and enrollment records. 
Parents and students register at their schools unless they are filing an affidavit for a change in residency or registering as homeless students under the McKinney-Vento Homeless Assistance Act. Those families are required to register at the district office downtown.
Board member Jed Oppenheim, who called into the Aug. 24 meeting by phone, asked Murray about the district's plan for reviewing the whole registration process due to concerns he had heard in the community.
"I know we're working really hard on registration, but I feel like a lot fell through the cracks this year," Oppenheim said.
Murray said Dr. Jason Sargent's JPS accountability office is working hard to ensure that they track down all 2,572 students who have not registered or that the district hasn't heard from yet. Students who have not completed registration fall into three categories, Sargent told the board Thursday.
The number of students who have shown up to school but not completed registration is relatively low compared to the number of no-show students, who have not shown up at school or communicated with the district and the students who have transferred to other districts or moved out-of-state, Sargent said.
For no-show students, Sargent said his team has to identify their last known whereabouts and try to get in touch with the family.
"If we're not able to find them, eventually, they are coded as drop-outs," he said.
Sargent's team has to follow up with all students who have withdrawn from the district, transferring to other districts in the state, to make sure that they have actually registered with another district.
"We have to make sure they're released because if they're not released from our database, we're still accountable for that kid's attendance," Sargent said.
On the flip side, the district needs as many students to enroll as possible because the main component of the Mississippi Adequate Education Program funding formula is average daily attendance.
Murray said JPS is still expecting the 27,707 students in its system to enroll, but with more than 2,000 students out-of-touch and the deadline to register next week, Sargent said the number of no-shows is higher this year than last year.
Mississippi Department of Education data show that JPS had 26,948 students enrolled in the 2016-2017 school year.
Email state reporter Arielle Dreher at [email protected] Read more stories at jfp.ms/jps.
More stories by this author
Support our reporting -- Follow the MFP.