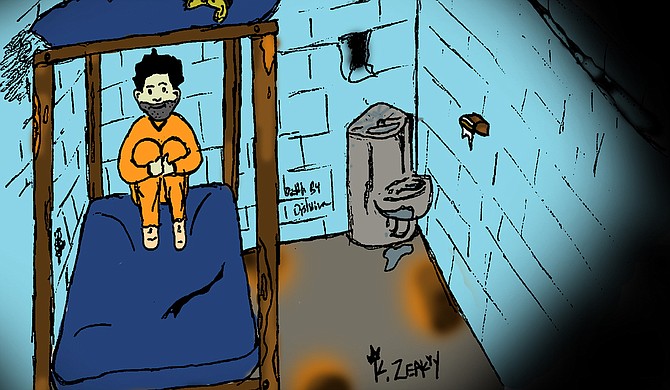 Scott County law enforcement officers arrested Joshua Bassett on Jan. 3, 2014, under a warrant for grand larceny and possession of meth. Bassett could not know then that he would sit in jail without legal representation for almost a year before standing trial due to a muddled and slow judicial process.
Bassett appeared before Justice Court Judge Bill Freeman two weeks after his arrest for his initial appearance. Freeman set his bail at $100,000 without any individualized hearing or consideration of other options besides bail, court documents show.
(For perspective, a man charged with killing a 17-year-old in Jackson received a $50,000 bond offer.)
The suspect could not afford this bail nor a property bail bond of that amount, so the judge sent him to the Scott County Detention Center. Bassett sat in jail for more than three months before he completed an application for legal representation. By then, law enforcement officials had served Bassett with a second arrest warrant for one count of burglary and two of petty larceny.
A month later, Senior Circuit Judge Marcus Gordon denied Bassett's application for a lawyer because Gordon and Scott County officials "refused to appoint counsel until Mr. Bassett was indicted," the amended complaint, brought by Bassett and another Scott County man, says.
Bassett, who is white, and Octavious Burks, who is black, brought a lawsuit against Scott County, the 8th Circuit Judicial District judges they faced, as well as the district attorney after they were detained without legal representation and before indictment in 2014.
The complaint also details the time Burks was behind bars before having a trial or legal representation.
The sheriff released Bassett on a recognizance bond, a written promise that the accused person will appear in court, in late September 2014 two days after the American Civil Liberties Union and the MacArthur Justice Center filed a federal lawsuit on his and Burks' behalf. Eventually, a grand jury did not indict Bassett on the felony charges, and he was released after his hearing in December. The damage was done, however—Bassett spent a year behind bars for no apparent reason.
The ACLU, MacArthur Justice Center and the 8th Circuit Court District Attorney's office (along with the judges in that district) in Mississippi reached a settlement agreement on June 27, which will change judicial precedent in at least four counties: Leake, Neshoba, Scott and Newton. The federal judge's order clarifies that a person charged with a crime has a right to legal representation as early as the first formal judicial proceeding.
"The prompt appointment of counsel following attachment is necessary to protect an indigent arrestee's fundamental right to pretrial liberty," U.S. District Judge Henry Wingate's order says.
Wingate also outlined that not appointing counsel until after a grand jury indicts an arrestee could support an Equal Protection Clause claim.
"Such delay impermissibly risks creating a dual system of justice wherein only arrestees who can afford counsel have meaningful access to the pretrial process, including preliminary and bail hearings, case investigation and plea negotiation," Wingate's order says.
The order directs the Mississippi 8th Circuit Judicial District judges to "meaningfully consider alternatives other than money bail in determining how best to assure a defendant's presence at trial."
A Rural Problem
Brandon Buskey, a senior staff attorney at the ACLU, said his staff's investigation led to the lawsuit. They discovered that rural counties do not hold court very often and, thus, do not assign lawyers until after a person is under indictment.
The Mississippi Supreme Court develops rules based on state law to govern the courts, but judges by and large have a lot of discretion in how they run their courts.
The settlement agreement follows the national trend of counties no longer detaining people just because they cannot afford the bond, Buskey said. A criminal-justice reform package, which Gov. Phil Bryant killed after a last-minute change, lowered the amount of time "habitual offender" inmates could have to serve before they were parole eligible, included several measures would have banned judges from detaining arrestees just because they cannot afford bail.
Buskey said similar lawsuits across the country are all leading to the same conclusion: "This idea of wealth-based detention pre-trial is simply impermissible."
"You've got to have a holistic view on all of this," he added. "I think it is true that based on what we know, African Americans tend to be jailed more frequently because they can't afford the bail set in their case. There are huge disparities of who's in jail based on being poor."
Mississippi Department of Corrections statistics bear this out. The racial makeup of inmates in the state's custody are opposite the state's demographics: African Americans make up 62 percent of the prison population despite making up only 37 percent of the state's total population.
Beyond bail, the right to legal representation is also important, Buskey said, because research shows that people with lawyers for their bail hearings get results.
The Pretrial Justice Institute compiled research showing that pre-trial detention leads to more severe punishments and longer stays in jail or prison. It also encourages those charged with crimes to confess—even to things they did not do.
"(When) you find that you're in Scott County where you wait in jail for a year, you've lost a lot of time to mount an effective defense," Buskey said.
Changing the Rules
The Mississippi Supreme Court released the Mississippi Rules of Criminal Procedure that seem to mirror parts of the Scott County case settlement. From now on, if an accused person does not appear before a judge within 48 hours, he or she is entitled to a minimum bail bond. This small rule change would have meant a year of Bassett's life back. It took a judge almost two weeks to hold his initial appearance hearing, court records show.
The new rules also set broad bond ranges for felonies and misdemeanors, based on the potential severity of punishment state law requires.
Cliff Johnson, an attorney with the MacArthur Justice Center who worked on the case, said those bond guidelines never existed in previous versions of court rules. Johnson said the center actually objected to the bond ranges because it believes bond should be used so rarely that a schedule isn't necessary.
The Center's investigations for previous legal cases and the Scott County lawsuit show the system operates just the opposite, however. Johnson told the Jackson Free Press that judges and sheriffs use the bond and bail system in most criminal cases statewide. The result is often over-jailing or incarcerating people who have not faced trial just because they cannot afford their bond amount.
"There are hundreds and hundreds and hundreds of people incarcerated in Mississippi simply because they don't have enough money to make bail, and they haven't been convicted of a crime," Johnson told the JFP.
The new court rules, which are still based on the same state laws, also require a periodic review of release conditions for all felony defendants who are eligible for bail and have been in jail for 90 days, another rule that could have significantly aided Bassett's access to a quicker trial had it been in place sooner.
Buskey said the Scott County case also supports the need for a strong public defender's office.
"This case highlights that (what) many folks are now focusing on is the lack of a strong, centralized statewide public-defender office. A lot of defendants fall through the cracks," the attorney said.
Correction: This article has been changed to reflect that the Mississippi Rules of Criminal Procedure are new, not changed from an older version. We apologize for the error. Email state reporter Arielle Dreher at [email protected] and follow her on Twitter at @arielle_amara.
More stories by this author
Support our reporting -- Follow the MFP.