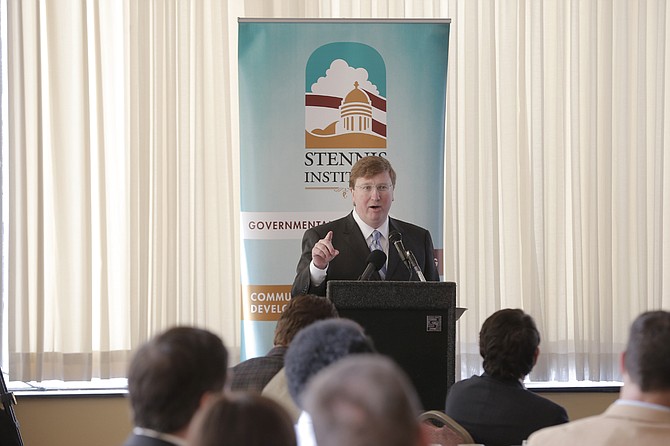 JACKSON — EdBuild's recommendations to change the state's school-funding formula will be ready before the deadline to introduce legislation, Lt. Gov. Tate Reeves told the Stennis Capitol Press Forum on Monday. Jan. 16 is the last day for lawmakers to introduce bills, and Reeves said he expects the consultant's recommendation within a week.
"I'm encouraged by the fact that the consultants that were hired by the Legislature, and their ultimate recommendations, which I would expect to come within the next week or so, have been shaped by input from parents, students, teachers and administrators from all over the state," Reeves said at the Capital Club on Monday.
EdBuild is a New Jersey-based nonprofit that focuses on "weighted student funding," which provides extra money to students who might be gifted or impoverished or learning English. The organization's chief executive officer, Rebecca Sibilia, told the Jackson Free Press in 2016 that weighted funding would best serve the interests of the people of Mississippi. EdBuild representatives visited schools on the Gulf Coast, and in the Pine Belt, the metro area and the Delta, Reeves said Monday.
Since the public hearing with EdBuild in November, reporters have had limited or no access to interviews with EdBuild representatives and have had to go through either House Speaker Philip Gunn or Lt. Gov. Reeves' offices. When reporters asked why, Reeves said the key point was that EdBuild was listening to those in the classroom.
"They (EdBuild) are listening to those who are actually in the classroom, those that are having an impact on student lives," Reeves said on Monday. "And the fact of the matter is, why they aren't meeting with anyone who asks for a meeting, (and) I think it goes without saying, that there is only so much time that they have, and we need to ensure that they are speaking to groups who are interested in ensuring more money gets into the classroom and those that are in the classroom."
Reeves said he expects the new formula to be phased in, pointing to the Mississippi Adequate Education Program, which passed back in 1997 but not fully implemented until 2003. Reeves did not know a specific timeline, however, and said he would have to wait for EdBuild's recommendations.
"I can't tell you now because I don't know what the recommendations will look like, but I think you'll see a phase-in of sorts," he said. "We recognize that we're trying to make any changes that occur ... occur over a period of time where it's best for students."
The lieutenant governor pointed to the fact that Republican leaders' investment in public education has increased in the past five years, especially in out-of-formula programs such as reading coaches and pre-kindergarten collaboratives. Reeves said policies such as making all superintendents in Mississippi are appointed, not elected, and consolidating school districts will help put more money in the classroom in coming years.
"I am happy and proud of the fact that we've led the charge, once all the bills are fully implemented, with the elimination of 13 school districts from 152 to 139, and that will help free up current dollars spent on administration to be put in the classroom," he told the Stennis Capitol Press Forum.
EdBuild will also recommend how lawmakers can reward school districts that are doing well academically and financially, Reeves said, and encourage and incentivize those districts that are currently performing well to do better. The Mississippi Association of School Superintendents supports the revamp of the state's education-funding formula, as do both the speaker and the lieutenant governor. The Legislature spent $125,000 to contract with EdBuild and create the school-finance simulator, which should drop this week.
Email state reporter Arielle Dreher at [email protected] and follow her on Twitter @arielle_amara.
More stories by this author
Support our reporting -- Follow the MFP.