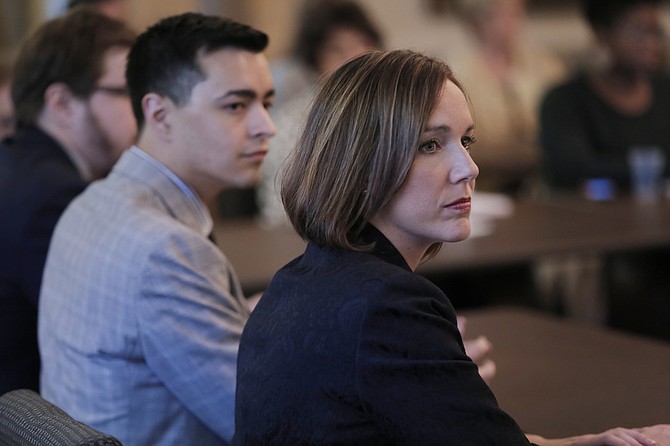 JACKSON — For the first time, Mississippians got an official forum Thursday to sound off to EdBuild, the New Jersey education consulting company the state contracted under opaque circumstances to vet the Mississippi Adequate Education Program formula. But even though the state intended to let the public air its concerns to EdBuild at the meeting, most speakers used their time to express their frustration with the Mississippi Legislature, as well as the secrecy surrounding the funding of EdBuild itself.
EdBuild Chief Executive Officer Rebecca Sibilia attended yesterday's meeting with EdBuild Chief of Staff Austin Ray and Director of State Engagement Matt Richmond.
Some speakers expressed their frustration with the state for having so few meetings, and then only in Jackson, where fewer Mississippians can travel to speak to lawmakers. Many speakers criticized the states' secrecy and expediency in dealing with EdBuild; on Tuesday, the House Management Committee blocked public access to contracts it forms, meaning that it is less likely that the public will find out the names of the so-far undisclosed funders of the other half of the state's $250,000 contract with EdBuild.
Camille Lesseig, a former teacher who encouraged listeners to visit their public schools and for legislators to fully fund schools, was critical of what she called the state's "proclivity for privacy."
"We probably won't know what the changes are until they're already law," she said.
As for the formula itself, many speakers insisted that the Legislature fully fund MAEP before seeking outside help to scrap it. Marilyn Young, who is with civil-rights group Southern Echo, said that she hoped EdBuild would consider "justice funding" as a way to weight the base student cost of at-risk students. Others insisted that there was nothing wrong with MAEP—and that the state just needed to fully fund it.
EdBuild's Sibilia says she understands the concerns of the speakers who gathered, but she still felt that "weighted student funding," which provides extra money to students who might be gifted or impoverished or learning English, would best serve the interests of the people of Mississippi.
"We're still moving forward to do what they (the state) asked us to do, which is review MAEP, talk with stakeholders and make recommendations. And we're solely focused on that," she told the Jackson Free Press.
One speaker, Aisha Carter, said she believes that EdBuild was knowledgeable in the topic of school funding and equity, and she encouraged the public to read the company's "Fault Line" reports, which highlight segregation in the nation's public schools. But, Carter warned that the work would be in vain without state legislators committing to fund a data-backed formula satisfactory to the citizens.
"It doesn't matter what formula we have," she said. If the State does not create standards to hold itself accountable for education funding, she said, "we will always have the same problems."
The Legislature had promised in a press release that House and Education Committee leadership would facilitate the meeting, but neither House nor Senate Education Committee chairmen, Rep. John Moore, R-Brandon, and Sen. Gray Tollison, R-Oxford, attended.
Senate Rules Committee Chairman Sen. Terry Burton, R-Newton, presided over the meeting with House Rules Committee Chairman Jason White, R-West. Burton said he had only found out that he was presiding over the meeting the day before. Moore was attending the Southern Regional Education Conference; Tollison, he said, had urgent business "back in his district."
Citizens can still email [email protected] with thoughts on changes to the State's educaion funding formula.
Sierra Mannie is an education reporting fellow with the Jackson Free Press and The Hechinger Report. Email [email protected].
Support our reporting -- Become a JFP VIP.
The news business has changed dramatically in the past year, and we need your help more than ever to keep bringing you important stories about Jackson and the Metro. Become a JFP VIP with an annual membership or you can Sign up as a monthly supporter. Thanks for anything you can do to empower our journalism!