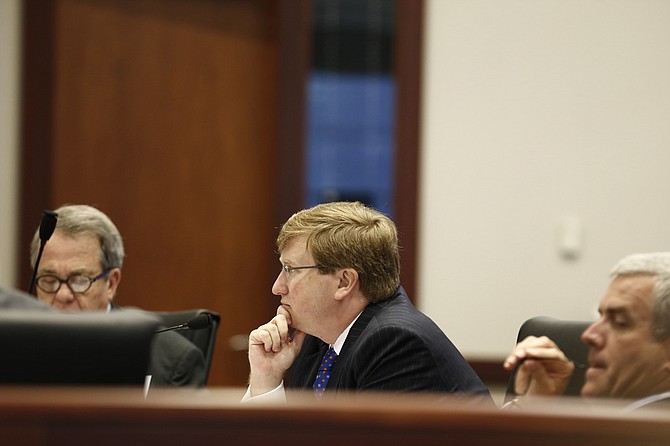 JACKSON — After a litany of lawsuits, public outcry and legislative drama, Mississippi's GOP leaders have joined forces with a New Jersey-based nonprofit to see if the state's public-school funding formula should change.
Mississippi Lt. Gov. Tate Reeves and House of Representatives Speaker Philip Gunn announced on Oct. 11 that they and education consulting company EdBuild would collaborate to examine and possibly overhaul Mississippi's public-school funding formula, known as MAEP.
The Mississippi Adequate Education Program determines the State's share of financial responsibility for the education of each student. The State has only fully funded the program twice since its enactment in 1997.
"The lieutenant governor and speaker of the House actually reached out to us," EdBuild CEO Rebecca Sibilia told the Jackson Free Press.
"What they told us pretty recently ... is that they were interested in having a non-partisan group of experts come in and take a look at MAEP, figure out what's working and isn't, and come up with recommendations for how to do it better," Sibilia said.
The new school-finance program would aim to make funding more equitable, Reeves said during a press conference. That could mean that Mississippi would adopt "weighted student funding," a system advocated by EdBuild, in which schools receive a base amount for each student and receive additional money for students with extra needs, like whether they are impoverished or learning English.
Cities like Boston and Baltimore have adopted the funding mechanism with the idea that students get equitable funding regardless of where they attend school; and principals allocate funds instead of district administrators. The benefit, nonprofit Education Resource Strategies says, is equity, the opportunity for innovation and transparency regarding how much money the school receives.
But in some districts that have adopted the funding model, critics say money gets taken away from some schools, which makes it harder for those schools to pay competitive teacher salaries. And while this finance system could make funding more fair by redistributing some state dollars, it is not clear if it would inject the additional dollars schools into some of the poorest areas of Mississippi.
Scrap it Altogether
Most people worried about the current formula haven't called on the State to change it or scrap it completely; rather, educators and mostly Democratic politicians have called for the Legislature to fully fund it. Still, Reeves and Gunn have wanted to tinker with the formula for a while.
"It's a constant source of conflict and dispute," Gunn said in an Associated Press story in November last year. "We need to find a way where the school systems can get what they need, and in some way that doesn't result in an argument every year."
Mississippi awards its public schools and districts accountability rankings on an A-through-F scale, representing how well they perform on assessments. Last January, Reeves spearheaded an attempt to change the formula, adjusting its funding standard by how much A and B districts—instead of C ones—use to educate their students. Reeves insisted that part of the budget problems stem from schools spending more money on administrative costs than on classroom costs.
Currently, Mississippi's complex formula takes into account things like average daily attendance and local contribution, which means districts vary greatly in how much money they receive and spend per pupil. In the 2012-2013 school year, for example, Jackson Public Schools got $4,320 from the State of Mississippi per pupil; Madison County got $3,457. Weighted student funding would not include factors like average daily attendance, but instead would provide funding based on the needs of the students themselves.
But Eric Hanushek, a Paul and Jean Hanna Senior Fellow at the Hoover Institution of Stanford University, says that the formula promises more than it can actually deliver, at least for individual schools. There is no guarantee that the extra money for special-needs students will fund salaries for more special-education teachers, or resources for special-needs students. And wealthier districts typically with smaller numbers of English-language learners and impoverished children, might actually lose money under a weighted formula, and be forced to cut special programs that enrich academic experience.
A 2005 study by a national teachers union says weighted school funding is a method that improves funding equity, while not addressing whether funding is adequate.
Hanushek attributes support for the funding system to overall naivety. Liberals mistakenly believe equitable funding automatically ensures better teachers, Hanushek writes, and conservatives do not understand that the formula still will not make charter schools richer.
"Conservatives, focused on the funding from the state, ignore the fact that local funding would not necessarily flow with the child under a weighted student funding system, so that redirecting the state funding would not achieve the parity that they seek for charter schools," he wrote.
Representatives for the Mississippi Department of Education say that Carey Wright, state superintendent, was not involved in the process of selecting individuals in order to analyze the state's funding mechanism.
Sibilia, however, says that her company will need public comment before EdBuild makes any recommendations on how to implement change in Mississippi. She expects to be in contact with state education leaders soon in order to start that process, she added.
Since this story was published, EdBuild's contract with the Mississippi Legislature was made public after prompting from Attorney General Jim Hood. The contract lays out a month by month plan of what EdBuild will do in their evaluation of MAEP as well as confirms its $250,000 value.
Email education reporting fellow Sierra Mannie at [email protected].
Support our reporting -- Follow the MFP.