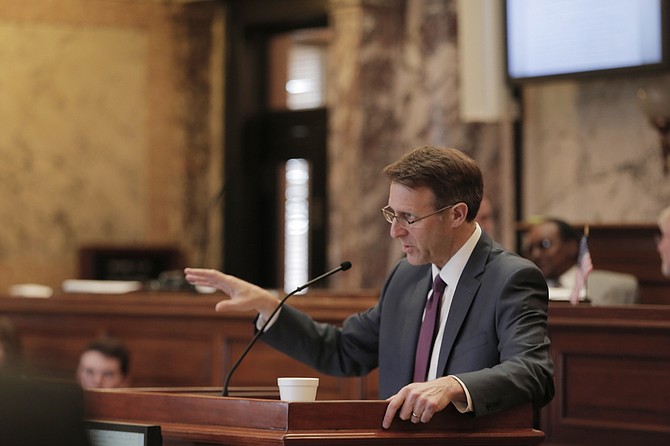 JACKSON — Impending and deep budget cuts have tainted many-a-committee comment and shadowed several debates this legislative session. With less than two weeks left until lawmakers leave Jackson, they must sign off on a budget that so far means reductions to almost every state agency.
The Mississippi House and the Senate have sent appropriations bills to conference where lawmakers are looking to agree on new agency budgets. Lawmakers will consider slashing budgets below their current levels—after Gov. Phil Bryant cut most budgets five times in the last fiscal year.
A month ago, Rep. John Read, R-Gautier, told the House Appropriations Committee that the budget process was "not going to be pretty" due to lagging revenues. Legislative Budget Office reports show that total collections for February were actually $17.8 million below estimates.
"I don't like it, no one at this table likes it, but we're going to do the best we can," he said at the Feb. 28 committee meeting. Almost a month later, budget bills are all in conference, waiting for lawmakers to take the ax to most agencies.
Mississippi has lost primarily sales and individual income-tax revenue this year, Legislative Budget Office revenue reports show. Last week, Senate and House Democrats pointed to tax cuts as the "elephant in the room."
Using Mississippi Department of Revenue data, Democrats looked at the impact of tax cuts and credits from 2012 to 2016 and held a press conference on their findings. The state coffers lost more than $466 million in the last and current fiscal years due to several pieces of legislation from altering the state's tax code, to exempting certain items from taxation including hunting supplies and tractors, to creating an alternative method to apportion income tax. Department of Revenue projections show that fiscal-year 2018, which starts July 1, will mean an over $353 million general fund revenue loss for the state.
'Right Rather Than Rushed'
The Senate, so far, has signaled its intent to not cut the Mississippi Adequate Education Program budget, the state's education-funding formula, and senators voted to amend the state Department of Education's appropriation bill to include $2.241 billion to fund MAEP in fiscal-year 2018. The move showed a departure from the House's confidence that a new funding formula would be ready this session.
Sen. Gray Tollison, R-Oxford, told the Jackson Free Press earlier this month that the Senate passed the MAEP budget as a signal that it was not planning on cutting MAEP funds this session.
"In a time when agencies are being cut, we're showing that we're making education a priority by level-funding it," he said.
Tollison said any changes to the state's education funding formula would have minimal impact for schools next year. The EdBuild recommendations to change the state's education funding formula to a weighted student formula suggests a phase-in period for the new funding mechanism in order to not throw any school districts off-balance at first.
The House stance on changing the state's education formula remains optimistic. It initially passed the education funding appropriations bill with no funds for MAEP because House Speaker Philip Gunn, R-Clinton, told reporters on March 9 that his understanding was that the MAEP budget would be voted on in whatever legislation the new formula comes out in.
"Our line of thinking was this will all be taken up when we do the new formula; it would be funded at that time. That's why we did what we did," Gunn said March 9.
At this point, lawmakers could suspend the rules and bring up a bill during the 2017 legislative session, or more likely, Gov. Phil Bryant will call a special session to change the formula. Gunn declined to estimate when the new formula would be ready, saying the special session could be as soon as before the session ends April 1 or shortly afterward. "We want it to be right rather than rushed," he said. "We did not see any point in going forward with MAEP on this end because it's not our intent to fund through MAEP; it's our intent to fund through (a) new formula."
'Seat at the Table'
Last week, hundreds of Mississippians rallied at the Capitol for a "Seat at the Table" during discussions about re-writing the state's education funding formula. Business leaders, parents and students called on lawmakers to hold public hearings about the new formula and how it would affect districts around the state. They also called on lawmakers to fund the new formula at the level called for under current state law.
Howard Sanders, a retired educator and superintendent from Hollandale, called out the Legislature at the Capitol Thursday, saying MAEP has only been fully funded once. "How do you know MAEP won't work if it's only been fully funded one time?" he asked legislators.
EdBuild is the New Jersey nonprofit advising Lt. Gov. Tate Reeves and House Speaker Philip Gunn in their formula re-write efforts, which are largely taking place behind closed doors, leading to the protest. The group's recommendations taken as a whole start at a base level of funding, which CEO Rebecca Sibilia says is higher than what the Legislature now funds.
"If the Legislature were to adopt our recommendations as a whole, it would still call for a higher level of investment than what's being funded currently," Sibilia told the Jackson Free Press. "In order to move to that new funding structure as we wrote in our report, you want to phase in those districts that stand to gain more money and districts that stand to lose money."
EdBuild suggests that a successful phase-in for the formula would be no more than an 8-percent increase for those districts that stand to gain more funding from the re-write and no more than a 3-percent cut in funding to those districts that will lose state funds in the re-write.
Both the Senate and the House positions on the new formula so far both include the phase-in option, but it remains to be seen which of EdBuild's recommendations lawmakers will choose.
Sibilia said she hopes that lawmakers take EdBuild recommendations, especially for student weights, in totality.
"We are hoping that they will adopt those weights in totality, so what that means is that you are going to end up with some districts that are most likely positioned to receive significantly more money or, in some cases, less money though not as significant," she said.
Email state reporter Arielle Dreher at [email protected] and follow her on Twitter at @arielle_amara for breaking news from the Legislature.
More stories by this author
Support our reporting -- Become a JFP VIP.
The news business has changed dramatically in the past year, and we need your help more than ever to keep bringing you important stories about Jackson and the Metro. Become a JFP VIP with an annual membership or you can Sign up as a monthly supporter. Thanks for anything you can do to empower our journalism!