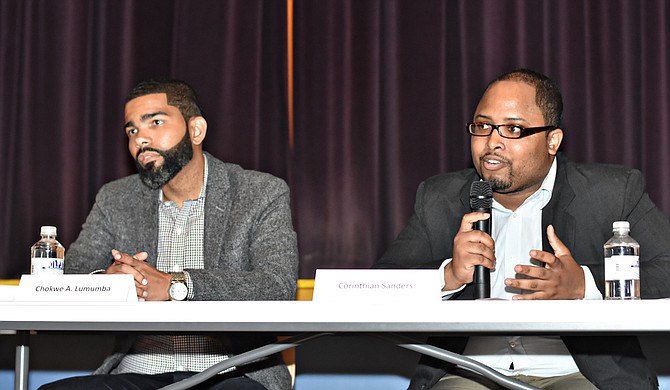 A seemingly innocent mayoral candidate forum quickly turned into a brutal debate between mayoral candidates Robert Graham and attorney Chokwe Antar Lumumba last night.
The melee started with the first question of the night. "After the water is fixed, and the streets are fixed, and the city's beautiful ... what is Jackson Mississippi going to be? What is your vision for this city? Because you've got to be working towards something," said moderator Dwain Doty, the host of the "Full Spectrum" radio show on WJSU.
"I want the city of Jackson to look like a college town. I want to promote Jackson as a college town," Graham responded.
Lumumba, who was next in line, responded. "There are many parts of my opponent, my friend, Robert Graham's plan that I find quite attractive because I've been saying it for the past year or so at all the forums that we're talking about. I do believe we need to promote (Jackson) as a college town and he (Graham) believes it now that he has been hearing me say it for the last three months," Lumumba said.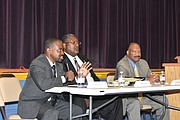 The Jackson Branch NAACP and Metro Jackson Chapter of the National Pan-Hellenic Council hosted the forum at the M.W. Stringer Grand Masonic Lodge near Jackson State University. Only five of the 16 mayoral candidates attended: Lumumba, Graham, Ronnie Crudup Jr., Sidney Gladney and Corinthian Sanders.
Graham, a Hinds County supervisor, has missed several mayoral forums in recent weeks, including Monday night's Youth Mayoral Forum at Provine High School, although he had confirmed his attendance. Graham, 64, targeted the younger candidates at last night's forum, questioning their qualifications due to lack of experience and knowledge.
"As to which person that I would most likely hire. I would probably hire Chokwe Lumumba," Graham said in response to a question from the audience. "He has a bright future, he's a young man, and he's still learning, and I know he's still learning. He doesn't have the experience, and it takes a little time to get experience."
Graham then added about Lumumba: "I would probably hire him and tutor him as to what you need to do to be a successful leader. ... You have to do more than have pretty speeches and make people like you."
Lumumba, 33, fired back. "We need to make sure that we explore the talents and abilities and history of a person when determining their dedication." He added that he would work with anybody who is running for mayor this cycle.
The tension between Lumumba and Graham, considered two of the front runners due to earlier polls, continued throughout the forum.
In his closing statement, Graham again targeted the younger candidate. "I'm the only candidate up here with a plan. A few minutes ago, one of my opponents said that I was questioning his maturity. I was not questioning his maturity; I was questioning his experience. You have to have experience to do this job."
Graham continued: "If you're getting ready to get on a plane, do you want a pilot that has never flown a plane, or one that has for 30 years? My father used to grow tomatoes; that doesn't make me a good tomato grower. ... I can't do what my daddy did."
In his closing remarks, Lumumba stood up and fired back at Graham. "I believe that this is the most critical election in our city's history," he said. "Failure is not an option. So we need to get beyond mere articulations of the issues, and really get to the solutions to the problems, and how we will bring in those solutions. We talk about people's expertise and what they have experienced. I'm an advocate, and I'm an advocate not just in courtrooms, but in communities. I have experience listening to people ... I can look at contracts, which a mayor has to do."
Lumumba said that, as an attorney, he makes decisions that "literally are a matter of life and death." And, he added, "I have the ability to work across the aisle with people who don't look like me."
"So it is disparaging; it is a very rude comment to talk about whether someone is mature," Lumumba continued to loud applause. "You're looking at my wife and my daughter. There are people I employ each and every day whose livelihood depends on me. So to talk about someone's maturity and whether they are capable of leading is just disparaging."
Besides, he added, Maynard Jackson was only 35 years old when became the mayor of Atlanta.
Mayor Tony Yarber, 39, who did not make an appearance, had sent out a press statement about two hours before the forum in response to developments in Kimberly Bracey's sexual-harassment lawsuit against him. Bracey had filed a motion to compel Yarber to complete interrogatories (answer questions) her attorneys had filed that he had not yet filed. It also requested him to provide a DNA sample.
Yarber's statement, sent by his campaign said: "Mayor Yarber was responsible for responding to a set of interrogatories in conjunction with the Bracey case. Although delayed, Mayor Yarber's responses have been submitted. Included in this were requests that ranged from submission of cell phone records to insurance policies and other documents. Also, a request for a DNA sample was made; but contingent upon a mutual agreement between both parties for a specific date and time. That time has not yet been agreed upon."
The statement insisted that Yarber had in no way violated Bracey's rights as she alleged in her federal lawsuit against him, and that the timing of her latest motion was political. "Mayor Yarber has and will continue to cooperate in an effort to prove that Mrs. Bracey's constitutional nor civil rights were violated. It is unfortunate, but not surprising, that as our campaign builds momentum and gains more support that political gamesmanship would rear its ugly, divisive head. This less than two weeks before Jackson voters go to the polls. Although the timing is unfortunate and highly questionable, I am confident that Jackson won't be distracted by the same petty political games we saw in the recent presidential election."
Bracey's motion asks Yarber to "identify all sexual harassment claims against any current or past employers in regards to Defendant Tony Yarber for the last ten years." She also wants Yarber to "detail each and every fact that supports ... (Yarber's) legitimate, non-discriminatory reason for terminating Plaintiff." Bracey's lawsuit claims that Yarber fired her because she no longer would have relations with him.
Email William H. Kelly III at [email protected]. Read mayoral candidate interviews at jfp.ms/election2017.
More stories by this author
Support our reporting -- Become a JFP VIP.
The news business has changed dramatically in the past year, and we need your help more than ever to keep bringing you important stories about Jackson and the Metro. Become a JFP VIP with an annual membership or you can Sign up as a monthly supporter. Thanks for anything you can do to empower our journalism!