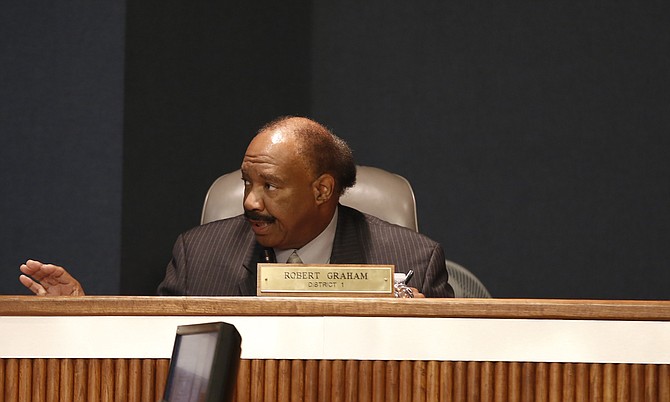 JACKSON — The Hinds County Board of Supervisors finds itself caught between two judges in their efforts to address issues at the Henley-Young Juvenile Justice Center.
On Sept. 23, Hinds County Youth Court Judge William Skinner filed a lawsuit against the Hinds County Board of Supervisors in Hinds County Circuit Court. Skinner alleged that the county executive board overstepped its bounds when it approved a budget that moved funding and "four youth court staff positions to the detention facility," a decision the judge states is "beyond their power to do."
In a Sept. 16 letter the county administrator informed Skinner that the Youth Court would receive a reduction in funding of "$183,446.64 in salaries and $71,854.79 in fringes for four positions," in response to the federal court Amended Consent Decree's mandate to focus on mental health-care at Henley-Young.
"The board is following a court order that was given to us by a higher judge, by a federal judge," District 1 Supervisor Robert Graham said before pushing all questions to the board's attorney, Pieter Teeuwissen. "But he advised us to really not say anything."
At the moment, the board, as the representative body of the county, is under the constraints of several binding legal agreements. They include an Amended Consent Decree decided as the result of a federal 2012 lawsuit that Disability Rights Mississippi and the Southern Poverty Law Center brought to address conditions at the Henley-Young Juvenile Justice Center.
Graham said that with a federal judge on one side and the circuit court youth judge on the other, he could not comment either way.
"It is a delicate issue," Graham said, stating that any budget moves were the result of the federal court orders. "Even at that, it is a part of a court order, too."
And, after receiving recommendations from mental-health consultant Dr. Lisa Boesky as part of that agreement, the Board decided to allocate around $190,000 to address deficiencies in mental health care at the facility.
"We're excited that the board has allocated some funding to meet those needs. I don't know if it is enough," Hinds County Board of Supervisors' attorney Pieter Teeuwissen said during a Sept. 15 interview, the same day the board approved its budget. "I don't think any of us know, yet, because we are starting from a clean sheet. I do think that that is a significant commitment."
Teeuwissen did not respond to calls about the new lawsuit by press time.
In the Sept. 16 letter to Judge Skinner, Hinds County Administrator Carmen Y. Davis informed the judge of the details of the move.
"As a part of the consent decree terms and according to Section XIII, Mental Health Care, it has been ordered that the County reallocate the funding for counselor positions within the Youth Court budget to the Detention Facility to provide appropriate and accessible mental health counselors and case management counselors to the residents for the development of the individualized treatment plans," the letter states.
"As a mandate to comply with the terms of the amended consent decree," the letter continues, "the Hinds County Board of Supervisors reduced the Youth Court's salary with fringes budget. This reduction consists of $183,446.64 in salaries and $71,854.79 in fringes for four positions."
This cut will bring the court's budget down to $255,301.43 for the next fiscal year.
Skinner argues in his complaint that moving these positions will inevitably render the Youth Court without "essential personnel necessary for a functioning court."
"Furthermore, Judge Skinner will show that there is only one counselor position funded from the county budget vote and not the four counselor positions that they are proposing to cut, so in essence they are cutting salaries and positions of personnel vital and necessary for the functioning of the court," Skinner wrote in his complaint.
Skinner outlines the structure of his court in the document as well. The youth court, he states, is made up of one director, two operations coordinators, three clerks, four deputy clerks, five youth counselor trainees, six youth counselors, seven youth counselors who serve as restitution officers, eight "youth counselor II" positions, nine "youth counselor III" positions, and ten "youth counselor I" positions, in addition to clerical support staff.
He states that all of those are needed to help his court address the "well near seven thousand cases a year, which include abuse and neglect (4,000 to 5,000) and delinquency (2,000) and an assortment of other matters brought before it or complained of by a parent or person with interest in the affairs of the minor."
Email city reporter Tim Summers, Jr. at [email protected]. Read more about juvenile detention at jfp.ms/preventingviolence.
Support our reporting -- Become a JFP VIP.
The news business has changed dramatically in the past year, and we need your help more than ever to keep bringing you important stories about Jackson and the Metro. Become a JFP VIP with an annual membership or you can Sign up as a monthly supporter. Thanks for anything you can do to empower our journalism!