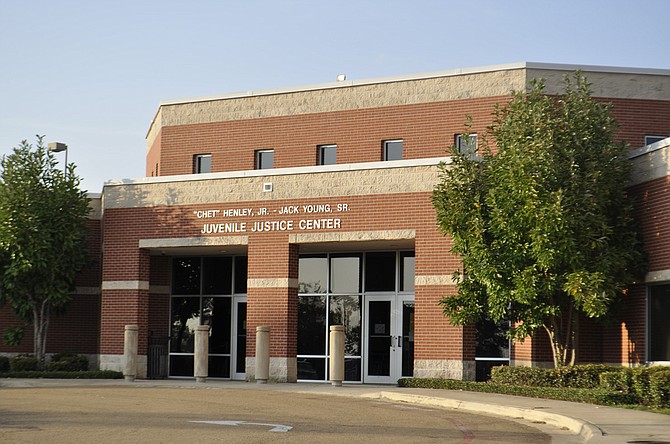 JACKSON — Out of three children released under the Henley-Young Juvenile Justice Center's recent policy of not detaining young people after 21 days, one is missing, one is back in custody, and the third was released without treatment, Youth Court Judge William Skinner says.
Skinner cited these instances, along with the "irreparable harm" that could come to the children released, as evidence that the court should grant his motion to intervene against new requirements placed on how long his court could place a child into custody at Henley-Young. A settlement agreement, referred to as the consent decree, between Hinds County and plaintiffs in a 2011 lawsuit over the conditions at the center, requires that the children are released after 21 days.
"One such child, namely C.M., was serving a 90-day commitment," a court memorandum by Skinner states. "Said child was released to his sister. However, within five days of said child's release from Henley-Young Juvenile Justice Center, he was re-arrested and charged with auto burglary." The minor was also harmed, the document states, "as a direct and proximate result of his encounter with law enforcement."
The second child listed in Skinner's motion was J.M.M., who was released May 16 to the care and custody of the Mississippi Department of Human Services with a plan to transfer the child to treatment at Diamond Grove, a mental-health facility in Louisville, Miss. All did not go according to plan.
"However, within hours of said child's release from Henley-Young Juvenile Justice Center, said child fled the custody of the Mississippi Department of Human Services, and (as of this filing) ... said minor is still missing." Another child, listed only as D.B., was also released, except without the benefit of the court-ordered treatment from Diamond Grove.
Ninety days is the longest time a young person may be in detention under state statute, but since 2012, Henley-Young can only legally hold young people for 21 days. Skinner and those plaintiffs in that lawsuit, which include the Southern Poverty Law Center and Disability Rights Mississippi, have exchanged memoranda over the time limit, with a hearing scheduled later this month in federal court.
William Bardwell, an SPLC attorney, said in a June 6 phone interview that a large part of the issue is whether or not the court should have to release the children but the lock-up approach to juvenile justice.
"I think a huge part of this is over-sentencing kids," Bardwell said. "Ninety days is not supposed to be a standard sentence. Ninety days is the lengthiest sentence that the youth court can give under Mississippi law."
Skinner, though, is adamant that releasing the children after only 21 days could be premature.
"In the event that personnel with the Henley-Young Juvenile Detention Center is allowed to continue releasing children, without said children receiving the rehabilitative services necessary, these children will fall prey to not only their own devices, but find themselves in positions where the harm inflicted upon them and the community will be irreparable," he wrote.
Irreparable Harm
The amended consent decree outlined a multi-part plan for addressing conditions within Henley-Young.
These included how the children, age 10 through 17, are brought into the facility, how they are treated for mental and physical ailments, and even whether or not they are provided with their own hygiene products.
Agreed to on March 3 of this year and extended until 2018, the amended consent decree states that "the parties also agree that Henley-Young is a short-term facility not designed to hold residents for longer than 21 days." The consent decree requires that the detention facility only hold a maximum daily population of 32 residents at any time, a sharp contrast to the 84 children held there before the 2012 consent decree.
Skinner, who has been the youth judge since 2006, was not included in the suit, or the amended consent decree. He and the other parties have continued to trade barbs through alternating motions, and now all will have to appear at a hearing on June 27.
The other point of contention is over who exactly is in charge of Henley-Young. Skinner, on the one hand, states his belief in several court documents as well as in a memorandum to Federal District Judge Daniel P. Jordan III that the Hinds County Board of Supervisors "has usurped this Court's authority as provided by applicable statute as it relates to the detention and release of youth in Hinds County."
This is crucial because during a Nov. 3, 2014, meeting of the Hinds County Board of Supervisors, the group put forth a resolution requiring the release of young people in compliance with the consent decree. Yet, in his objections, Skinner referred to an opinion from Mississippi Attorney General Jim Hood from July 2007 that stated that "the Youth Court Judge has the legal responsibility for administering the youth detention facility."
"It is clear that the Board has total control and authority over the detention center," Hinds County Board of Supervisors President Darrel McQuirter said in an interview June 7.
"Once a facility reaches its maximum capacity, you can't add more people."
Bardwell maintains that it is simply not about how long the children should be in detention, but how the court approaches sentencing.
"The Youth Court shouldn't be in the business of sentencing children to the maximum possible sentence every time it gets the chance," Bardwell said.
Judge William Skinner did not return phone calls by press time.
Email city reporter Tim Summers Jr. at [email protected]. Read more about juvenile detention at jfp.ms/preventingviolence.
Support our reporting -- Become a JFP VIP.
The news business has changed dramatically in the past two years, and we need your help more than ever to keep bringing you important stories about Jackson and the Metro. Become a JFP VIP with an annual membership or you can Sign up as a monthly supporter. Thanks for anything you can do to empower our journalism!