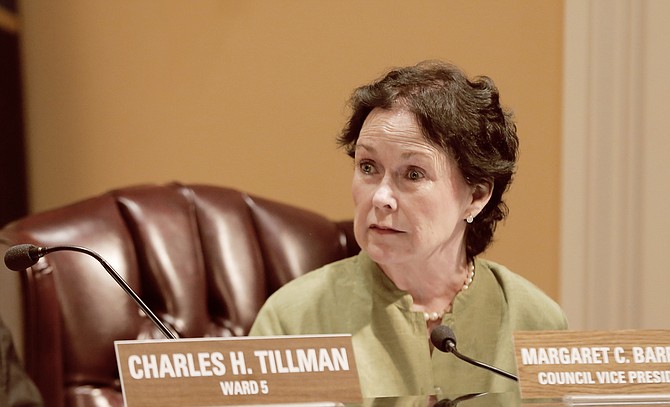 JACKSON — Jackson City Council members are left wondering how many more lawsuits they will have to deal with in the coming months, and how those could affect the City's woeful budgetary position.
"It could not be any worse," Council Vice President and Ward 7 Councilwoman Margaret Barrett-Simon said during a phone interview on Sept. 1, adding that she believes the council keeps getting hit with surprise additions to the growing list of problems. "We are blindsided everyday."
Over the last two weeks the City has had to deal with the growing list of lawsuits leveled against it—actions that have forced City Attorney Monica Joiner to recuse herself from representing the City in court in three out of four cases so far.
Two recent lawsuits aimed directly at the administration both involve the city attorney's office. The first, a sexual harassment and discrimination lawsuit filed by Mayor Tony Yarber's former executive assistant, Kimberly V. Bracey, alleges that Joiner was also seeking a sexual relationship with the mayor while she and Joiner lived together, and while she herself was intimately involved with the mayor.
Three Joiner Recusals
Bracey's attorney filed an amended complaint to the federal court on Aug. 29, omitting mentions of former Hinds County Sheriff Tyrone Lewis and the former chief administrative officer for the city, Aaron Banks, from the newest version. Council President Tyrone Hendrix confirmed that Joiner would recuse herself from the case.
The other lawsuit, from former Deputy City Attorney Lara E. Gill, alleges that the city attorney's office terminated Gill, who is white, in 2014 after she pointed out "waste/misuse of municipal resources," among other supposed "violations from the city attorney's legal practices, policies and procedures." Joiner has also recused herself from this case.
Council members decided during an Aug. 30 executive session to look for outside counsel to represent their interests in the lawsuits. That left Mayor Yarber to address the claims alleged against him personally with his own private counsel.
Yarber's announcement that he would retain his own counsel came after criticism that the communications office had issued a statement on City letterhead defending him immediately after the Bracey's lawsuit went public, calling her "vicious" and "disgruntled," and saying the City would fight back against the allegations.
The lawsuits by Bracey and Gill are only the recent discrimination complaints filed against the City. Former public information officer Amanda Williams filed a discrimination lawsuit in May against the City after she was let go in 2015, allegedly for absences during pregnancy complications.
And on Aug. 15, former Jackson Police Department officer Tina Bianchini sued the City for racial discrimination after she was allegedly forced to resign following a domestic-violence incident with another officer, Aaron Allen.
Bianchini, who is white, alleges that she was fired while Allen, who is African American, was not.
Allen, who was in a relationship with Bianchini at the time, asked Joiner, the city attorney, to marry him on Aug. 31. She has also recused herself from that case.
Unknown Future Costs
The Jackson City Council members now have to weigh these new revelations of pending litigation, and the monetary loss that legal costs and judgments will cost the City, against the legal department's recent requests for increases to its budget of around $1 million.
"They insist that the extra million dollars that they have asked for, for legal judgments against the City, they insist that none of it is for any of the lawsuits that have occurred over the last week and a half," Ward 2 Councilman Melvin Priester Jr. said during a phone interview on Sept. 1. "I don't know if that is true or not, but they say that it is for other cases."
"It's unfortunate that we can't use our city's attorney's office for what is going to be some very expensive litigation," Priester said. "Because if we have not been in compliance with City policies and now we have to spend extra money, that is a very difficult pill to swallow for people that got layoff notices yesterday."
The same day, Council President Tyrone Hendrix told the Jackson Free Press that the lawsuits put strain on the already-thin line the City is riding with the budget.
"It's not a comfortable position to be," Hendrix said. "The troubling part is that we are so thin on our margin for error in terms of our budget, so that any amount is a lot. Either way it is going to cost money."
Ward 1 Councilman Ashby Foote said that anytime the council isn't made aware of potential expenditures in advance, it is unable to make the best decisions.
"If we are going to be good stewards of the citizens' tax dollars that they pay us, then we need to be aware of potential liabilities out there that may face the City in the years ahead," Foote said on Sept. 1.
"They knew about it back in November, December," said of the complaints against the city, "and they chose not to inform the council about it until last week."
Email city reporter Tim Summers Jr. at [email protected]. See more local news at jfp.ms/localnews.