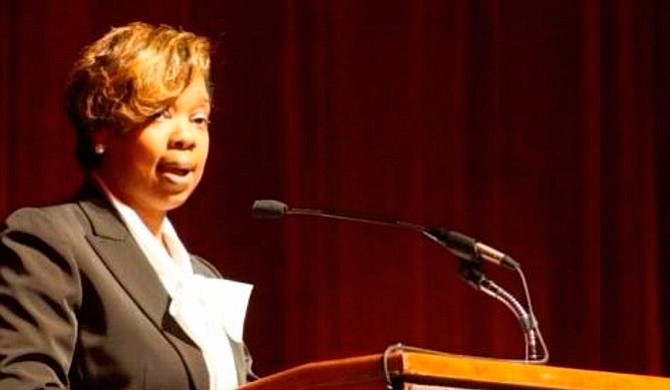 JACKSON — A former deputy city attorney is suing the City of Jackson for race discrimination, racial harassment, retaliation and violation of her First Amendment and due-process rights in federal court. It is the second lawsuit this week that involves City Attorney Monica Joiner, although the complaint does not mention her by name. A sexual harassment lawsuit against Jackson Mayor Tony Yarber, filed yesterday, mentions Joiner in the complaint.
In this lawsuit, Lara E. Gill, who is white, alleges that she was wrongfully transferred, demoted and ultimately terminated over the course of three days in December 2014 although she had worked for the City as a litigator since July 2008. The suit says she was first transferred out of the Litigation Division, although she "was the most qualified litigator," and was being transferred to an area where she had no experience.
In addition, the complaint says, "African American deputy city attorneys with less litigation experience than Gill but municipal court experience were not transferred."
Reached today, Gill told the Jackson Free Press, "I have no comment and must trust the legal process."
Gill alleges that she was not allowed to question the city attorney's decision and that Joiner did not "provide an explanation worthy of credence" for the transfer.
The plaintiff then discovered that the locks were changed on her old office. Two days after her transfer, she received a memo containing several allegations against her by the city attorney, the complaint says without detailing them, asking her to respond with 24 hours. She was refused additional time and responded quickly. A day later, she received an intent to terminate her from the city attorney. In January, she was refused COBRA medical benefits.
Gill, who is representing herself in the complaint, alleges that, in addition to her being white, she was fired for speaking up against the "waste/misuse of municipal resources" and "violations from the City Attorney's legal practices, policies and procedures," as well as her opposition to "other discriminatory/illegal conduct by the Defendants." The complaint does not detail those practices.
After she was fired, Gill applied for unemployment benefits. On April 17, 2015, she writes in the complaint, the administrative law judge found that the city attorney's office did not prove that she was guilty of misconduct warranting her termination.
Gill then filed an EEOC charge on April 21, 2015, and received a right-to-sue letter in response. She says she has suffered mental anxiety, lost income and stress.
Both Gill and Joiner predate Mayor Yarber's administration in the city attorney's office. In an earlier interview with the Jackson Free Press, Joiner said she passed the bar in 2006 after graduating from Murrah High School, Tougaloo College and then Loyola University School of Law. Joiner then began working in the Jackson city attorney's office, which was during the Frank Melton administration with Sarah O'Reilly Evans as city attorney. Joiner's first position was deputy city attorney No. 1, then deputy city attorney No. 2, she told the JFP last year.
Then, while the late Chokwe Lumumba served as mayor, Joiner was the city attorney for Canton. After Yarber won the election, he appointed her as the city attorney for the City of Jackson.
O'Reilly-Evans also hired, Gill who later worked under City Attorney Pieter Teeuwissen, who had worked as a deputy attorney under O'Reilly Evans when she was city attorney. Teeuwissen then became the city attorney when Harvey Johnson Jr. defeated Melton to return to office in 2009.
An exhibit attached to Gill's complaint indicates that Joiner had criticized her for doing private legal work for Teeuwissen when he was city attorney that then continued under Yarber's administration, although Teeuwissen had left to work for Hinds County. Gill says Joiner knew that she, and others, routinely did private legal work on the side that had no conflict with the City's business in order to supplement their income. Gill denied that she had done outside work on City time.
City of Jackson spokeswoman Shelia Byrd has provided the JFP's requests for comment in both lawsuits to the City's legal department, she said in an email.
UPDATE, 3:30 p.m.: A major question is how and who the City and its employees should be defended in Gill's lawsuit, as well as the one filed yesterday by Kimberly V. Bracey, especially with the city attorney as part of both cases, and who is likely to be called as a witness. Local attorney Sam Begley said today that the City must hire outside counsel.
"The city attorney should immediately have no involvement whatsoever in the Kimberly Bracey sexual harassment case and the Laura Gill race discrimination case," Begley said. "The chief deputy city attorney should recommend to the Council that an outside law firm be hired for both cases. Outside counsel in the Bracey case should not also represent Tony Yarber, who is a named defendant, and the City should not pay for Yarber's attorney."
Begley, who did legal work for previous Mayor Harvey Johnson Jr. and represented the City in the past in Title VII and Section 1983 civil-rights cases, also said the Jackson City Council should begin the process of issuing a censure resolution, requiring Yarber to come before the body to defend himself and why it should not censure him. "The council needs to talk about the Bracey case during an open council session," he added.
A statement by the City yesterday in response to the Bracey lawsuit indicated that it will vigorously fight that lawsuit: "Mayor Tony T. Yarber and the City of Jackson stand ready to vigorously defend against each and every frivolous allegation made by Kimberly Y. Vaunterice Bracey. When appropriate, the City of Jackson, Mayor Tony T. Yarber, and City personnel will seek all available remedies against Mrs. Bracey and possibly others, for this egregious character assassination and political ploy."
UPDATE, 4:06 p.m.: Late Friday afternoon, Jackson City Council President Tyrone Hendrix called a special council meeting for Tuesday, Aug. 30, at 10 a.m. to discuss "litigation" and "personnel issues." The meeting will be in City Hall in council chambers.
This is a developing story. Gill's complaint and accusations represent only one side of a legal dispute.
Support our reporting -- Become a JFP VIP.
The news business has changed dramatically in the past year, and we need your help more than ever to keep bringing you important stories about Jackson and the Metro. Become a JFP VIP with an annual membership or you can Sign up as a monthly supporter. Thanks for anything you can do to empower our journalism!