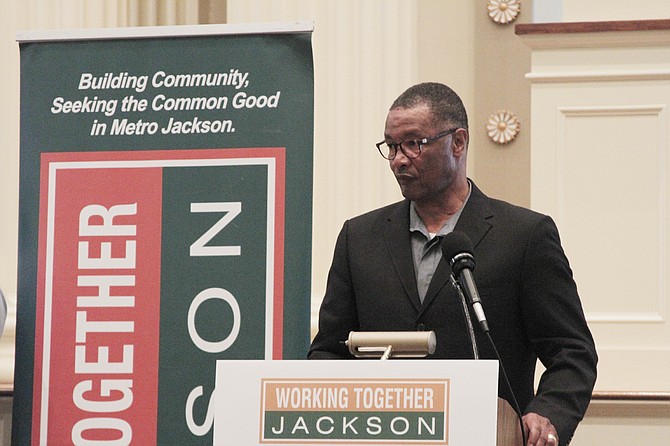 JACKSON — The capital city's blight, mainly visible in hundreds of abandoned properties, was a priority for concerned citizens who met with the Hinds County delegation to plan legislation that will address the needs of Jackson last week.
Wide-ranging concerns, from infrastructure to funding public schools, were top of mind for people from local churches, nonprofit and for-profit organizations who gathered for the Nov. 21 Working Together Jackson luncheon.
Earlier this year researchers called out blight as a primary precursor of crime in the community.
"Neighborhood blight is part of the vicious cycle in Jackson; crime causes blight, and blight fosters crime," BOTEC Analysis of Los Angeles said in a January 2016 report. Attorney General Jim Hood had successfully asked the Mississippi Legislature to fund the study of crime conditions and solutions in the capital city.
In turn, Working Together Jackson members asked lawmakers to work on legislation to address blight in the upcoming session. The State of Mississippi owns many of the abandoned houses and lots in Jackson.
Dangerous 'Bandos'
Mary Jackson, who said that abandoned houses affect her church across the street, asked the lawmakers to work with the Legislature to find funding to tear those houses down.
"We have all of these previously residential properties that were occupied and are now abandoned," Jackson said last week. "We are having problems with homeless population in there; we are having problems with drug transactions taking place in there; and we are having problems with—at least one instance a body being pulled from there."
The bandos, or "traphouses," can shelter runaway youth as well as provide havens for drug abuse and gang activity.
Jackson State University owns the property Jackson referenced, and the university wants to tear down the houses and build new dormitories there instead.
The Mississippi Institutions of Higher Learning board nixed the plan, however, due to JSU's poor financial conditions. Jackson-based lawmakers are working on a plan to revive the idea.
Sen. Sollie Norwood, D-Jackson, told the group that he, along with other Jackson-based lawmakers, would continue to meet with JSU and discuss potential solutions to that problem going forward.
Sen. John Horhn, D-Jackson, reiterated the need for the State to help its capital city to work on crumbling infrastructure as well as take responsibility for state property that has since been abandoned.
"The state should take responsibility for a good bit of the infrastructure around where those (state) buildings are located," Horhn said. "It's not too much to ask—most state governments do some sort (of economic support) or do something to support their capital city; we need to have our capital city supported by the state of Mississippi."
From Religion to the Flag
Rep. Chris Bell, D-Jackson, reiterated the need for Mississippi to change its state flag, asking Working Together Jackson to add changing the flag as one of its legislative priorities. The state will celebrate its bicentennial in December 2017, and several lawmakers hope to change it before then.
"That flag must be changed, and we need each and every one of you in this room and your friends to come out and rally against our flag," Bell said last week.
Working Together Jackson members were scheduled to do presentations at the luncheon, followed by responses from House Speaker Philip Gunn, R-Clinton, and other Hinds County lawmakers. But due to his schedule, Gunn asked to speak before listening to members voice their concerns. Gunn focused on how his Christian faith affects his policymaking.
"In the Bible as I understand it, there are only three institutions that God creates: marriage, the church and government," Gunn said on Nov. 21. "There's a reason for government—God created it for a reason."
As a leader in government, Gunn said the people he and "we" (meaning Christians) are serving people involved in a culture that Christians must understand and be concerned about in order to effectively communicate Christ's love to "them."
"So because we love our neighbor, we have concern about the culture in which they live, and therefore we do care about the crime rate ... we care about marriage, we care about abortion, we care about the well-being of our neighbor, and we want to confront the issues of the day," Gunn said.
Working Together Jackson has members of various faiths, including from Beth Israel, a Jewish congregation in Jackson responsible for building the first Jewish synagogue in Mississippi, and the International Museum of Muslim Cultures located downtown.
Rep. Jarvis Dortch, D-Jackson, addressed the religious pluralism of the group at the end of the presentations when the other lawmakers responded, acknowledging the importance of being inclusive—especially when legislating.
"My one year in the Legislature proved to me that most of our thinking is based on Christian faith, and there's nothing wrong with that," he said last week. "But we also have to look out for people who are different than us and take their lives (into consideration) and actually think about what we're doing and how it affects them."
Speaker Gunn was the original author of House Bill 1523, the "freedom of conscience" bill that the U.S. District Court blocked from becoming law in the summer. Several Democratic lawmakers fought against the passage of the bill, citing their own faith as a basis for voting against the bill during debates on the floor.
Horhn, who fought HB 1523 as a new form of Jim Crow targeting LGBT citizens, asked Working Together Jackson members to pray a mighty prayer for the state's Legislature. The 2017 legislative session begins Jan. 3.
Read related stories at jfp.ms/preventingviolence.
More stories by this author
Support our reporting -- Follow the MFP.