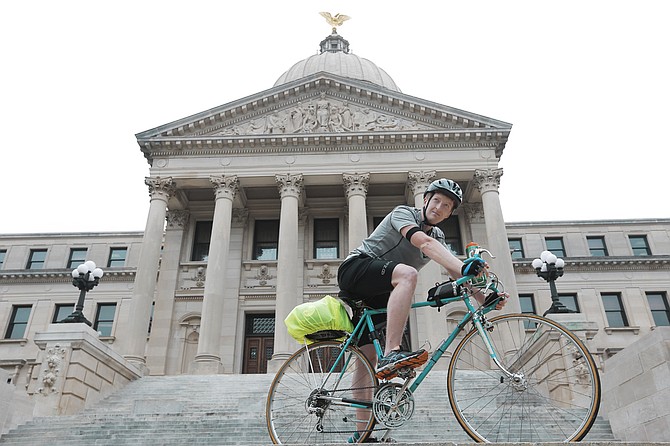 JACKSON — Benjamin Morris is biking the length of the state of Mississippi in protest of House Bill 1523. On Monday, he accomplished the primary purpose of his trip about halfway through his route, when he delivered the petition from Mississippi authors and writers against HB 1523 as well as his own letter to the governor's office. Morris is one of the 92 Mississippi writers who signed a petition asking the governor to repeal the "Protecting Freedom of Conscience from Government Discrimination Act" on April 11.
Morris said he met with one of the governor's staff members to deliver his letter and the petition, but remembers meeting the governor at his book signing for his history of Hattiesburg, where he grew up, that came out in 2014. Morris said House Bill 1523 threatens to reinforce stereotypes around the country and the world about Mississippi.
"We have moved past where we were 50 years ago," Morris said. "The world, and the state, is different than it was."
The bike trip won't stop until Morris reaches the Gulf Coast. The written petition wasn't enough so he decided to bike it out in protest, he said. His initial idea was a walk—one inspired by James Meredith's March Against Fear in 1966 from Memphis to Jackson—but Morris decided to bike as a party of one, which would make the trip a bit safer and quicker.
When he got to Oxford, Morris found an Episcopal service of reconciliation against House Bill 1523 on May 11. As a writer, and a member of the larger artisitic community, Morris says artists have always acted as "custodians of moral imagination" for the places and people they write about.
"Artists have always occupied that place in society to speak out against structures that bind and oppress," he said.
The April 11 petition from 92 Mississippi writers called on Gov. Bryant to repeal House Bill 1523, calling the rhetoric surrounding the bill and its arguments "rhetoric of hate, thinly veiled, once more poison our political discourse."
"But Governor Phil Bryant and the Mississippi legislators who voted for this bill are not the sole voices of our state," the letter states. "There have always been people here battling injustice."
Morris said the purpose of his bike trip was to deliver the petition and said that only "time and the courts will tell" how House Bill 1523 affects the state.
"I am only one voice in a chorus of voices who stand against this bill," he said. "Mississippi has changed so much that we're not willing to accept this legislation."
The ACLU of Mississippi has filed a lawsuit against the state registrar for vital records due to the bill, and attorney Roberta Kaplan has asked a federal judge to re-open the case that legalized same-sex marriage in the state. Both cases seek to address the unconstitutionality of House Bill 1523 and block it from becoming law on July 1.
Read more about House Bill 1523 and the fight for gay rights in Mississippi at jfp.ms/lgbt. Email state reporter Arielle Dreher at [email protected] and follow her on Twitter @arielle_dreher.
Clarification: An earlier version of this story said that Morris would stop his protest in Gulfport. It should have said once he reaches the Gulf Coast, his protest ends. We apologize for the confusion.
More stories by this author
Support our reporting -- Follow the MFP.