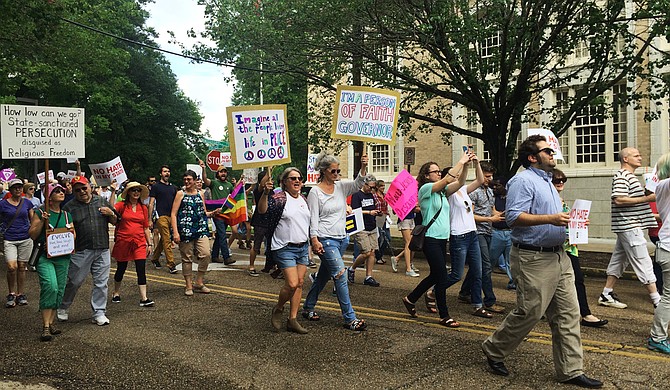 Anti-discrimination attempts by the City of Jackson figure prominently in Gov. Phil Bryant's latest attempt to convince the courts to allow House Bill 1523 to take effect, despite its potential to allow citizens and state officials to discriminate against LGBT residents and others.
The defendants, Gov. Bryant and Mississippi Department of Human Services Executive Director John Davis, argue in the appeal brief that HB 1523 does not violate any laws like the plaintiffs allege because "there are no laws in Mississippi—other perhaps than the Jackson anti-discrimination ordinance—that HB 1523 supposedly curtails."
The 5th U.S. Circuit Court of Appeals could hear oral arguments in the case against House Bill 1523 in early April. A federal judge blocked "Protecting Freedom of Conscience from Government Discrimination Act" from becoming state law last July, but Bryant and Davis appealed the U.S. District Court's ruling with the legal help of anti-LGBT attorneys from other states.
Bryant and Davis submitted their latest reply brief on Jan. 13, claiming that the plaintiffs make false and exaggerated claims about the scope of the "Protecting Freedom of Conscience from Government Discrimination Act."
"The individual accusations in the CSE plaintiffs' parade of horribles are too numerous and too far-fetched for us to spend time refuting at the retail level," the brief says. The governor's lawyers argue that a law that accommodates conscientious beliefs does not necessarily mean an "endorsement" of those beliefs, which would constitution a violation of the First Amendment's protections against the government favoring one religious belief over another in its laws.
There is nothing a federal court can do to remove an endorsement of religion that appears in a duly enacted law, which is why the plaintiffs must allege an "injury that extends beyond the mere offense taken at the existence of HB 1523," the brief states.
On the other metaphorical side of the courtroom, several young Mississippians are planning to leave the state if House Bill 1523 becomes law, an amicus brief on behalf of the state's LGBT youth, says.
One high-school teacher's students continue to apply to colleges outside the South to leave, the brief says. A parent who has a young transgender daughter plans to move out of state if HB 1523 takes effect, and "he would not wait to see if all of his children can thrive and remain safe in Mississippi." Other students are advised to leave, while some youth do not have the financial support to get out of state.
Plaintiffs in the two lawsuits combined to challenge HB 1523 are Mississippians from all different parts of the state who argued that the legislation privileges a certain religious belief, which violates the Establishment Clause of the First Amendment.
The 5th U.S. Circuit Court of Appeals has tentatively set the date for oral arguments in the case for April 3.
Read more about HB 1523 and being LGBT in Mississippi at jacksonfreepress.com/lgbt. Email state reporter Arielle Dreher at [email protected].
More stories by this author
Support our reporting -- Become a JFP VIP.
The news business has changed dramatically in the past year, and we need your help more than ever to keep bringing you important stories about Jackson and the Metro. Become a JFP VIP with an annual membership or you can Sign up as a monthly supporter. Thanks for anything you can do to empower our journalism!