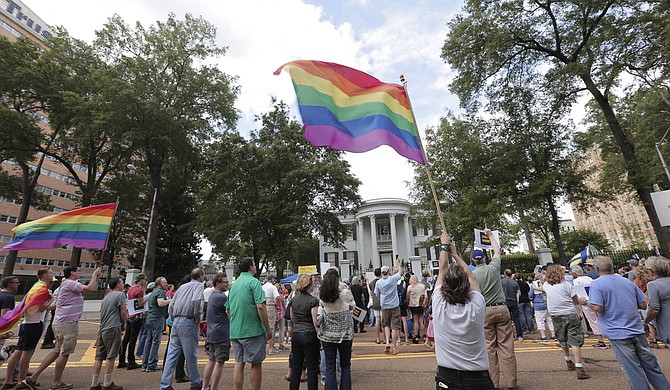 JACKSON — Hundreds of protesters, from around Mississippi and even out of the state, marched alongside several state lawmakers from the Capitol to the governor's mansion on Sunday afternoon, waving flags and signs and chanting "No hate in our state!"
The Human Rights Campaign planned the rally, which drew support from several local and national organizations. Rep. Kathy Sykes, D-Jackson, and Sen. Debbie Dawkins, D-Pass Christian marched in support of repealing the bill.
Outside the governor's mansion, HRC President Chad Griffin said the bill sent a message nationally that Mississippi is closed for business. "Governor Bryant, Lieutenant Governor Reeves and Speaker Gunn have firmly planted themselves on the wrong side of history," Griffin said.
The state's leaders don't see it that way. Speaking with reporters at the end of the session on April 21, the bill's original sponsor, Speaker Philip Gunn, R-Clinton, said that he and others designed House Bill 1523 to protect religious liberties following the Obergefell decision that legalized same-sex marriage last summer.
"I could tell there was going to be a collision between religious liberties and gay rights; you could see that at some point there was going to be a head-on faith collision between those interests. This bill is nothing more than an attempt to balance those interests," Gunn told reporters. "This bill was designed to protect the rights of the gay community to do what they wish to do—they can do the same things that they could before; it also attempts to protect those who have religious convictions and protect those interests as well."
Opponents of the bill disagree. Griffin told protesters on Sunday that the law does nothing more than license discrimination in Mississippi.
"It's broad, and it's sweeping and allows almost any individual or organization to justify discrimination against LGBT people, against single mothers and against unwed couples," Griffin said. "We're not going away until this law is repealed and until each and every Mississippian can live their lives free from discrimination in the state they call home."
Several state hospitality and business organizations have come out against the bill as well as corporate executives from around the country. Mississippi's annual picnic in Central Park was canceled due to House Bill 1523's passage.
Derrick Johnson, president of the Mississippi chapter of the NAACP, was one of several speakers at the rally. Johnson called on protesters to stand united against House Bill 1523.
"They're saying we're doing this because of a sincerely held religious and moral belief, but I've heard this language before," Johnson said. "This was the language that was used to justify slavery; this was the language used to justify women being second-class citizens, to divide individuals and allow a racist symbol in our state flag."
Johnson encouraged supporters to fight against not only House Bill 1523 but also attacks on women and to change the state flag.
"And if we are to stand as a united community, we must stand to fight against this bill; we must stand with Planned Parenthood when they attack women; we must stand with NAACP to remove the state flag, and we must stand to define what is a truly religious, moral belief," Johnson said.
New York-based attorney Roberta Kaplan, who litigated and won the case to end Mississippi's same-sex marriage ban, sent a letter to Mississippi leaders, saying House Bill 1523 might violate the permanent injunction in the case. Today is the deadline she gave state leaders to respond to her request.
The letter requests specific documents that the State would file for any person seeking recusal from offering services as prescribed in House Bill 1523 as well as a step-by-step explanation of the state's process for not delaying same-sex marriage licenses or other services when a person recuses themselves from their specific duty.
"Our clients fought very hard to obtain their constitutional rights to get married in the state of Mississippi, and Judge (Carlton) Reeves issued a very clear opinion and injunction allowing them to do so," Kaplan told the Jackson Free Press last week. "We intend to do whatever it takes to make sure ... nothing in House Bill 1523 will in any way weaken or violate our clients' constitutional rights."
Kaplan's letter was addressed to Gov. Phil Bryant, Attorney General Jim Hood and the state registrar of records, giving them until May 2 to respond "either in whole or in part, so we can be in a position to evaluate whether we will need to seek further relief from the Court."
The governor's and the attorney general's office did not respond to requests for comment by press time.
Jody Owens, managing attorney at the Southern Poverty Law Center, spoke at the rally, saying the fight over House Bill 1523 would likely go to the courthouse.
"We promised you if he (Gov. Bryant) signed this bill that we are going to take this fight to the courthouse, and that's exactly what we're planning on doing," Owens said. "If you are being discriminated against because of this bill, we need plaintiffs because we need to know who's being targeted and why."
For more coverage of House Bill 1523, visit jfp.ms/lgbt. Email state reporter Arielle Dreher at [email protected] and follow her on Twitter @arielle_amara. Read more state coverage at jfp.ms/state.
More stories by this author
Support our reporting -- Follow the MFP.