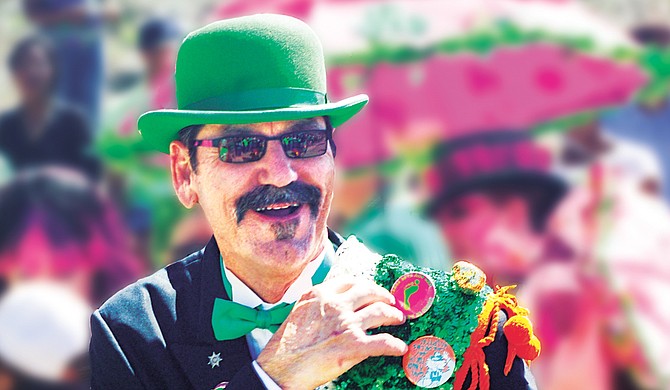 More than 30 years ago, Malcolm White started a parade that, as he tells it, he conceptualized "as a weird blend of Mardi Gras and Rites of Spring, loosely based on the traditions of Saint Patrick," he says. "I wanted it to be inclusive, where you don't have to be a member of a club or Irish," he says.
When the parade started in the early 1980s, he operated Malcolm White Productions, which put on special events and festivals. He decided to claim the parade so that if it was successful, he could preserve its identity and prevent it from becoming wed to any specific venue. So, even as it changed routes and ending points—from George Street Grocery to the Mississippi State Fairgrounds to Hal & Mal's—the name remained Mal's St. Paddy's Parade.
Though the parade bore White's name, his brother, Hal White, joined his krewe, the O'Tux Society, and marched in a kilt with the group's members. Hal even took it upon himself to get the Stewarts, the maternal side of the brothers' family, their own kilts, so it became a family affair united in costume and spirit.
Over time, while the parade festivities continued to be associated with White's name, Hal presided over the Hal & Mal's kitchen after the two built and opened the restaurant in 1985. He was especially known for his soups, gumbos and bisques. When he passed away in 2013, though, tributes to his memory popped up at the parade that year. For instance, during the Second Line Stomp up Capitol Street on the Friday night before the parade, O'Tuxers donned fake mustaches and chef coats in tribute. Buttons with his likeness reading "Hal you doin'?" with the reply "Soup-er" adorned O'Tuxer sashes.
During the parade itself, one reveler waved a handmade sign that read "HAL-elujah." The sign somehow survived the parade and party and made its way to the wall of Hal & Mal's, where it stayed. Every time White saw it, he says that he "had this subconscious reinforcement of the idea, 'Thank you, Hal,' in my head."
And, like Hal's famous soups, that idea began to simmer as White worked on scholarships established in Hal's honor at Hinds Community College's culinary arts program and Northeast Community College and each time he visited the restaurant that bears their names.
Finally, White began, as he does each year during what he deems parade "off-season," considering potential themes and grand marshals for the 2016 event. The handmade sign again popped into his head. He decided that because he sees the parade as a gift to the city, it could also be a way to continue to honor the gift of Hal's life by renaming it in his memory.
Along with changing the name of the parade, the "HAL-elujah" of the sign from three years ago inspired the theme "HAL'lelu'Y'all" to call to mind Hal's memory as well as Jackson's welcoming southern culture. White sees the name change and theme this year as ways to celebrate Hal's life and contributions to Jackson, as well as the parade he loved. White jokes that this winter, the second "L" on the letters spelling out "City Hall" in front of the building fell off. "The whole city was on board with it," he says, laughing.
With a theme referencing both Hal and an exclamation of spiritual gratitude, it seemed fitting that Hal's priest, Father Michael O'Brien of Saint Richard's Catholic Church, should serve as grand marshal (see page 3).
"The parade was always dad's favorite time of year; he'd start gearing up a month in advance, so I was honored and excited when Uncle Malcolm told me about changing the name," Hal's daughter, Brandi White Lee says. "Father Mike was there for our family the whole time dad was in the hospital and after his passing, and he was my priest in Starkville (while attending Mississippi State University), so it was really fitting for him to grand marshal the parade." Lee marches with the Nugget League of Mayhem krewe.
The theme of family, spirituality and celebration continued to spread across plans with the selection of musical acts for the post-parade festival. The musical lineup features the Mississippi Mass Choir and Robert Randolph and the Family Band, acts that continue what White calls a "gospel theme" (see page 20).
White says he will continue to remember and "honor him in my own quiet way," such as carrying a photograph of Hal in his parade hat. Lee says that her brother Taylor, mother Ann and she all continue to wear pieces of his O'Tuxer regalia as they march.
Lee also has Hal's O'Tuxer sash, adding a piece of her krewe's flair to it each year.
But this year's public celebration will allow others to acknowledge Hal in their own ways, too. As Malcolm talks about the parade, one hears phrases that seem appropriate when speaking of a spirit that lives on though an individual is gone. He calls parade weekend "a homecoming for people who grew up here and moved away, who went to school here, who have relatives here or who simply make a pilgrimage" to join the throngs of revelers. Hal may have gone home to rest in peace, but his spirit now lives on in this annual homecoming of sorts for Jackson.
White says that just a few days ago, jazz musician Cassandra Wilson called him. Though the Grammy Award-winning artist lives in New York City, she maintains a connection to her Jackson roots and eagerly asked him about this year's parade theme and when it will take place. She then shared with him that, though one might not guess (Wilson is African American), she recently had her DNA tested and discovered that she is 20 percent Irish. So, should she make it back for the parade, it would be a homecoming of sorts on more than one level for her.
Making unexpected discoveries and connections, being a big free party for one and all—that's what White wants, and what Hal loved. HAL'lelu'Y'all, indeed.
The author is also a member of the Nugget League of Mayhem krewe. For more information on the parade and festival, visit halsstpaddysparade.com.
More stories by this author
Support our reporting -- Become a JFP VIP.
The news business has changed dramatically in the past year, and we need your help more than ever to keep bringing you important stories about Jackson and the Metro. Become a JFP VIP with an annual membership or you can Sign up as a monthly supporter. Thanks for anything you can do to empower our journalism!